Reissue CDs Weekly: Slaughter and the Dogs - Do It Dog Style |

reviews, news & interviews
Reissue CDs Weekly: Slaughter and the Dogs - Do It Dog Style
Reissue CDs Weekly: Slaughter and the Dogs - Do It Dog Style
All-inclusive overhaul of the Manchester punks's album
Slaughter and the Dogs in 1977. Just what did happen in Eastbourne in 1974?
Manchester's Slaughter and the Dogs were perfect for 1977. In May, their debut single "Cranked up Really High" sported bee-in-a-jar guitar, a hoarse vocal and an unstoppable forward motion.
Its follow-up, September's impeccable "Where Have All the Boot Boys Gone?", was more muscular and prefigured the chart-bound terrace-chant
punk
of Sham 69. Next, in November, the brash "Dame to Blame" revealed a glam-rock undertone.
All great and all essential, but not necessarily reviewed positively at the time by the weekly music papers. The first was Melody Maker's "saddest single of the week." The second was declared "strictly dismal" by Record Mirror. The third was "very boring" for Record Mirror and "third division" for Melody Maker. Ah well.
Despite the carping back then their sole album, the patchy but fun Do It Dog Style, is reissued as a three-CD set. It was originally released in June 1978, a month after the band had announced its split.
Slaughter and the Dogs's (sometimes ...& the...) 1977 profile was about positioning. They had formed in late 1974, began playing live in 1975 and chose a name referencing their glam-era influences David Bowie (1974's Diamond Dogs LP) and Mick Ronson (his Slaughter On 10th Avenue album, also 1974). After getting themselves onto the bill of the Sex Pistols 20 July 1976 show at Manchester's Lesser Free Trade Hall with Buzzcocks, the still-glam quintet instantly took notice of punk. They changed their look, embraced sneering, lost their second guitarist, sped their songs up, threw flour around on stage and got with the programme.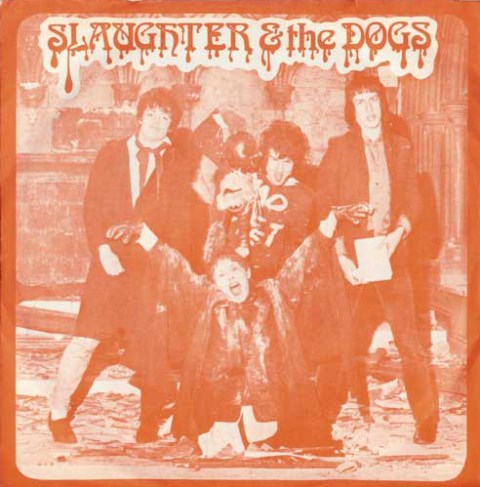 Irrespective of being early adopters, Slaughter were always a little late with coming up with the goods and made one very poor business decision. The independently released "Cranked up Really High" (pictured left) was produced by Martin Hannett, but was preceded in January 1977 by the also Hannett-produced debut Buzzcocks's EP, Spiral Scratch. Mancunian punk had its foundation stone by the time Slaughter – active as a band before Buzzcocks – hit vinyl. After appearing alongside Buzzcocks on June 1977's Live At The Roxy album, they signed a three-year deal with Decca for a supposed £150,000. Their new label had no cachet or nous: their seven-inch singles were not issued in picture sleeves, a period essential. Nonetheless, Mick Ronson, the hero of guitarist Mick Rossi, did play on some of their Decca tracks. But ground had been lost, and they were with the wrong label.
Bringing Do It Dog Style up to three discs is a tall order. Nothing from their July 1979 reformation or later is included. Disc One is the album itself, and Disc Three is the adequate-sounding though frisky live album Live Slaughter Rabid Dogs, first issued in November 1978. It was recorded on 9 July 1977. Though full annotation saying so is lacking, Disc Two assembles non-album tracks from singles, demos, live offcuts, the Roxy album contributions and demos from unidentified sources.
The most interesting items on Disc Two are the first four tracks. Initially issued in May 1979, these are demos recorded in May 1976 by the original five-piece band before exposure to the Pistols. "It's Alright" is a chugging rocker with a slight boogie vibe which just-about passes as being influenced by The New York Dolls, as could "U.F.O". "Edgar Allan Poe" is akin to a glam-rock Free. "Twist And Turn" though is almost punk and on the path towards the post-Pistols Slaughter.
Elsewhere on Disc Two, the Decca B-side "Come on Back" is another appealing nod to glam. The bracingly raw demos of "Boston Babies" and "I'm Mad" are terrific, but there is no information on when they were recorded. "The Fight", "Scream & Scream Again" and "Situations" are relatively polished and musically developed, and don't sound of a piece with anything else. No source is given for them. Perhaps they are outside the Decca-era time frame? Inessential lo-fi live versions of "Cranked up Really High" and "Where Have All the Boot Boys Gone?" certainly are from 1977, and were first heard on a 1983 12-inch. The cursory liner notes in the fold-out digi-pack's booklet are regrettably skeletal, barely more than their discography and a list of dates turned into text.
Although Slaughter and the Dogs rank in the second division of Brit-punk's year zero, they made some super records and, by collecting everything, this three-disc set is more than what's needed. Start with the first three singles in the order they were issued. Then take in Do It Dog Style. After that, try Disc Three's iteration of the abrasive Live Slaughter Rabid Dogs. Everything else isn't as thrilling, but the May 1976 demos show how punk provoked a wholesale overhaul of Slaughter & The Dogs. Without this, it's unlikely they would have been in any division.
Next week: Do You Have The Force – Jon Savage's Alternate History Of Electronica 1978–82