Oslo World review - a dizzying selection of high-tech, grassroots global brilliance |

reviews, news & interviews
Oslo World review - a dizzying selection of high-tech, grassroots global brilliance
Oslo World review - a dizzying selection of high-tech, grassroots global brilliance
A microcosm of a weird, wired world in the clubs, bars and churches of Norway
Wednesday, 09 November 2022
Kabeaushé delivered a truly extraordinary melange with 10,000-watt charisma and a beatific warmth
The Oslo World organisers are at pains to point out that, despite the name, they are not a "world music" festival. And with good reason, really. There may have been a few familiar WOMAD veterans headlining over the week-long event – Senegal's Youssou N'Dour, Malie's Fatoumata Diawara, the queen of Cuba Omara Portuondo – but the emphasis was emphatically not on any kind of beads-and-bongoes authenticity.
Far from it: even in just the three days I was there the culture on offer in venues across Oslo felt more like a trip into a giddy sci-fi vision than the worthy anthropologist's guide to other cultures that "the w word" often implies.
Straight off the plane, I barely had time to orient myself by grabbing one of Norway's greatest creations – a hotdog with shrimp mayonnaise on – before I was plunged into the heart of an exploding star by Japanese psyche rock wizards Acid Mothers Temple (pictured right by Lars Opstad). Nothing can prepare you for the mixture of crazed virtuosity, playfulness and sheer elemental power of this band's solar flare grooves. And the fact they (or the younger members, at least) packed up their own gear afterwards felt beautifully right: they're as dedicated to the Hawkwind-style on-the-road life as to sonic cosmic exploration. A killer start, only marred by kicking myself I'd never sought them out sooner.
But very quickly it was on to the more earthly concerns of Oslo's premier drill crew T Section (pictured below with young friend by Lydia Tefera). They clearly hadn't got the memo from UK acts that drill rappers are just supposed to rock up with an MP3 of their latest track, vocals and all, freestyle over it then scoot off – their live set was impeccably produced and paced and their stage presence huge even in balaclavas. And they really reminded how global hip hop culture is not only in reach but in influence now. The trap, drill, Afrobeats and reggaeton of Atlanta, London, Lagos and Panama, joined Middle Eastern / North African influences from their accents and singing style. Any English lyrics showed the usual hip hop themes – ambition, betrayal, desire – but it was done with such panache, there's clearly enormous potential in this act. The night was rounded off with vodka in a small basement club where Moroccan DJ Glitter 55 tore it up with some no nonsense grime-inflected rave.
Friday evening began in much more considered style with a duo set in a church from Raül Refree and Niño de Elche. The former played glitched samples, classical guitar and a grand piano, while the latter's keening voice, schooled in Flamenco, rose and fell in the mix. Sometimes it felt like de Elche's voice was fighting the arrangement, but there were sublime moments in the ebb and flow. More consistent was Arooj Aftab, playing in a cool Nordic brutalist bar up the hill. The New York resident Pakistani's songs sound devotional, but as she explained with mordant wit, they're about "getting intoxicated and failing in love". In an unusually stripped down set, she was accompanied only by Gyan (son of Terry) Riley on classical guitar, and it was super sophisticated and super lovely. Addressing the audience she said she was glad we smell nice given what an up close and intimate show it was, and thanked us for enjoying her "sad, sexy songs".
Friday night energy levels stepped up with an electro-punk set from Lebanon's Kid Fourteen: an intriguing if deliberately cold figure, whose tweaking beats got a lot more interesting when he started adding saxophone drones. But those energy levels truly peaked for a riotous show by Kabeaushé from Kenya (main picture). Accompanied by a keyboardist adept in soul/funk/gospel licks, and heavy programmed beats, Kabeaushé delivered a truly extraordinary melange that managed to fuse pop, punk, trap, disco, Prince, Outkast and a ton more besides with 10,000 watt charisma and a beatific warmth. The crowd was small but they managed to whip up the kind of energy you'd expect from a huge, heaving crowd – leaping into the audience, getting right up in people's faces, but not confrontationally: more like a preacher bestowing extremely rock'n'roll type blessings. It felt like being in the presence of a superstar, and if this is the kind of energy and delight they always deliver, Kabeaushé could very well become one.
On Saturday I rashly thought I'd walk off a hangover in the Munch museum. Quite the kill-or-cure that turned out to be, but for all the bleakness it was pretty cathartic, and I was ready to give my full attention to a big showcase for a Nordic star, Katarina Barruk (pictured below by Lars Opstad). Barruk is a Swedish Sami from above the Arctic Circle, and sings in the Ume Sámi tongue, which is on UNESCO's Red List of endangered indigenous languages. As she began singing solo, with projections of vast pine-covered wilderness lit by bright sunshine, there was a real frisson thinking of the effect of a fast changing climate an already threatened people – which inevitably spiralled to what this represented for this whole globalised festival and the people there from Pakistan, across Africa and elsewhere…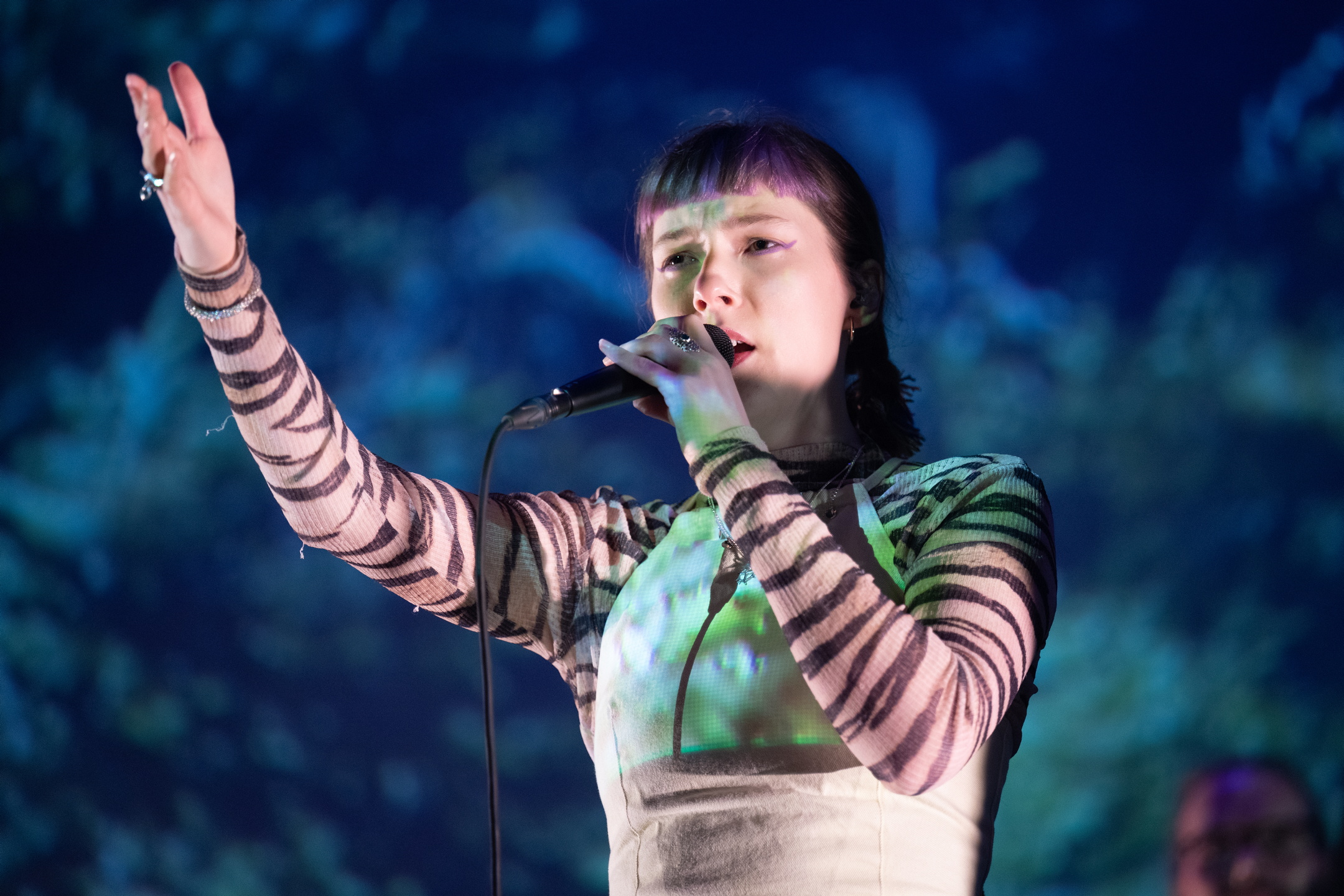 But Barruk's remarkable voice drew our attention back. Her music was a really weird mix: her ultra-proficient backing band touched on Clannad-style chillout, and anthemic surges somewhere in the zone between Coldplay and Sigur Rós, which she sometimes disrupted completely by joiking. Joiking is the Sami vocal form, a kind of shamanic chant, heard echoing across tundra from reindeer herders, and one of the oddest set of sounds a human can make. Into these rich, often very commercial sounding, songs would suddenly come panting, croaking, yelping and ullulating. It was completely discombobulating, but also at certain points completely compelling.
Finally, back to the Blå club where both Acid Mothers Temple and Kabeaushé had triumphed for more Kenyan energy – of a very different sort – and some good old UK bass. Matata are Oslo residents and made their name there, but have also become superstars back home in Kenya, and it was easy to see why. Their "gengeton" – a blend of traditional Kenyan genge with contemporary Latin reggaetón – is relentlessly infectious, and they perform like the best drilled boybands in the world. Even with one member sitting forlornly by the side of stage with a broken ankle, the four remaining members delivered a solid hour of hardcore choreography, good cheer and call-and-response with a giddy young phone-camera-toting crowd.
The UK DJ trio Boko! Boko! – aka Mina, Tash LC and Juba (the latter two pictured left by Lars Opstad) – watched nervously, wondering how they could follow this raw essence of showbiz, and struggled for a minute with technical hassles when they came on. But it took no time for them to command the crowd and bring them into their orbit, and when they did the place lifted to a different level. Boko! Boko! played vernacular club sounds from across the globe with an emphasis on anything with techno or dancehall influences – and blended them with panache and a furious sense of momentum. It was rave as it was always supposed to be: a disorienting collage of culture and influence that is hypnotic enough to take you to unknown places, but joyous enough to keep you conscious of what you're hearing. A threateningly chanted voiceover of "Where's your mother? Where's your father? Where's your future?" over an apocalyptic South African gqom beat somehow summed up the mood of this glorious discombobulation. I managed two hours before my old knees gave up on me, but they were still going, all full-on dancing behind the decks as I left Blå.
And so I got back on the plane, reeling from this set of ultra-modern internationalist connections. It really felt like tapping into a multipolar world, where the connections of hip hop, Latin and Caribbean styles, techno and other grassroots forms have created a network across the planet that has no little to no need for the approval of European or US gatekeepers. Though, for what it's worth, as a European gatekeeper I do very much approve! I didn't for one minute regret missing the bigger name headliners for the drillers and electro-punks, the sad sexy songs and the global rave – though on getting home and putting on a hypnotic record that had been pushed into my hands by a fellow delegate, I did regret not having caught Estonian accordionist Tuulikki Bartosik, and that in turn made me realise how much other unknown strangeness there was still to discover on the bill. All together a remarkable festival, which – in these chaotic times – gave a real boost in its reminder that culture will always race ahead of and around any attempts to contain it, and is still issuing forth the most outrageously strange new forms, full of hybrid vigour and appetite for the future.
It gave a real boost in its reminder that culture will always race ahead of and around any attempts to contain it
rating
Explore topics
Share this article