Music Reissues Weekly: Sammi Smith - Looks Like Stormy Weather |

reviews, news & interviews
Music Reissues Weekly: Sammi Smith - Looks Like Stormy Weather
Music Reissues Weekly: Sammi Smith - Looks Like Stormy Weather
Insightful celebration of country music's 'Help me Make it Through the Night' hitmaker
Sammi Smith: 'the South's own Dusty Springfield'
For America's oldies radio stations Sammi Smith will forever be about "Help me Make it Through the Night". In 1970, she was the first singer to pick up on the Kris Kristofferson song. Her version took it into the US Top Ten.
Although "Help me Make it Through the Night" was an important calling card for Kristofferson with mainstream America, Smith never again figured strongly on the mainstream charts though she remained and had been a regular on the country listings since 1968. As is made clear by a new collection aimed at more that the country audience, she was a singular artist.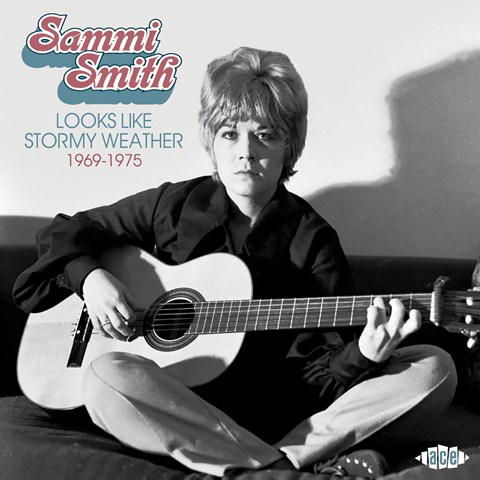 Last summer, "Saunders' Ferry Lane", one of Sammi Smith's 1971 singles, was included on the compilation Choctaw Ridge - New Fables of The American South 1968-1973, a set describing itself as celebrating "a golden era for an atmospheric, inclusive and progressive country music". "Saunders' Ferry Lane" was the highlight.
Choctaw Ridge was co-compiled by Saint Etienne's Bob Stanley and he's now behind a 24-track set dedicated solely to Smith. While the various artists comp repositioned how a strand of country music was seen, Looks Like Stormy Weather 1969-1975 similarly reframes Smith. "Sammi was the South's own Dusty Springfield" declares the strapline on the back of the CD. Possible hyperbole is revealed as nothing of the sort. Taken as a whole, what's here posits Smith as the country analogue of Springfield around the time of Dusty In Memphis.
Looks Like Stormy Weather opens with "I'm in For Stormy Weather", a gospel-edged yearner setting the stall for what's to come. In the song, a husky yet velvety Smith recognises that bad times and upset are coming. She's prepared to face them down. There's no choice. The song was originally a 1973 album track.
Following this is the remarkable song-story "Manhattan, Kansas", which tells the tale of family friction caused by a frowned-upon relationship which resulted in a geographic schism. Again, there's a gospel feel: an undertone akin to a more subtle take on Elvis Presley's Chips Moman-produced purple patch.
Everything on Stormy Weather is understated. The clear-eyed perception of day-to-day travails is never overegged. Smith was a natural for "Help me Make it Through the Night's" mixture of frankness and reflection and it's unsurprising she was friends with Kristofferson during the period he was struggling to get his songs heard. A few years after her big hit, she moved to Dallas and fell in with Waylon Jennings and Willie Nelson. It makes sense: despite her track record, what she recorded placed her outside the Nashville establishment. Johnny Cash was a supporter. (pictured left, Sammi Smith with Willie Nelson in 1973)
Smith was not a prolific songwriter. Three of her songs are heard here: 1975's ironically titled and brooding "Sunshine" is particularly fine. Ultimately then, it's about the choice of songs, their delivery and the voice. In Stanley's essay for the booklet, she is quoted as saying "I sing pretty low". Also heard is a version of "Long Black Veil" from the album which also included "Sunshine". It's wildly emotive. Low, indeed.
The full story is gone into in the booklet. It's extremely interesting. Born in California in 1943 and married at 17 she had three children by 21. The marriage ended in 1967 and as she had been singing on radio and in clubs since around age 11, she headed from Oklahoma City to Nashville. By the time she was recording in music city, she had lived a life. Notably, her trajectory was the exact reverse of the archetypal Okie's westward progress. Her later years, during which she embraced her part Native American heritage, are as notable. She died in 2005 at only 61.
Based on taking in the attentive Looks Like Stormy Weather 1969-1975, Sammi Smith was a major voice, a major interpreter and has to be seen as much more than an oldies radio standby. She must also be seen in the context of the world beyond country: a world where ears are open to individualists like Hoyt Axton, Bobbie Gentry, Lee Hazlewood and others who refracted country through their own worldview. A great, eye-opening compilation.
Next week: Pioneering Dutch electronic music with Dick Raaijmakers aka Kid Baltan and Tom Dissevelt
Sammi Smith was a major voice, a major interpreter and has to be seen as much more than an oldies radio standby
Share this article