Lars Horntveth, Jaga Jazzist, Britten Sinfonia, Barbican
Lars Horntveth, Jaga Jazzist, Britten Sinfonia, Barbican
A stunning collaboration between Norwegian instrumentalists and British ensemble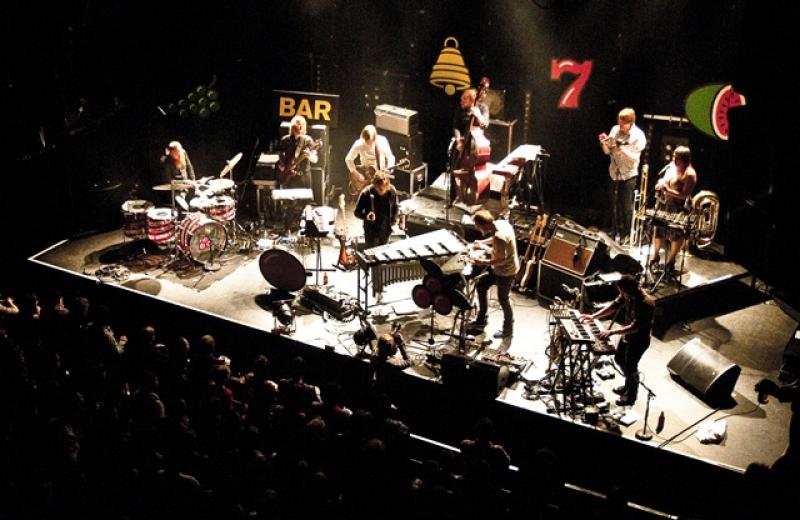 Jaga Jazzist: lull you into thinking they're going one way and then veer off somewhere else entirely
"This is such fun". Martin Horntveth, Jaga Jazzist's drummer, can't contain his excitement. Standing up behind his kit, he radiates joy. Considering that he and his band are Norwegian, typically not given to overstatement, what he describes as fun would be off the pleasure scale by non-Nordic standards. The meeting of Jaga Jazzist and The Britten Sinfonia was an unqualified success, one of those rare one-off concerts where band and their temporary collaborators seamlessly connect.
The Norwegian instrumentalists and the British ensemble came together at The Barbican last night as part of the on-going Conexions season, a series of concerts – in London and Oslo – where musicians from each country are partnered. Jaga Jazzist exemplify a typically Norwegian approach to music where – regardless of the genre they might be pigeonholed as – disparate musical sources are amalgamated to create compositions that usually lull you into thinking they're going one way, and then veer off somewhere else entirely. With that sensibility and their multi-instrumentalist core nine members able to turn their hands to virtually any instrument, the collaboration promised a lot.
It delivered. But prior to that, before the interval, Jaga Jazzist's composer and arranger Lars Horntveth (pictured right) played Kaleidoscopic, his 2009 solo album, in its entirety with The Britten Sinfonia. On stage with him were two of his fellow band members along with percussionist Gard Nilssen and harpist Sunniva Rødland Wettre. And the massed members of the Sinfonia under conductor Christian Eggen.
Kaleidoscopic is a single, 37-minute piece. Live, the orchestration brought new colour, rather than swamping what was familiar. A new, organic feel was injected. The piece isn't about restated themes or a shift from one melodic section to the next, but about a series of complementary, yet contrasting, elements – the aural equivalent of doors opening and closing. The nearest equivalent is film music, with nods towards Lalo Schifrin. Leonard Bernstein would have recognised himself in there too. Utterly immersive, the piece flew by in what seemed like a few minutes. After it finished, someone to my right exclaimed, "it's a new form of music".
Lars Horntveth stood at the side of the stage, lost in wonder at what he was hearing
Jaga Jazzist themselves also nod towards Schifrin, along with Jerry Goldsmith and Fifties' composers like Harry Lubin, who strove to generate atmosphere. They also explicitly draw from ensemble jazz and employ electronica for texture. Lars Horntveth is fond of pedal steel. Vibes, marimba and glockenspiel enhance the exotic feel. The collaboration with The Britten Sinfonia was as sympathetic as it was with Kaleidoscopic. The music flowered, rather than being constrained by the occasion.
Two encores followed the nine-song set, which leaned heavily on 2010's One-Armed Bandit album. The earliest piece aired was "Kitty Wü" from 2002's The Stix. "Prungen", a new composition, was debuted – its winding path and Øystein Moen's synth arpeggios placed it alongside Lars Horntveth's work with Susanne Sundfør.
It wasn't just his brother Martin that was affected by the evening. At one point, during "Toccata", Lars Horntveth left his keyboard to stand at the side of the stage, lost in wonder at what he was hearing. The audience were similarly moved. The end of the set received an instant standing ovation. Everyone – audience and artist alike – recognised this one-off was a very special evening.
Watch Jaga Jazzist rehearsing "For all you Happy People" in preparation for last night's Barbican concert
Everyone recognised that this one-off was a very special evening
rating
Share this article