Josh Ritter, St Stephen's Church |

reviews, news & interviews
Josh Ritter, St Stephen's Church
Josh Ritter, St Stephen's Church
Solo appearance from artist inspired by desire to 'play messianic oracular honky-tonk'
Saturday, 18 February 2017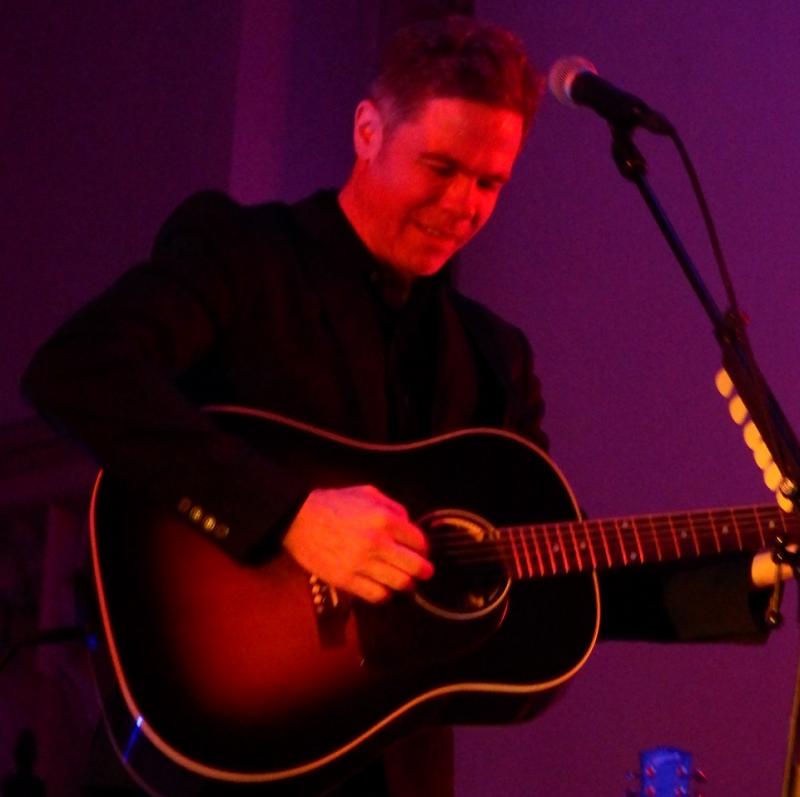 Alt folkie down from Woodstock
The only British gig in Josh Ritter's so-called work-in-progress tour took place in the somewhat unlikely venue of St Stephen's Church, Shepherd's Bush, a rather fine example of gothic revival style. It's almost opposite Bush Hall, which would have been a more logical venue: an altar was not perhaps the most obvious setting for the Idaho-born alt folkie though the acoustics were splendid.
But there Ritter stood, pulpit to his right, flying-eagle lectern (the symbol of St John the Evangelist) to his left. The numbers of last Sunday's hymns were still on display. Leonard Cohen liked to mix sex and religion, though only the former features in "Chelsea Hotel", his celebrated reminiscence of Janis Joplin, "giving me head on the unmade bed". It provided one of Ritter's encores – he played the song last month at Brooklyn's Music Hall of Williamsburg tribute to Cohen – though by that point he'd overcome any twinges of embarrassment. He had wondered aloud if he'd be struck down for singing "Galahad", his racy retelling of the Holy Grail story which NPR stations in the US have been reluctant to play. "I can't believe I'm asking but Sir Galahad please tell me," queries a somewhat fallen angel:
What is it that makes you want to go to Heaven?
In Heaven there's no lamb chops, Queen Guineveres for hand jobs,
Marijuana, Kenny Rogers or ecstasy
No pillaging, no rape, perhaps you've come by some mistake to me
This seems more error than knight errantry
Ritter is solo on this tour, just him and his Gibson, which he picked and strummed with energy and precision, at times teasing a gentle percussive sound from its dark body. He music contains volumes for, while he is very much his own man, it is easily possible to hear the myriad influences on his work – Bob Dylan of course, the early songs, along with Jackson Browne, Don McLean, Bruce Springsteen, Johnny Cash and Townes van Zandt, whom Ritter namechecks in "Me and Jiggs", one of his much-loved "cowboy" songs. He is steeped in Americana – indeed, his Oberlin College major was of his own devising: "American history through narrative folk music".
Like Dylan in the late sixties, Ritter's been holed up in Woodstock for a couple of years, writing songs and listening to the wind blow – "feeding the monster… the invisible force which decides what you write about." Among the new numbers he debuted in West London last night were "When Will I Be Changed", "Showboat", "Feels Like Lightning" and "Silver Blade", a song told from the woman's perspective and inspired perhaps by the traditional folk song "Silver Dagger", which it turns on its head.
Ritter believes he doesn't really know how he feels about a song until he's played it to an audience. The response from those who'd queued patiently down the Uxbridge Road to place their butts on a hard pew for a couple of hours should make him feel good, for it was indeed worshipful. To the man whose 2015 album Sermon on the Rocks was inspired by a desire to "play messianic oracular honky-tonk" that must have felt gratifying.
Ritter is solo on this tour, just him and his Gibson, picked and strummed with energy and precision
rating
Share this article