World War Z |

reviews, news & interviews
World War Z
World War Z
It's World War with a Zee as Brad Pitt battles the undead and a zombie script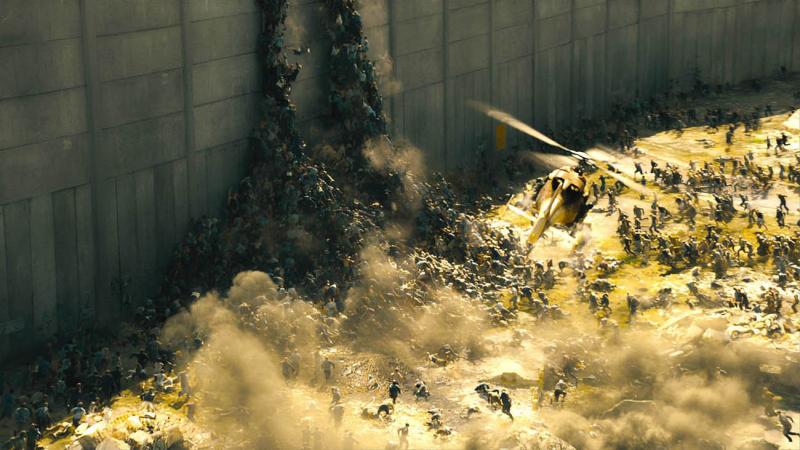 Frenzied zombie hordes pile up against the walls of Jerusalem
The most interesting thing about this movie is what it says about the changing relationship between film and television. It's becoming commonplace to hear actors, writers and directors claiming that TV is now the place to be for powerful drama with narrative scope and rounded characters.
Brad Pitt
's zombie flick - directed by Marc
Quantum of Solace
Forster - falls short all round, and makes the evolving characters and storylines of TV's
The Walking Dead
look positively Shakespearean by comparison.
Spoilers are of course to be deplored, but the story here is so predictable that there's not a lot to spoil. Brad, aiming for a slacker-dad look with hippy hair and jeans, is Gerry Lane, a retired troubleshooter for the UN (the UN? how naff is that?) and trying to enjoy a quiet life with his doting wife (Mireille Enos), identikids and family dog. They're driving around in downtown Phildelphia when pandemonium erupts, with explosions and crashing cars everywhere. Goddammit, a zombie plague has broken out, caused by the traditional unknown mutant virus - the film's opening montage hints at a mankind's-abuse-of-nature theme which is never developed. Whatever, the gurning critters are hell-bent on infecting everybody else too.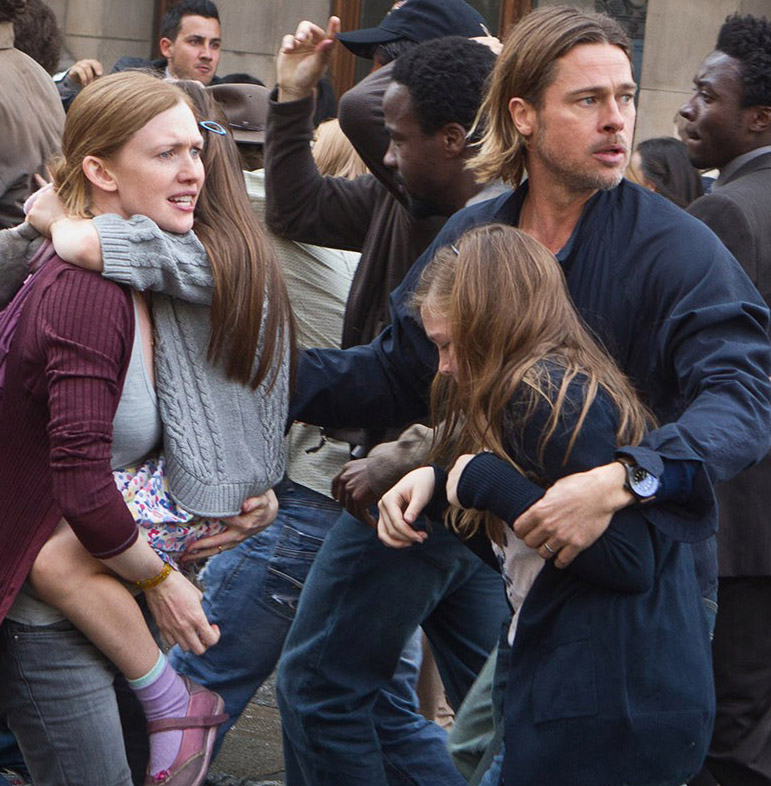 The Lane family's journey into terror (pictured right) takes them through scenes of anarchy and mayhem to Newark, whence they're rescued by Gerry's buddies in the high-echelon crisis management business. However, the price exacted for being given refuge by the US Navy is that Gerry must return to the front line and go in pursuit of the cause of the plague, wheresoever the quest may lead him.
Apparently WWZ suffered a chequered gestation, with late script changes and substantial reshoots. This may explain why it looks like two different movies joined together, a large-scale epic and a low-budget potboiler.
The best parts by far are the early panoramic scenes of the undead swarm taking over. Eschewing the traditional slow-lurcher style of zombie, which always leave you wondering how they could move so slowly yet still keep catching their victims, this lot charge about like a football crowd in the grip of amphetamine psychosis, teeming down streets, over walls and up staircases. If they weren't already dead, you'd say they were in a suicidal frenzy as they leap over cars or off buildings in pursuit of fresh prey (extraordinary zombie behaviour pictured below).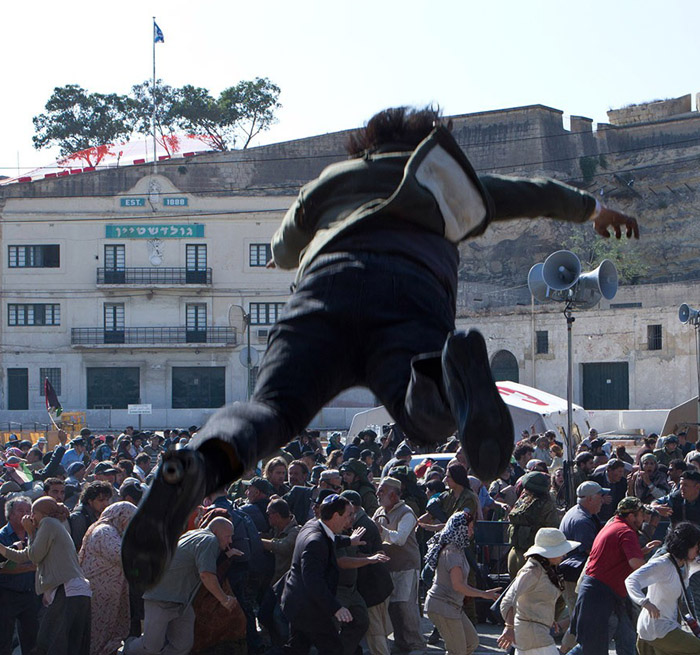 Gerry's mission takes him to South Korea, where a bearded James Badge Dale and some Marines are trying to keep the zombie-termites at bay (the hard-line North Koreans, we learn, have extracted their entire nation's teeth to stop people biting each other). Then it's on to Israel - in a plane piloted by Grégory Fitoussi, the suave French window-dresser from TV's Mr Selfridge - where a huge protective wall has been built around Jerusalem (a little glimmer of political satire here?) However, the sound of wailing prayers goads the zombies to frenzied new extremes, and the film's most show-stopping sequences are of them piling on top of each other to get over the wall.
It's when the action takes us to a remote World Health Organisation facility in a field near Cardiff, run, bathetically, by Peter Capaldi, that the wheels really start to fall off. When the audience around you starts to titter at the groaning, twitching zombies past which Brad must sneak as he tries to find a cure, the game's up. As for the ending ... go on, have a guess what happens.
BRAD PITT'S BIG MOMENTS
Allied. Doomed but entertaining attempt to revive 1940s Hollywood

Fury. David Ayer and Brad Pitt take the war film by the scruff of the neck
Inglorious Basterds. Pitt is gloriously absurd in Tarantino WW2 alternative history
Killing Them Softly. Brad Pitt cleans up an almighty mess in Andrew Dominik's high-calibre crime ensemble
Moneyball. How Billy Beane created a revolution in Major League baseball
The Big Short. Pitt's on the money as director Adam McKay successfully makes a drama out of a crisis
The Counsellor. Ridley Scott ensemble thriller is nasty, brutish and short or mysterious, upsetting and alluring
The Tree of Life. Terrence Malick's elliptical epic leads us through time, space and one family's story