Overlord review - nightmares in Normandy |

reviews, news & interviews
Overlord review - nightmares in Normandy
Overlord review - nightmares in Normandy
War is worse than hell in JJ Abrams-produced D-Day shocker
Saturday, 10 November 2018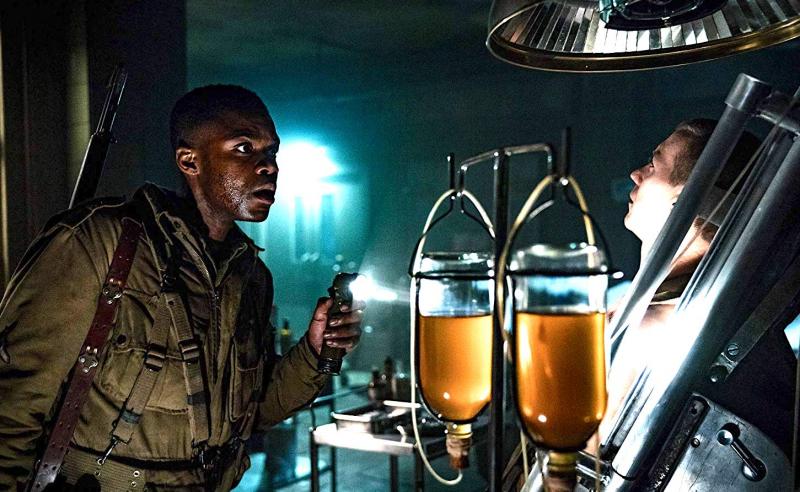 Tales from the crypt: Boyce (Jovan Adepo) stumbles across Nazi science
The trailer for Overlord promises havoc, horror, evil, madness, terror and rage, and to be fair it delivers on most of those.
From the fantasy factory of producer JJ Abrams, it's the ghastly story of an alternative
D-Day
, in which American paratroopers drop into Normandy only to discover that the
Nazis
are working on appalling Frankenstein-esque experiments to bring about their "thousand-year Reich".
This isn't a mega-budget film, but thanks to some ingenious special effects and computerised assistance, it roars out of the screen like a monster truck on a Jack Daniel's bender. One of the most gripping passages is the flight of the airborne troops over the Channel, passing over the vast D-Day invasion armada which has been CGI'd into existence with awesome effect. Then the aircraft run into a torrential flak barrage, in which some are blown to bits in a cinema-quaking cacophony of explosions. The depiction of molten cannon fire bursting through the fuselage and shredding a cabin full of paratroopers is gob-smackingly hideous.
But that's just the hors d'oeuvres. We join up with a handful of dazed stragglers who've managed to survive the aerial abattoir and decide to do their best to carry out their assigned mission, the destruction of a German radio-jamming station that threatens to wreak havoc with the imminent seaborne invasion. The Krauts have placed the station in the top of an old church, but it's what's going on down in the vaults beneath that'll frazzle your synapses.
Creeping around in the enemy-occupied countryside, the troopers come across French girl Chloe (Mathilde Olliver, pictured above), who lives nearby with her young brother and a bed-ridden aunt. There's an inkling of what lies in store when Boyce (Jovan Adepo), a naive, decent guy who serves as the audience's horror-show tour guide – albeit he's something of a historical anomaly, since there weren't any black paratroopers in the 101st Airborne – peeks into the aunt's bedroom to discover a horrifying wheezing creature covered in warts and blisters. It's Boyce, too, who unwittingly hitches a ride in a truck full of corpses and gets taken inside the belly of the beast, where fanatical Nazi scientists are creating a previously undreamed-of genre of nightmare. He stumbles through laboratories where disconnected heads in a tank start talking to him in French, and collections of body parts suspended in a canvas bag full of gunk say "help me".
Director Julius Avery generally does a tidy job of walking the line between ghoul-splatter madness and some old-fashioned dramatic tension, exploiting the assorted characteristics of his woefully outnumbered protagonists to entertaining effect. Nerdy Rosenfeld (Dominic Applewhite) escapes from Re-Animator hell by a whisker, John Magaro is the motormouthed Tibbet, Chase (Iain de Caestecker) makes a startling comeback and Wyatt Russell (son of Kurt, pictured above) plays the taciturn and mercilessly violent Corporal Ford with deep-frozen aplomb.
Most of the Germans are mere fodder for machine-gun bullets or flamethrower blasts, but Pilou Asbaek (Borgen, Game of Thrones) enjoys himself indecently as the fanatical SS officer Wafner. He has sordid designs on Chloe, but Ford teaches him a lesson he couldn't forget… though of course the Corporal has no way of knowing he's dealing with forces beyond anyone's control. "They have been given a purpose," smirks Wafner, describing the leering freaks lurching around in the cellars. If you like cheap thrills, loud bangs, ludicrously excessive violence and supernatural shocks, you're probably already queueing for this.