Uncut Gems review - relentless tale of gambling and the diamond trade |

reviews, news & interviews
Uncut Gems review - relentless tale of gambling and the diamond trade
Uncut Gems review - relentless tale of gambling and the diamond trade
Adrenaline fuelled portrait of a gambler running out of luck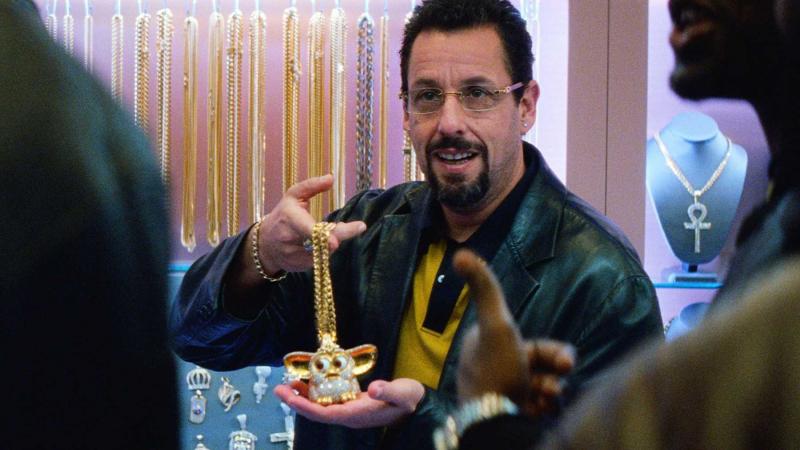 Showing off his wares: Adam Sandler as Howard Ratner
The Safdie brothers, Josh and Benny, once programmed a season of films entitled Emotional Sloppy Manic Cinema, and if sloppy is subtracted from that description, it's a pretty accurate summation of their work here in Uncut Gems. This is edge-of-the-seat filmmaking, with vertiginous camerawork by Darius Khondji and a relentless, immersive soundscape of electronica and layered dialogue.
Adam Sandler, transformed with false teeth and a dazzling selection of designer shirts and shades, plays Howard Ratner. He's a compulsive gambler and jewellery dealer who sells diamond encrusted Furbies and dodgy Rolexes to stars from the world of sport and music. Ratner's also a family man who has been cheating on his ferocious wife (Idina Menzel, a long way from Elsa in Frozen) with a pneumatic floozy (Julia Fox) who works in his Diamond District store. Once Passover is done, he plans to tell his kids he's getting a divorce.
Ratner owes money everywhere; to his brother-in-law, Arno (played by Eric Bogosian with all the icy cool of Robert Mitchum) and to assorted loansharks who chase him down, even at his daughter's high school drama. Over the course of a few days, Ratner tries to pull off one spectacular bet on a big basketball game, funded by his belief that a black opal, he's had smuggled in from Ethiopia will fetch $1m at auction.
Augmenting Sandler's image-changing performance are fine turns from Lakeith Stanfield (above centre), whose job it is to bring basketball player Kevin Garnett (left), here playing a version of himself, and musicians, including rapper The Weeknd to the jewellery store. Subtle swipes are taken at the obsession with bling and the exploitation of the black miners who sweat for the precious stones. There's a fascinating essay to be written on the Safdie brothers fearless take on Jewish and African-American stereotypes, but this probably isn't the place for it. In their portrayal of family loyalties and suppurating rivalries, there are echoes of what Martin Scorsese did for Italian-American gangsters in Goodfellas and The Irishman. In Howard Ratner, the Safdies have created a character who is both fully rounded and wholly reprehensible.
Uncut Gems is a long-nurtured script, inspired by stories told by the Safdies' father, a Sephardi Jewish salesman who worked in Manhattan's jewellery quarter. The box-office success of the brothers' 2017 noir, Good Time, meant that they now have their hero, Martin Scorsese, as executive producer and a big budget that allowed free range over cast, camera kit and locations. Opening with a monumental, Sebastiao Salgado inspired sequence in Ethiopia and deploying some dazzling microscopy (blood-soaked cavities and precious stones fall under its lens), there's a sense here that the Safdies have been let loose in the toy box. At times Uncut Gems is too showy, but overall, this is one wild ride.