The Irishman review - mobster masterclass |

reviews, news & interviews
The Irishman review - mobster masterclass
The Irishman review - mobster masterclass
Scorsese, De Niro, Pesci and Pacino are on top form in this sprawling gangster drama
Thursday, 07 November 2019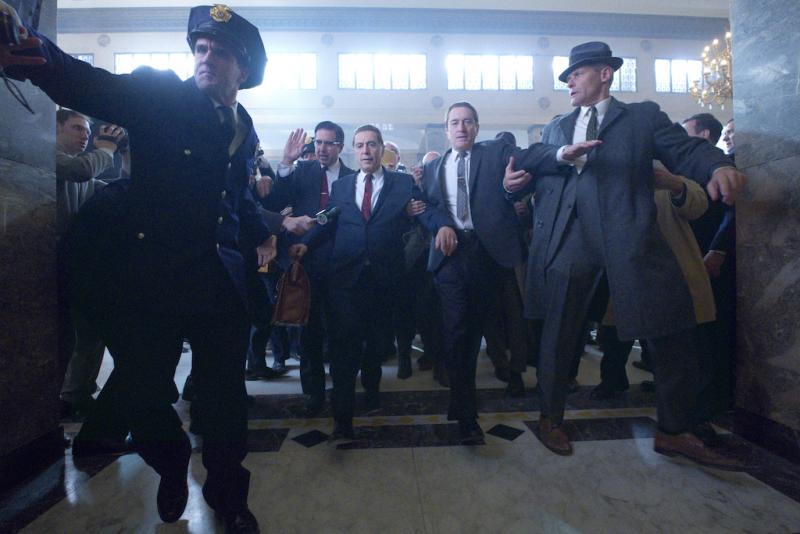 Make way for the legends. De Niro's looking out for Pacino in 'The Irishman'. But for how long?
Putting that debate aside, there's no escaping the fact that in an era of rapid-fire sequels, with the same ensembles trotted out year after year, there's far more
frisson
to be felt when the reunion is after not one or two, but 25 years – and what the filmmakers are seeking to recreate really is movie magic.
That's the case with this reteaming of Scorsese, Robert De Niro and Joe Pesci, who made a trio of classic films together – Raging Bull, Goodfellas and the last, Casino, in 1995. The Irishman also sees another Scorsese regular, Harvey Keitel, returning to the fold, as well as a significant newcomer, Al Pacino. The fact that that so many Oldfellas can even muster the energy for an epic crime saga is, in itself, rather special.
Adapted from the book I Heard You Paint Houses, by Charles Brandt, it charts the life and times of Frank Sheeran, a rare Irishman to have worked for the Mafia, who before his death claimed to have killed infamous trade union boss Jimmy Hoffa (whose disappearance in 1975 has never been solved) on instruction from his underworld bosses.
De Niro is Sheeran, who we first as the elderly resident of a nursing home, and through whose memories screenwriter Steven Zaillian (Schindler's List, Gangs of New York) navigates his plot, principally from the late Forties to the Seventies. Returning from WWII as a "working stiff" with no direction but a nonchalant gift for killing, Frank's life changes when he's introduced to Mafia don Russell Bufalino (Pesci, pictured above left with De Niro). Russell employs him as a heavy and hitman, becomes his mentor, then lends his services to Hoffa (Pacino), the corrupt, fatally hot-headed Teamsters president.
Hoffa also becomes a benefactor, elevating Frank through the union ranks. So when the union man starts to alienate Russell and his Mob pals, Frank is caught in the middle. The road trip that punctuates the movie, involving Frank, Russell and their wives, may seem no more than a laid-back narrative device, but its destination will be fateful.
The freedoms afforded Scorsese by the Netflix largesse aren't always beneficial. The three hour-plus running time tests our patience with an overfamiliar and unpleasant milieu, with at times only Pacino's oft-maligned chutzpah holding the attention. And the de-ageing process that allows the veterans to play their younger selves can be distractingly weird – the wrinkles may have gone, but the creaky movement hasn't.
That said, the talent really does deliver. Scorsese's style – the long, fluid tracking shots, muscular set pieces, characterful period soundtrack – is as singular and masterful as ever. And the actors are formidable, especially in their chemistry together: De Niro and Pacino (pictured above) offering comedy and pathos, De Niro and Pesci the dignity of an unbreakable friendship, Pacino and Stephen Graham (as Hoffa's mobster nemesis) the volatile sparks – including a terrifically silly spat involving punctuality and shorts.
There are echoes of Coppola's Godfather movies in Scorsese's broader canvas here, the sense that every part of post-war American society – not least its political leadership – is in bed with organised crime. The gangsters' interest (nay, investment) in the Kennedys is fascinating, leading to the correspondence of two famous rumours in one chilling sentence. "If they can whack a president," Russell says of his associates, "they can whack the president of a union."
But what ultimately distinguishes The Irishman as a crime movie is the poignancy that comes from the perspective of age and passing time. You duck, you dive, you conspire, kill, betray your friends – and for what? As a film about the pointlessness of a way of life, it's devastating.