Unbroken |

reviews, news & interviews
Unbroken
Unbroken
Angelina Jolie steps behind the camera for a tale of WW II heroism and resilience
Tuesday, 23 December 2014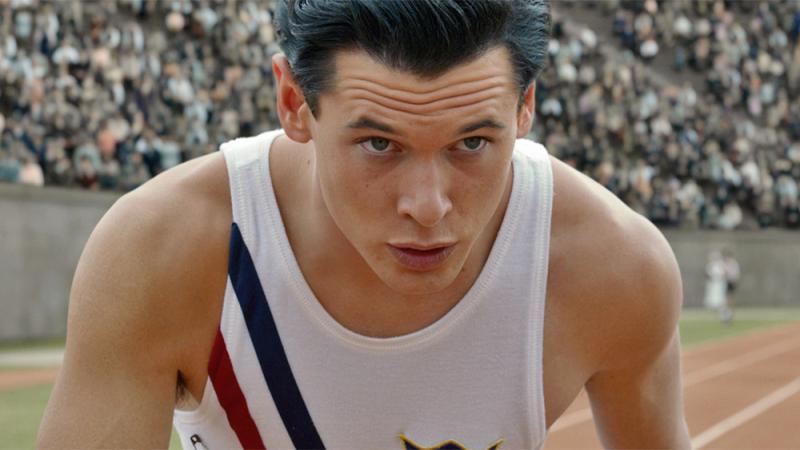 Ready, steady, let the suffering commence! Jack O'Connell in 'Unbroken'
This year's award-courting survival picture (after 2013's All Is Lost, and 2012's Life of Pi) is based on the genuinely remarkable story of Olympian Louis Zamperini. It's a tale of heroic resilience in the face of an onslaught of adversity, helmed by someone who, in a very different way, is pretty unstoppable herself – Dame Angelina Jolie.
We first meet Louis (Britain's Jack O'Connell) during an exciting WW II aerial assault, where he's the picture of helpfulness and cheery stoicism. Leaving the men suspended in peril, the film flashes back to his childhood as the rebellious son of Italian immigrants, whose his older brother sets him on the straight and narrow, getting him long-distance running.
In 1936 he qualified for the 5000 metres at the Berlin Olympics before putting his track career on hold to join the US Army Air Force's war effort. After the near miss of the film's opening, in 1943 the 26-year-old Louis suffers through a more prolonged, relentlessly life-threatening series of unfortunate events. While on a search mission his team's plane malfunctions and crashes into the sea. Louis and two other men (played by Domhnall Gleeson and Finn Wittrock, pictured above right with O'Connell) spend over a month adrift, before the survivors are picked up by the Japanese.
Roger Deakins' sometimes astonishing cinematography clearly differentiates between Zamperini's many ordeals, even if it does sometimes render things inappropriately beautiful, leaving it all with a weirdly gorgeous sheen. The staging is a touch too careful, sucking the credibility and raw emotion right out of the story and meaning the film is curiously unmoving.
Furthermore, much of the blame for the film's superficiality can be pinned on the screenplay (Joel and Ethan Coen are amongst the credited writers, if you can believe it) which swings between trite sentiment and cornball-infused gallows humour. Insight and character development are off the agenda in what should be a psychological rich study of the mind enduring even as the body breaks. Although we're afforded a glimpse into Louis' upbringing it tells us little, meaning his extraordinary reserves of strength go largely unexplained.
Ishihara makes us aware of the damaged, vulnerable man behind the monster
Still, Unbroken grows in stature with every hardship, just as its pivotal performer O'Connell thrives under each fresh cruelty, and the film is hugely eventful and sometimes exciting – with battling planes giving way to sharks, storms and beatings. Bearing in mind the scale of what is only her second movie, Jolie directs with a steady hand, maintaining a solid sense of pace through what should be a yawn- and fidget-inducing runtime, upping her game during moments of action and turning variety into coherency.
If us Brits already knew how good O'Connell can be from Skins, Starred Up and '71, then the film's breakout actor is Takamasa Ishihara (otherwise known by his rock star moniker Miyavi); he stars as the compellingly cruel prison guard Mutsushiro "The Bird" Watanabe who targets the dogged and defiant Louis for particular punishment, often spun as twisted favour. Although he's given just a scrap of back-story, Ishihara makes us aware of the damaged, vulnerable man behind the monster.
Unbroken suffers by contrast to Mr Jolie's last vehicle, the raw, eye-wateringly violent Fury, which was similarly World War II set and, while it flirted with cheesy heroics, it also dared to be different. A smattering of more modern movie brutality aside, this is an old-fashioned war film, a conservative, overstuffed Oscar hopeful (which, judging by its inability to pick up any Golden Globe nominations, may have played it too safe). Its politically active, former wild child director may often seem like a trailblazer but Unbroken reminds us that Hollywood is, after all, in Jolie's genes.
Overleaf: watch the trailer for Unbroken
This is an old-fashioned war film, a conservative, overstuffed Oscar hopeful
rating
Explore topics
Share this article