Starred Up |

reviews, news & interviews
Starred Up
Starred Up
Raw, scary and real, a gruelling prison drama with glimmer of hope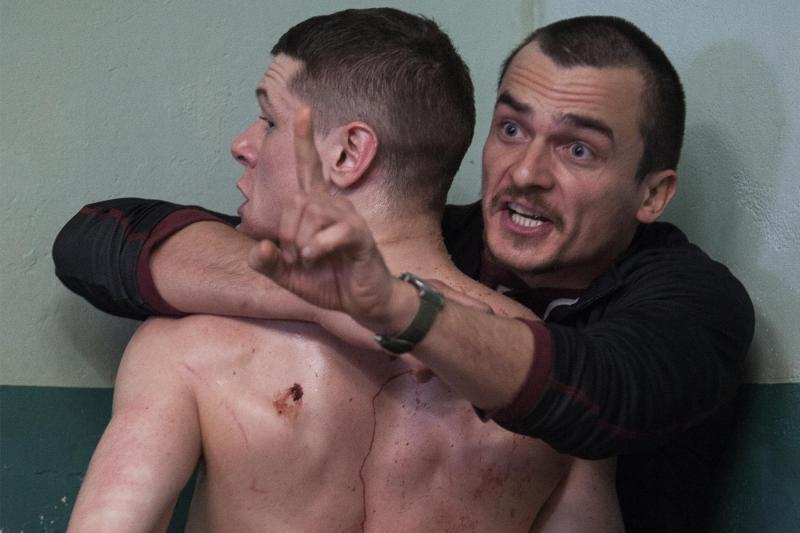 A violent teenager (Jack O'Connell) and the prison volunteer (Rupert Friend) team up
Director David MacKenzie has made a prison drama for those who don't like the genre and an ace in the hole for those who do. Starred Up is an example of how quality filmmaking captures an audience no matter what the topic – and here, that quality includes skilful cinematography, a tight script and tremendous performances from both leading and supporting cast. The result is that we get to see how the horror of prison life reflects the violent pockets of society outside.
This is a film that edifies and also gives hope – even if that glimmer is currently beyond the realms of reality.
Like his previous films, among them Halam Foe and Young Adam, MacKenzie is an adept handler of powerful actors: he's not afraid to push. This means performances that catch the eyes of critics and festivals like, in the cases of Jack O'Connell (winner of BIFA, Dublin IFF and as LFF awards) as well as BIFA nominations for Rupert Friend and Ben Mendelsohn. Casting director Shaheen Baig was also nominated for Best Technical Achievement. When you see superb supporting performances from Mark Asante, Anthony Welsh, Raphael Sowole and Ashley Chin, to name a few, this is a well-earned nomination. Also Michael McDonough's cinematography deserves special notice.
Starred Up begins with a doomed premise. A teen with the cunning of an alpha male and the muscularity of a thug on the rise, Eric (O'Connell) is transferred to an adult jail before he should be – i.e. "starred up". Thinking at first he's a victim, we soon see he's prepped himself for this systemic error. He's a violent male who anticipates problems, most of which don't exist before he creates them. Eric is a manchild who hates inmates and wardens alike. The fact that Neville (Mendelsohn) is his long-gone father, you'd think, could maybe be a plus, but, here, there is no telling where this father-son thing is going to go.
Enter volunteer Oliver (Friend) whose anger management group is the only opportunity the prisoners have to get anything that could help them once they leave prison. Suffice to say that things do not go smoothly with Eric and Neville and the anger management course – but it is here that the audience begins to understand the gist of the problem.
Shot in former prisons in Northern Ireland on a budget of £2 million, this is a testimony to what can be done by Film4, Creative Scotland and Northern Ireland Screen. With a screenplay from debut writer and prison system therapist Asser, this is a film to rev your heart-rate and engage your fight-and-flight mechanism. This is a gem of yellow light, flashing fists, spittle and subtlety, with fine ensemble performances and a director who knows how to tell a story. There are a few judders here and there, but you'll come away from Starred Up feeling you've understood something that before you could have only guessed at. This is moving, important cinema that entertains with unpredictable twists as it does a social duty.
Overleaf: watch the trailer to Starred Up
This is moving, important cinema that entertains with unpredictable twists as it does a social duty
rating
Explore topics
Share this article