The Theory of Everything |

reviews, news & interviews
The Theory of Everything
The Theory of Everything
Eddie Redmayne's moving turn as Stephen Hawking, the scientist struck down with motor neurone disease
A brief history of romance: Eddie Redmayne and Felicity Jones as Stephen Hawking and Jane Wilde
It's Turing versus Hawking, Cumberbatch v Redmayne, computer science v astrophysics, tragedy v the triumph of love. Ever since The Imitation Game and The Theory of Everything appeared at the Toronto Film Festival last year, the head to head has been inevitable, leading all the way to the Oscars.
The foremost battle is between the actors. As Cumberbatch fuelled his already sizeable reputation with his portrayal of the difficult, tortured and finally persecuted genius Alan Turing, so Redmayne has effectively sealed a place at the top table by expressing a man whose terrible affliction meant that he could not, naturally, express himself. Relative merits aside, The Theory of Everything is very good, its chief assets being the extraordinary story of Hawking himself, and of course the performance.
Anthony McCarten's screenplay will continue to juggle the romantic drama with lashings of cool science
Adapted from the memoir of Hawking's first wife, Jane Wilde, its focus is on their relationship – how their love affair was affected by Hawking's motor neurone disease, while their marriage aided him considerably in overcoming it.
Befitting what was a speedy turn of events, director James Marsh doesn't beat about the bush. It opens in 1963 with the meeting at a Cambridge student party between the floppy-haired and thickly bespectacled Stephen and the demure Jane (Felicity Jones). No matter that he's science and she's arts: the attraction is instant.
Meanwhile, Stephen and his new tutor Dennis Schiama (David Thewlis) are also sizing each other up, with the latter recognising the huge potential in his new charge. Anthony McCarten's screenplay will continue to juggle the romantic drama with lashings of cool science. But we are already seeing signs of Hawking's physical problems – falling, stumbling, shaking – even if he himself appears to be ignoring them; and just as the lovers cement their relationship in a beautifully romantic scene at a college ball, he's diagnosed with motor neurone disease. And that, it seems, is that.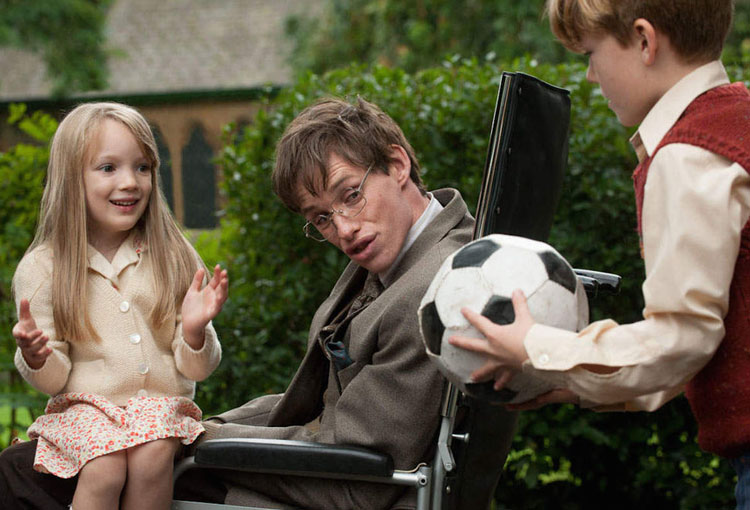 At 21, Hawking is told that his body is about to desert him, though his brain will not be affected. "Your thoughts won't change," he's told by one of those doctors who singularly lack people skills, "but eventually no-one will know what they are." In any case, he's given just two years to live.
Hawking didn't die, and his still-working brain not only learned to overcome his inability to speak, but broke new ground in cosmology and all manner of space-time shenanigans that one can barely understand. The film shows how his marriage to Jane – who declined to take the easy option and walk away – was instrumental in him achieving all of that. But it also reveals the toll it took on a woman whose own studies, in language, played second fiddle to the needs of her husband and, surprisingly, to parenthood: his brain was not the only part of Stephen still functioning.
To date, Marsh is best known for tougher fare, whether it be the documentaries ­ Man on Wire and Project Nim, or the dramas Wisconsin Death Trip and Shadow Dancer; one wouldn't have imagined him at the helm of an inspiring, life-affirming tear-jerker. He's equal to the change in tone, though I do feel he over-compensates, holding back too much on the undoubted darkness, both in relation to the unimaginable, physical black hole into which this man descended, and the emotional hardships in the day-to-day of the marriage.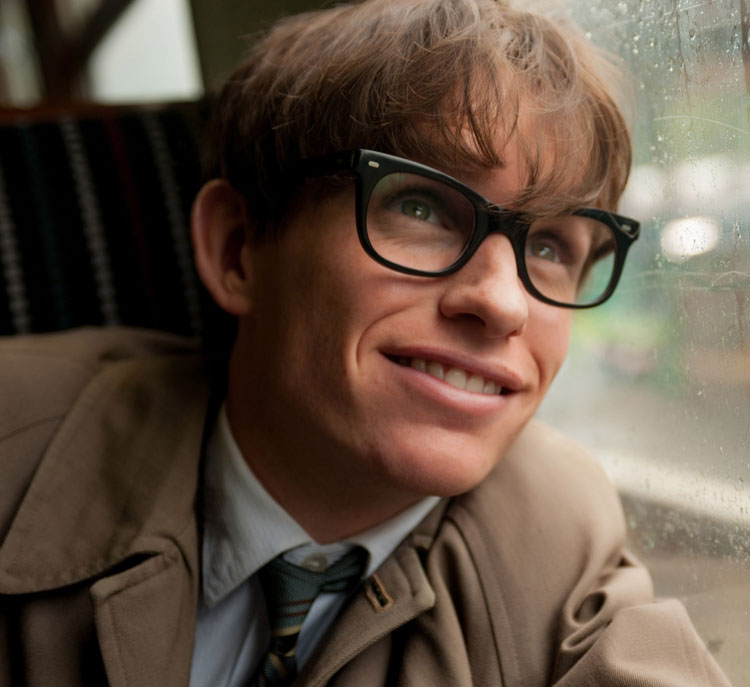 Jones, a serious up-and-comer herself (Like Crazy, Breathe In, The Invisible Woman), gives a nuanced portrayal of Jane, particularly when the determination to stand by her husband is challenged by her own academic ambitions and by her feelings on encountering a widowed choirmaster (Charlie Cox). Yet the film belongs to Redmayne, best known for Les Miserables and here handed the part of a lifetime. The best thing that can be said about his performance is that you quickly and completely forget about it. He wisely introduces intimations of the illness from the very first scene (one can't help feeling that it is already playing beneath his features), so that the progression into full-blown disability is seamless and utterly convincing, the personality never lost inside the powerless shell.
In terms of the technical challenge, and the success in dealing with it, this brings to mind Daniel Day Lewis, in My Left Foot, for which, incidentally, that actor won his first Oscar
EDDIE REDMAYNE'S FINEST MOMENTS
Birdsong. TV solves the problems of Sebastian Faulks's novel where movies and theatre failed
Fantastic Beasts and Where to Find Them. JK Rowling casts a new spell starring Redmayne as a wand-wielding zookeeper

My Week With Marilyn. Slim, prim but well-acted tale of the legendary star's misadventure in England

Perspectives: War Art with Eddie Redmayne. Oscar-winning actor proves that he did learn something as a Cambridge art history student

Red. Alfred Molina skilfully embodies 20th-century art giant Mark Rothko. Redmayne assists

Richard II. Redmayne plays the tormented king in Michael Grandage's swift, fluid farewell to the Donmar

The Danish Girl. Beautiful but sanitised adaptation of a heartbreaking story


PLUS ONE TURKEY
The Pillars of the Earth. Ken Follett's Middle Ages: English history shot in Hungary and funded by Americans