theartsdesk Q&A: Spooks, the movie |

reviews, news & interviews
theartsdesk Q&A: Spooks, the movie
theartsdesk Q&A: Spooks, the movie
How the popular MI5 drama finally made it to the big screen
Director Bharat Nalluri and Peter Firth shooting 'Spooks: The Greater Good' by the Thames
During its 10-season run on BBC One between May 2002 and October 2011, Spooks built a lasting reputation as a superior espionage thriller, charting the battle of a squad of MI5 agents to protect the realm against its fiendish and unscrupulous adversaries.
Despite the inevitable plot-holes and sometimes incredible storylines,
Spooks
managed to keep itself anchored in the bleak realities of intelligence work, where it was wise to trust nobody and if you were paranoid, that's because the bad guys really were out to get you.
As a string of leading actors such as Matthew Macfadyen, Keeley Hawes, Rupert Penry-Jones, David Oyelowo and Richard Armitage passed through the portals of the gleaming digital labyrinth of the Spooks HQ, before exiting to find yet greater fame and fortune, the show established a dedicated fanbase which hasn't given up hope of Spooks someday returning to TV. But there has also been huge anticipation for the long-rumoured Spooks movie, a project which has been hovering in the ether since the show took its final bow on the BBC. This week, Spooks: The Greater Good finally hits the cinemas, in its full wide-screen glory.
Its centre is Peter Firth, reprising his long-running role as Spooks supremo Harry Pearce, though sadly his inamorata, Ruth Evershed (Nicola Walker), couldn't make the cut because she perished in series 10. Still, Harry has a new sparring partner in Will Holloway (Kit Harington, best known as hirsute hunk Jon Snow in Game of Thrones), and there's strong support from, among others, Tuppence Middleton and David Harewood. theartsdesk sat down for a chinwag with the film's director, Bharat Nalluri, and screenwriter Jonathan Brackley (Nalluri, Peter Firth and Kit Harington on the red carpet trail, pictured above).
TAD: Bharat, you directed the original pilot episode of Spooks for TV, so how does it feel to be back?
BHARAT NALLURI: It's great. Once I do the pilot it's very rare that I come back and do any more of the show. With Spooks, I kind of came back for the second series and did one or two episodes, and then I came back and did the very last episode after 10 years. The job of a pilot director is to set everything up. You work on the script and this is how the script style is going to be with the producers, then you work on the casting and work out the style of acting. You're setting the whole template. The great thing about Spooks is that other great directors have come in and done their own thing. It's something you can do more on British TV, with American TV they tend to set it up and it stays like that. But when I'd made the last episode I said as I was walking to the car park "you know, there's always been a movie in this". They've been talking about it ever since.
Did you have reservations about making the transition from television to the movie?
With the series, we were always making a BBC drama with a set limited budget and timing. Though it was much bigger than anything else on television at the time, with a movie you're suddenly allowed to do everything you want. Can I have an aeroplane? Can I have Kit Harington? OK! We wanted to take the core values of Spooks and energise it and make it something worth going to the cinema for, to have that kind of thrill ride. And having a good time. But maybe Spooks isn't about having a good time, it's about having a complicated time and then coming out and going whoo, right, there you go.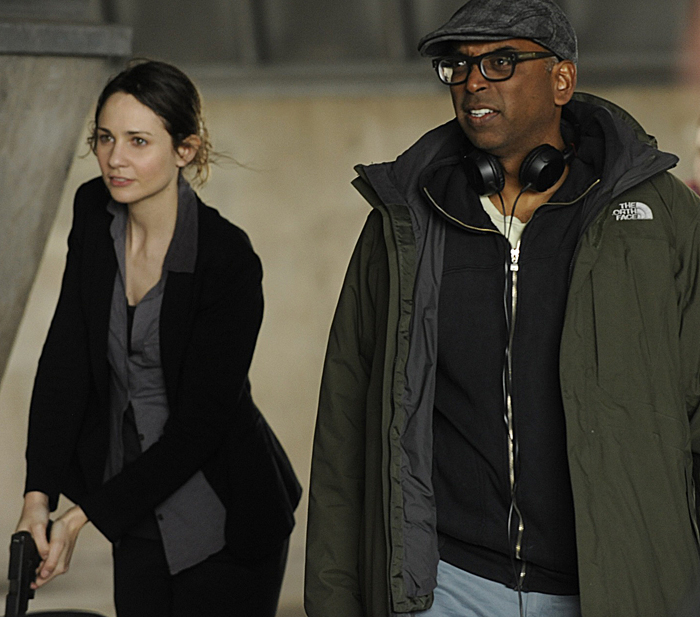 Was it essential to have Peter Firth?
Once I knew Peter Firth was up for it, that was great. Can you imagine if I'd made this without Peter Firth? They'd have run me out of the country and taken my passport away. As for Kit Harington, he'd never seen Spooks. I went over to meet him in Ireland where he was doing Game of Thrones and we got drunk in the pub and he said "I've never seen it, I've been told it's fantastic, my brother loves it and my whole family loves it". I said, "Do you think this is a character you want to play?" and he said, "Yes, shall I go and watch all of Spooks now?" I said: "No, don't watch a single episode, I want you to be our clean skin. I don't want any of that preconception of what you think it is." He's really looking forward to seeing it after all this press (Nalluri with Tuppence Middleton, pictured above).
Jonathan, how was writing a Spooks movie different from writing TV scripts?
JONATHAN BRACKLEY: My writing partner Sam Vincent and I wrote 10 episodes of the last two series of Spooks, but they're very different disciplines. With a series it's a bit more novelistic in approach because you've got more time and scope to take characters on a long, winding journey. There's a different and much more compact rhythm to a film. There are more peaks and troughs in characters' journeys, they're more lyrical because you've got that limited amount of time. It was a lot of fun to write the movie which was on a much bigger scale, and do things we couldn't always do in the series.
Did you always want Spooks to be its own thing, and not for instance an echo of James Bond?
I think Spooks has always had its own identity since it began. It wasn't Bond and it wasn't Bourne and it wasn't le Carré. The thing that always appealed to Sam and I is that it operates in the moral grey areas. Obviously our heroes are always working towards protecting their country and they've got noble aims, but we explored the more questionable aspects of what they were doing. And it's very London-centric, it feels like a very British thing in a more realistic way than perhaps Bond does. It's nice to travel to foreign locations, but it has to be predominantly about London because it's about MI5 and homeland security (from the Spooks archives: Firth with Richard Armitage as Lucas North and Hermione Norris as Ros Myers, pictured below).
NALLURI: I'm now living in America because my wife got a job in Washington, so I sensed I was going away from London for like five years and I felt this movie was my love letter to London. There were a lot of locations I wanted to show. That beach by the Thames – if you're a fan it's been in the show three times, all in my episodes. The ending had been written for somewhere else but I said no, you've got to end it right there in the heart of London. Also I lived in Brixton, so I set the internet cafe scene in Brixton, my flat's literally round the corner. As for the aerial shot of Oxford Circus, what you didn't see was me puking up in the helicopter while we were doing it. We got Ridley Scott's helicopter guy because I wanted the best helicopter shots of London you could get. They're this amazing crack team and they're dancing with the helicopter and you're looking at the screen. I was literally directing with a bag being sick, and saying "over there, over there!" Spooks has always been much loved in London. The Mayor is a big fan, and we've consistently stayed here even though it would have been cheaper to leave. I think the city has been grateful for that.
Jonathan, how do you start getting story ideas for Spooks? Do you find material from items in the news?
JONATHAN BRACKLEY: Yes, we always read a lot of news stuff for the show. When Sam and I came on in series nine and 10 we spoke to some security consultants who would keep us up to date on what the threats were looking ahead. I think that's what Spooks always did so well, be really prescient about what was going on in the world. We had advisers helping us to look forward 12 or 18 months, which was always fascinating ang terrifying but really useful to create the reality of the show.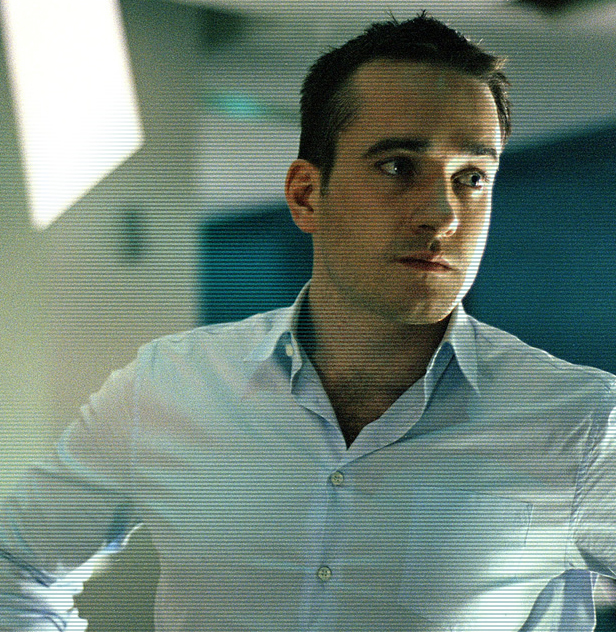 BHARAT NALLURI: One of the great things about the TV show was that the programme would end and then the 10-o'clock news would be about what the show had just been about. The classic example was the deep-fat fryer one [series 1 episode 2, in which Lisa Faulkner's character Helen Flynn had her head pushed into said fryer]. That was about the rise of the right wing and it was followed by the story about race riots in Bradford that was caused by the right wing upswing, so the relevance was always there. I heard one of the reasons the show ended after 10 years was that everyone felt the news cycle had run out of stuff, then it just went bonkers again. You had Edward Snowden coming out, the Prime Minister ordering discs to be ground up in the Guardian's basement, Bradley Manning becoming Chelsea Manning, Julian Assange in the Ecuadorian embassy... It's like every episode of Spooks you've ever seen. When we came up with the idea for the movie, it was based on a headline, the fact that GCHQ was doing a lot of spying for the CIA in return for money basically. The politics behind the scenes is all about budgets and financing. It gave us a really strong moral dilemma for our central characters. It's down to who pays the most in the end (back in the day: Matthew Macfadyen as Tom Quinn, pictured above).
How did the back story of Harry Pearce and Will Holloway develop?
JONATHAN BRACKLEY: We were going for the father-son dynamic. We needed a way to introduce a new and exciting character into the show, and we thought it would be a more interesting dynamic if he was an exile from MI5 and had been kicked out. Obviously if he'd been kicked out by Harry that was much more juicy for us. It gave us a lot of fuel for that relationship, and in a way that was in keeping with the themes of the show. It's all about who you can trust and whether you can rely on people, and again the moral greyness of the show.
Are there more Spooks movies in the pipeline?
BHARAT NALLURI: If you go out and see it yeah, there's a huge will to do two, three, four, five and six! We've got a whole story idea already worked out. It's how we think in the TV series – we never think about one episode, we think about where that's leading to. So we have this great arc worked out, but if no-one goes to see it that will be the end, alright?
Spooks: The Greater Good goes on general release on Friday 8 May
As for the aerial shot of Oxford Circus, what you didn't see was me puking up in the helicopter while we were doing it
Explore topics
Share this article