The Bourne Legacy |

reviews, news & interviews
The Bourne Legacy
The Bourne Legacy
Does a Bourne sequel without Jason Bourne really sound like a good idea?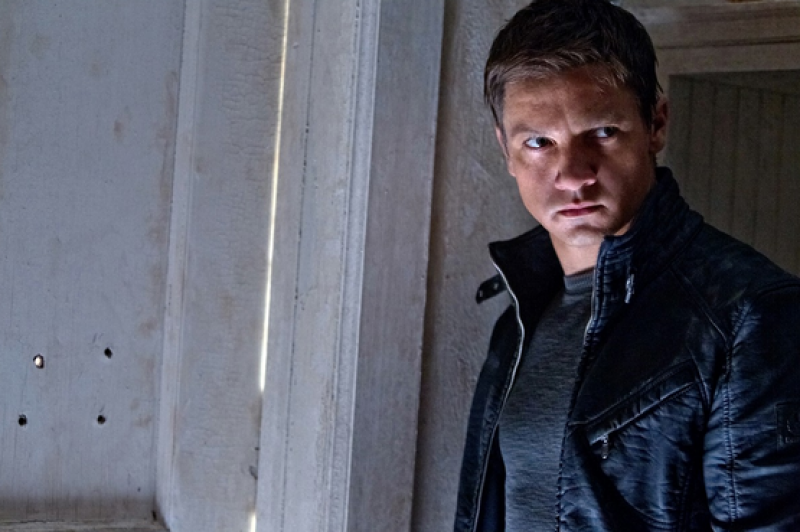 Jeremy Renner as Aaron Cross, genetically enhanced super-agent
We haven't had a Bourne movie since 2007's Bourne Ultimatum, so Hollywood naturally felt it was high time to reheat the much-loved franchise. Back comes Tony Gilroy, screenwriter for the first three Bournes and now writer/director on this one.
In the mix, too, are brief cameos by some familiar faces from the earlier pictures, including Joan Allen, David Strathairn and Albert Finney, who are used to emphasise the way this new instalment grows out of the dark and dirty covert shenanigans we've seen in its predecessors.
But what fans will want to know is whether The Bourne Legacy can survive without Matt Damon's Jason Bourne at its centre. Damon apparently didn't want to do another one unless Paul Greengrass was going to direct, and watching this new effort, you'd have to conclude that his judgment was impeccable. The flick tries to take the Bourne saga off in a new direction, unveiling previously unseen new layers of secret intelligence operations and top-secret scientific research, but along the way the pace and purpose have gone missing.
The Damon-shaped hole is filled by Jeremy Renner as Aaron Cross, an agent from the mysterious Outcome programme. The production notes doled out to the media explain that, in contrast to the CIA's Treadstone operation that created Bourne and his fellow assassins, Outcome is run by the US Department of Defense, and creates agents "designed for use in isolated, high risk, long-term intelligence assignments". You'd be lucky to work all that out just by watching the film, frankly.
The long opening section, in which we follow Cross on an extreme survival exercise in Alaska which causes him to climb mountains, leap across icy precipices, fight off wolves and so forth, looks fairly promising, and Renner's no-bullshit earthiness makes him easy to watch. His edgy encounter with a fellow Outcome agent, where they circle each other warily while bristling with mutual suspicion, followed by an explosive intervention by a drone aircraft, successfully crank the tension higher.
Unfortunately, after this the piece just keeps going sideways. There's too much join-the-dots stuff aimed at explaining how Cross, Outcome, Treadstone, Blackbriar and various spooks and spymasters are all joined together, the major new addition to the saga being Edward Norton's Colonel Byer (pictured below), who is cold but not quite nasty enough. All this only emphasises what's gone missing along with Jason Bourne.
Having an amnesiac as your protagonist confers various benefits, particularly the fact that he shares a mutual bewilderment with the audience as he tries to figure out what's happening and what has happened already. Damon brought real heart and soul to Bourne's quest to discover his true identity, and he was convincingly horrified as he unravelled the monstrosities he'd committed on behalf of Uncle Sam.
Aaron Cross, on the other hand, hasn't forgotten anything, he just doesn't realise (at first) that he's been earmarked for extinction in the aftermath of Bourne blowing the CIA's cover in the previous episode. Instead of memory loss, Cross has been burdened with a dependency on custom-made blue and green pills designed to enhance his intelligence and physical capabilities, but it's a little too Alice in Wonderland for comfort (one pill makes you larger, one pill makes you... cleverer, allegedly.)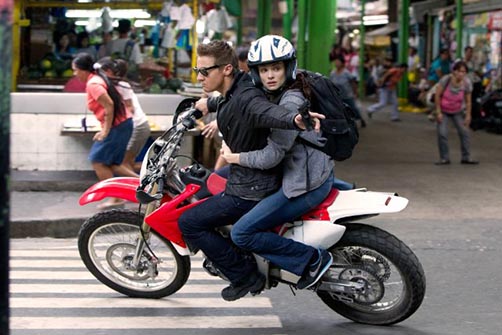 Despite all the back story clutter, Legacy eventually boils down to a simple chase yarn as Cross goes on the run with top research scientist Dr Marta Shearing (Rachel Weisz), who has helped devise the performance-enhancing drugs that fuel the Outcome agents. She's also now in Byer's crosshairs, but Cross can save both of them if they can get to the top-secret factory in Manila where the happy pills are being manufactured blah blah (Renner and Weisz burn rubber, pictured above).
And there's the rub - too many implausible plot mechanics and not enough characterisation, while Gilroy isn't a patch on Greengrass as an action director. The teeth-loosening pace, warp-speed editing and concussive violence of the previous Bournes meant that you staggered from the cinema needing a stiff drink and a trip to A&E. By comparison, Legacy proceeds rather sedately, its action scenes lack that killer punch, and the specially modified assassin deployed to hunt Cross and Shearing is just slightly annoying. Come back Matt, they need you.
Watch the trailer for The Bourne Legacy
Aaron Cross has been burdened with a dependency on custom-made blue and green pills designed to enhance his intelligence and physical capabilities
rating
Share this article