Selah and the Spades, Amazon Prime review - boarding-school cliques go gangster |

reviews, news & interviews
Selah and the Spades, Amazon Prime review - boarding-school cliques go gangster
Selah and the Spades, Amazon Prime review - boarding-school cliques go gangster
Tayarisha Poe's debut feature rethinks the American high-school movie
Queen of all she surveys: Lovie Simone as Selah
"They always try to break you down when you're 17," says queen bee Selah (Lovie Simone) in Tayarisha Poe's impressive directorial debut. As leader of the Spades, one of the five Mafia-style ruling factions in the exclusive Haldwell boarding-school in Pennsylvania, Selah, with her waist-long braids and inscrutably cool managerial style, seems unbreakable. But not so fast.
Here comes new girl Paloma (Celeste O'Connor), her sweet-faced nemesis.
As a high-school movie, this is some way from Lady Bird, Waves or Mean Girls, though perhaps elements of those are at play, as are shades of Donna Tartt's The Secret History. But the Haldwell School is its own gangster microcosm, with the film focusing on the black and brown students who make up the Spades drug-supplying faction.
Their rival gang, the Bobbies, is run by blonde ice-queen Bobbie (Ana Mulvoy Ten), but the other factions, who deal in gambling, party organising and essay-selling, fade, like a quarrelsome Greek chorus, into obscurity.
The ivy-covered school itself, stunningly shot by Jomo Fray, is a gothic star in its own right. Never have dorm rooms looked so lush, so colour saturated, so stylish. In one unforgettable night scene, the students silently fill hundreds of glasses with green and blue liquid and completely cover a sweeping staircase with them. It's a glorious, jewel-bright sight, accompanied by tinkling atmospheric music. The next morning, the headmaster (Jesse Williams; Grey's Anatomy) and his assistant, regard the work – you couldn't call it vandalism – speechlessly.
Apart from the odd glimpse of the head, teachers and lessons are conspicuously absent, though Selah's mother (Gina Torres) exerts a baleful influence. Nothing is good enough for her – she phones to check Selah's marks in calculus and wants to know why she only got 93 per cent. And she can't understand Selah's reluctance to graduate and start college. We can: Selah's power, built up over several years, lies at Haldwell. Who'd want the real world after that?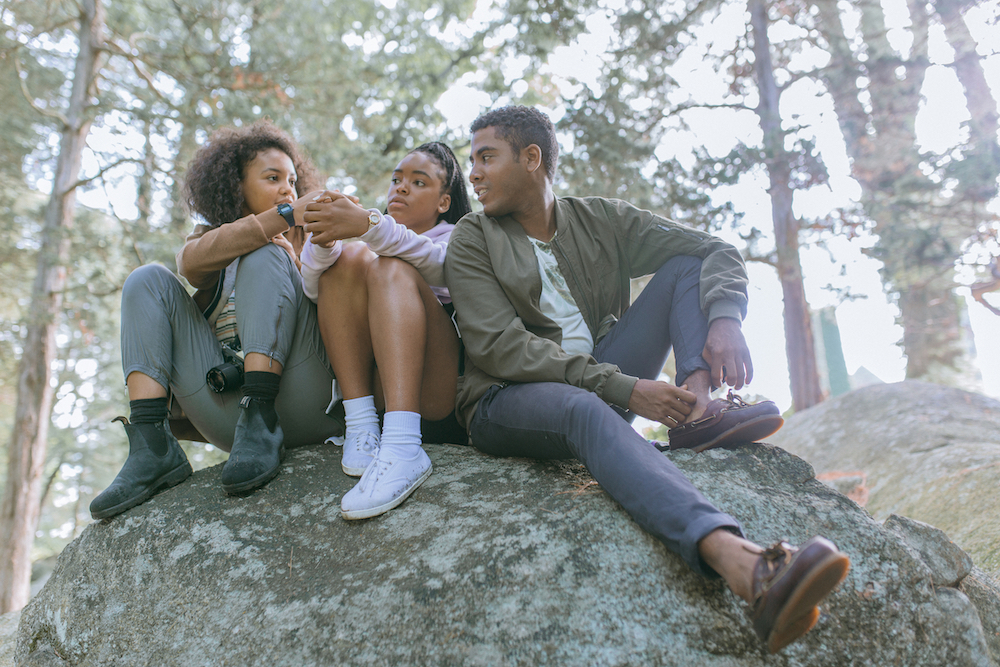 Nevertheless, Selah knows she has to find someone to whom she can hand on her legacy (this is the way these rich kids talk. It's very serious). She and her side-kick Maxxie (Jharrell Jerome, who played young Kevin in Moonlight; pictured above with Paloma and Selah), who Selah gets to beat people up if they pay late, discuss Paloma's potential. Although Simone is the star, it's often towards O'Connor as Paloma, who's always got a camera slung round her neck – she takes photographs for the school magazine - that your eyes are drawn. She's a wonderfully natural, thoughtful actress (her hair is wonderful and natural too), and there's real chemistry between her and Simone.
Once Selah and Maxxie have decided that Paloma is ready to be initiated into the business, they show her the treasure chest, adorned inside with fairy lights and stuffed with booze and attractively packaged drugs of many denominations. Paloma's ascendance heralds the end for Maxxie, who has taken his eye off the ball, let the Spades' precious accounts ledger get into the wrong hands and allowed a rat to compromise the system, mainly because he's fallen for a girl. Some of these plot lines are vague and don't bear too much scrutiny.
Selah is particularly unforgiving because, she tells Paloma, she isn't interested in dating, sex, making out. "I don't do it. I never wanted to. Why bother? Why not just do things that keep you from crying in bathrooms?" This is an original take on teenagedom, though Poe doesn't explore the reasons behind Selah's apparent asexuality, unless it's to emphasise her need to maintain control. But in spite of her hard outer shell, Selah isn't sure who she is. We see her practising her smile in the mirror, even using a photo that Paloma has taken of her for guidance. And although there's no overt sex between the two girls, there's a powerful adolescent intensity. When friendships go wrong, it can feel like death.
In the final scene, a Euphoria-style party, full of blurred lights and hazy trippiness, it looks like Paloma might be in serious danger. But there is an anti-climatic, unsatisfactorily muddled quality that doesn't feel like a real ending – no lessons learned, no redemption here. Yet in spite of plot weaknesses and occasional gaps in credibility, Selah and the Spades has huge, strange energy and exciting boldness that leave you looking forward to Poe's next film.
Never have dorm rooms looked so lush, so colour-saturated, so stylish
rating
Explore topics
Share this article