My Friend Dahmer review - sympathy for the devil |

reviews, news & interviews
My Friend Dahmer review - sympathy for the devil
My Friend Dahmer review - sympathy for the devil
Backstory of a psychopath: Marc Meyers charts an inexorable path to darkness
Freak show? Ross Lynch in 'My Friend Dahmer'
"He's not a sideshow attraction," we hear towards the end of Marc Meyers's queasily compelling My Friend Dahmer, when one of the "Dahmer Fan Club", a group of high school sham-friends-cum-taunters who have been treating the film's teen protagonist as if he was just that, has second thoughts. Encouraging him to throw pretend fits – they call it "spazzing" – first around school, later in public, they have seen it as some sort of "cool" provocation, a hilarious disruption. The bullied outsider Jeff appears content to go along with it, gratified by the semblance of inclusion that it seems to represent, though underneath surely aware of the enduring cruelty.
A macabre detail is that one of the American slang synonyms for "cool" that we hear here is "killer", given what Jeffrey Dahmer would go on to do: between 1978 to 1991, the "Milwaukee Monster" as he came to be known, would rape, kill and cannibalise 17 men and boys. He may have stuck forever in the freak show category, but the attention it brought him, right up to his murder in prison in 1994, was anything but a sideshow – this was infamy on a national headline scale.
Meyers follows his subject (played by Ross Lynch) through his high school final year – Dahmer was Class of '78 – and his ending chillingly catches that moment when maladjustment jumps, almost unnoticeably, into psychopathy. Somewhere along the way, he comes close to posing the question – could it have been different? Dahmer, elsewhere referred to as "just like anybody else", wasn't born a serial killer, rather it took a series of circumstances to push his adolescent weirdness into something incomparably more horrific.
The film's title comes from a 2012 graphic novel by Derf Backderf, Dahmer's school contemporary who, as Derf, is presented here as the most dynamic and, it's hard not to feel, insidious fan clubber. His two collaborators are on the lunkier side, but there's a smartness to Derf (Alex Wolff, pictured above left, with Tommy Nelson, Harrison Holzer), who becomes the king of their japes. He also surely elicits a sexual response from the outsider Dahmer, which gives their final encounter a distinctive extra frisson. Wolff plays the role brilliantly, catching casual guile alongside teenage self-centredness.
It's another moment, another encounter that could have directed this troubled life in a different direction
Meyers has broadened the perspective of the story to elicit a disturbing degree of sympathy for the disturbed adolescent who has yet to become the devil that posterity has defined him as. The obsessions are already there, starting with the roadkill that he dissects and embalms: he wants to find out "what's inside", particularly relishing the skeletons. His homosexuality is becoming apparent, although so far only at the level of fixation, with a runner who passes his house, who turns out to be a local doctor. Dahmer arranges a consultation: "What about what's on a patient's mind?" he asks. It's another moment, another encounter that could have directed this troubled life in a different direction.
The school bullying here is depressingly casual, "faggot" the term of abuse both for Jeff and for another younger, slighter boy whose advances of friendship he rejects. Home life is troubled, assaying the range of American Beauty-style casual domestic weirdness: his mother Joyce (Anne Heche, playing with panache) has mental health issues, and is prone to seeing UFOs, while his weak chemist father (Dallas Roberts) thinks his son is taking on his own loner legacy, and so destroys Jeff's laboratory hideaway to coerce him towards dumbbells. But that iceberg-like isolation remains, making the ruse (engineered, naturally, by Derf) to smuggle Jeff into all the school club photos – when he doesn't belong to a single one of them – all the crueller (pictured below, dinner with the Dahmers).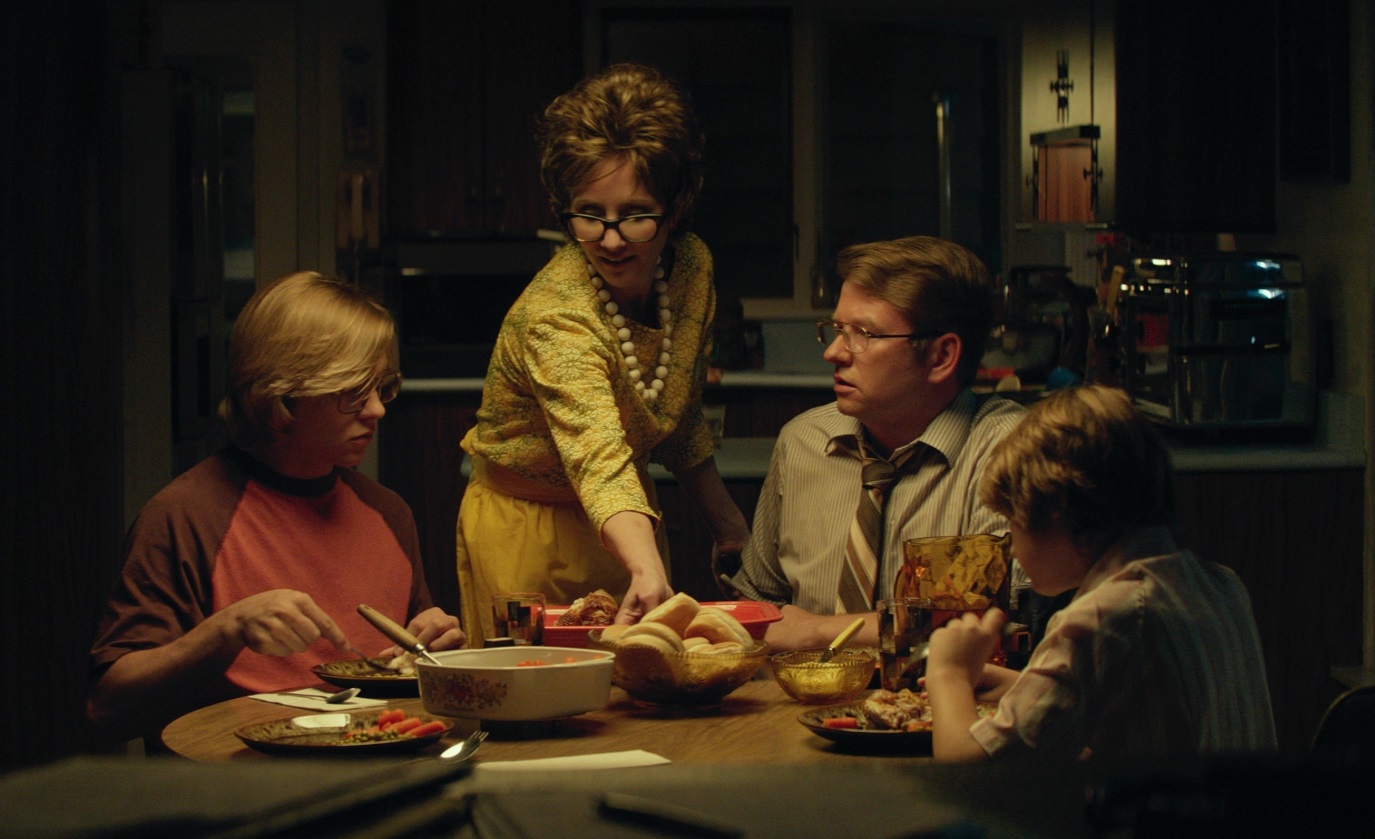 It's not that Jeff is puny or unattractive, with his sweep of blond hair and aviator glasses (Lynch is a former Disney star, who handles this dramatic piece of character inscaping with accomplishment), and even, on a school excursion to Washington, displays surprising ingenuity. But we feel a piercing absence: he stands tall but slouches, his eyes are faraway, empty. As well as the foolery that he's encouraged into, his other escape is alcohol, which he consumes in increasingly numbing volume. But as he carefully plans to attend the school prom, we see how Dahmer has learned to act (his later career would illustrate just such horrible skill), but his proclivities – it's not only roadkill now, but other animals – are moving inexorably into a different dimension.
Meyers and his collaborators capture this world beautifully, not least in Jennifer Klide's excellent period detailing that evokes the sheer unexceptionalism of suburban Ohio in the Seventies. There are lurid colours as well as natural beauty – there's nothing oppressive about the Dahmer family home, set in lush forest – in Daniel Katz's widescreen camerawork, while recurring distortions in Andrew Hollander's dissonant soundscape create an unease that is exaggerated by juxtaposition with an otherwise unobtrusive period pop score. Avoiding the sensationalism that would have come so easily, the skill with which Meyers varies the tone of My Friend Dahmer, as he takes us from humour to darkness and back again, is simply compelling.
Subscribe to theartsdesk.com
Thank you for continuing to read our work on theartsdesk.com. For unlimited access to every article in its entirety, including our archive of more than 10,000 pieces, we're asking for £3.95 per month or £30 per year. We feel it's a very good deal, and hope you do too.
To take an annual subscription now simply click here.
And if you're looking for that extra gift for a friend or family member, why not treat them to a theartsdesk.com gift subscription?