Loving |

reviews, news & interviews
Loving
Loving
Joel Edgerton and Ruth Negga in a quiet true-life drama about mixed-race marriage
Thursday, 02 February 2017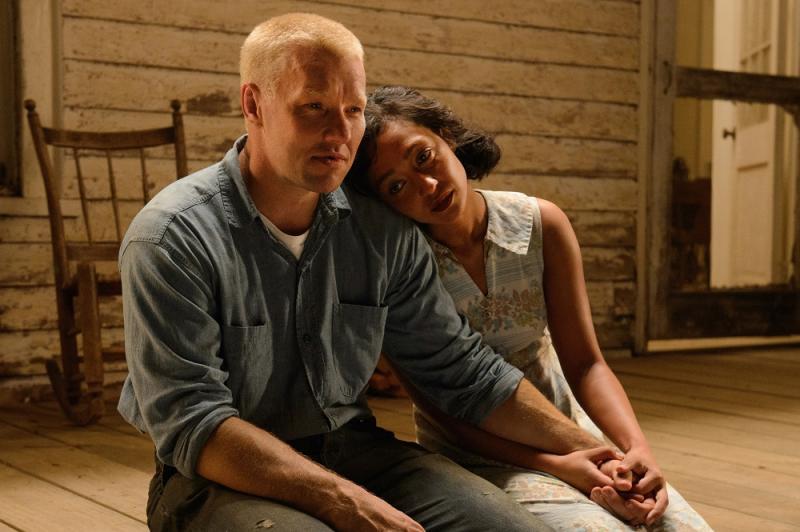 Joel Edgerton and Ruth Negga in 'Loving'
Loving is not just a love story, it's also the true story of Richard and Mildred Loving, a couple from Virginia who got married in 1958. Richard was white, Mildred was not, and because interracial marriage was banned in Virginia, they were both arrested under the anti-miscegenation laws.
Eventually the landmark case went to the Supreme Court and the ruling changed the face of
America
– a reminder in these deranged times that US lawyers can make justice work. Director Jeff Nichols (
Take Shelter
,
Mud
,
Midnight Special
) dramatises the facts with restraint, drawing on Nancy Buirksi's 2008 documentary about the Lovings.
Quietness and understatement are key; Joel Edgerton, who also starred in Midnight Special, knows how to pull un-macho power from silence, and the wonderful Ruth Negga as Mildred, who was part African-American, part Native-American, is outstandingly convincing (and has an Oscar nomination to show for it). Virginia in 1958 is segregated but Central Point, the poor rural community where the Lovings live, isn't. Poverty is the common denominator. Richard is a builder and a winning drag-race driver, which stands him in good stead with Mildred's brothers during porch-gatherings and family meals (green beans always seem to appear in moments of crisis).
When she gets pregnant, he buys an acre of land in the middle of fields – deep-country Virginia is beautifully shot by DP Adam Stone – where he hopes to build a house for them. They get married in DC, where interracial marriage is legal (Mildred murmurs something about there being "less paperwork" in Washington to her mother and sister). But paperwork is irrelevant. In the middle of the night the police break in, knocking down the bedroom door. Their marriage certificate, nailed proudly to the wall, is no good here. Mildred spends three nights in jail; Richard, out after one, is prevented from bailing her out. There's an awful ordinariness about the brutality. Their lawyer (a sweating Bill Camp) advises them to plead guilty; in return, their sentences are suspended as long as they don't return to the state of Virginia for 25 years.
Stoic, almost silent, they move to Washington DC to live with Mildred's cousin, though they sneak back briefly so she can have her baby back home with family. Life goes on, Richard gets building work, they have three children (under miscegenation law, children of mixed-race unions have no right to inherit). But the sadness – nothing more violent than that – remains. You may want more anger and passion. But that's the point – these aren't politically-minded people, they just want to live in peace near their families. About the biggest moment of drama is when Richard gets drunk one day after work. But it's never boring or worthy, partly because of the constant threat of the everyday, partly because of the convincing details of life lived in spite of it.
It's not until the civil rights movement gets underway in 1963 that Mildred acts, partly because she can't take life in the city with three kids any more. She writes to Robert Kennedy, who refers the case to the ACLU. Big-city men in suits enter the proceedings. At first it seems no good can come of it and there's a new tension – Mildred drives things forward, Richard, monosyllabic as ever, hangs back and the civil rights lawyer (comedian Nick Kroll as Bernie Cohen) seems inept and remote. But slowly, because of Mildred's courage – an amazing portrayal of matter-of-fact persistence – justice is done. There are no great fanfares – they don't attend the Supreme Court hearing in 1967, not buying the idea that it would be the tremendous honour that Cohen describes – just relief that Richard can finally build that house. This is a feel-good film based in political reality. God knows we could do with more of that.
There's an awful ordinariness about the brutality
rating
Explore topics
Share this article