Mud |

reviews, news & interviews
Mud
Mud
Matthew McConaughey is on the run in Jeff Nichols's triumphant follow-up to 'Take Shelter'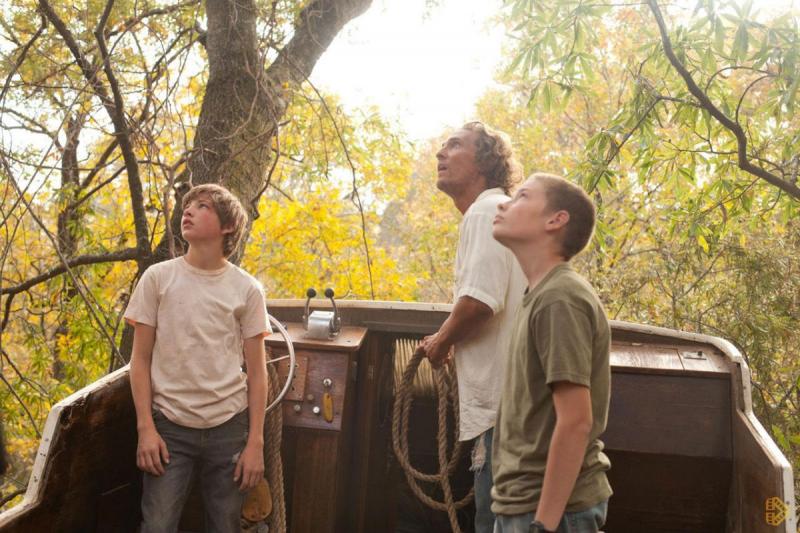 'Mud' - starring Tye Sheridan, Matthew McConaughey and Jacob Lofland - 'builds to something really quite heavenly'
There are few films of which you can say there's something for everyone - but there is something for everyone in Jeff Nichols's third film.
Mud
gives us Hollywood stars
Matthew McConaughey
and Reese Witherspoon, plucky young unknowns, the great Michael Shannon being funny; it combines the feel of a classic yarn (think
Great Expectations
crossed with
The Adventures of Tom Sawyer
) with a more modern kind of boys' own adventure (eg
Stand By Be
). It's gritty and dirty, climaxing in a genuinely thrilling shoot-out,
and
it's shamelessly romantic.
Ellis (Tye Sheridan from The Tree of Life) and Neckbone (Jacob Lofland in his first film) are a pair of 14-year-old scamps living in the blue-collar backwater. Finding a boat anomalously up a tree on a nearby island, they lay claim to it only to find that it's the hiding place of a fugitive, Mud (McConaughey). The boys befriend this seemingly amiable crook, helping him survive and evade capture. Mud is poised to whisk away his true love Juniper (Witherspoon, pictured below right) who's holed-up in a motel in town. He's being chased by the local law enforcement, alongside - more alarmingly - a collective of vigilantes led by Carver (Paul Sparks), who's pursuing a personal vendetta.
Mud is a film of rich yet perilous landscapes and evocative monikers, one that's warmed by the sun and its faith in humanity. First and foremost this is a story about love; about love that's lost, found, fought for or that's dying and, perhaps most of all, it's a story about platonic love. Ellis is a true romantic, a pocket-sized gentleman who has fallen for the first time (for Bonnie Sturdivant's May Pearl). Yet his parents are deep in marital discord and his father tells him: "You can't trust love, Ellis - you're not careful it'll up and run out on you." By contrast, his father-figure Mud shows Ellis that love is worth risking everything for. He's an eternal believer: repeatedly knocked down, he bobs right back up again.
Writer-director Nichols's third outing (after Take Shelter and Shotgun Stories) is brilliantly cast: McConaughey, continuing his recent streak of winning roles (see also Killer Joe, Bernie, Magic Mike and The Paperboy), is typically excellent and makes thick-with-dirt (and presumably whiffy) look good; Witherspoon is a nice choice here - not simply a damsel waiting to be saved, she's tough and ambiguous enough to keep us (and Mud) guessing. Others do fine work in small roles: Sam Shepard as mysterious loner Tom, Sarah Paulson and Ray McKinnon as Ellis's worn-out, dysfunctional parents, Shannon as Neckbone's scuba-gear-clad uncle. But most memorably impressive are young Sheridan and Lofland as our pipsqueak protagonists - they're spirited and likeable with an endearing, natural dynamic.
Mud wears its two-hour-plus running time lightly. This is a heart-warming tale of unlikely heroism, a soulful, scrappy, coming-of-ager. And, far from being mired in the titular muck, it builds to something really quite heavenly.
Mud is in cinemas from Friday
Watch the trailer for Mud
Mud is warmed by the sun and its faith in humanity
rating
Share this article