Her |

reviews, news & interviews
Her
Her
Spike Jonze's latest is this season's most haunting - and, arguably, best - Oscar hopeful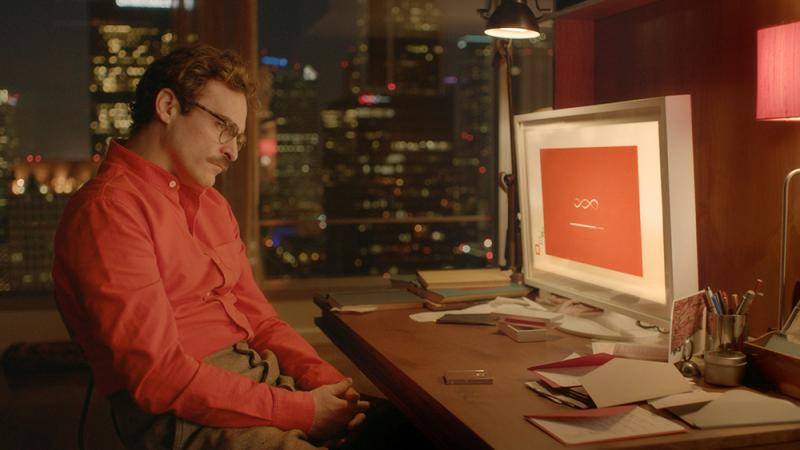 Lost in thought if not translation: Joaquin Phoenix tries to connect in Spike Jonze film
Pretty well the last film in the current array of Oscar hopefuls to reach Britain is also (in my view, anyway) the best. That's saying something as we gear up for an Academy Awards ceremony paying tribute to the strongest selection of nominees filmdom has fielded in an age.
But even to talk about Spike Jonze's
Her
in this way seems tantamount to cheapening it by way of commodification, when the truth is that this quietly devastating, achingly moving film seems to come from a private and privileged place all its own. Small wonder that Jonze has emerged as the front-runner for the Oscar for best original screenplay: there's original and then there's
Her
, and all one can do is look on, often tearfully, in awe.
Inevitably, there are those who will reject at the outset a film that courts facile categorisation as a satire, when in fact Jonze is burrowing with notable abandon into the dynamics of that much-quoted E.M. Forster dictum "only connect". How brilliant, with that in mind, that his film's wonderfully named central figure, Theodore Twombly (Joaquin Phoenix), has a job writing cards and letters for others: a sort of Cyrano for a computer age that before long will land Theodore himself in the amorous lap of - what else? - an operating system he can call his own. That, in turn, would seem to be Samantha (Scarlett Johansson, who is heard but never seen): the throaty if disembodied voice of seduction in an otherwise surface-laden landscape that shines and glistens but doesn't seem ever to invite its inhabitants in. (Johansson, her voice crackling like an incipient - and American - Judi Dench, replaced Samantha Morton, whom Jonze worked with first in the role.)
Her widens the focus to get at the heart of what it means to be human
The archetypal LA scenario, Her was in fact partially shot amid the reflective sci-fi-like environs of modern-day Shanghai, which functions in this movie much the way Japan did in Lost in Translation, the 2003 film from Jonze's ex-wife, Sofia Coppola, that this latest work exists both to expand upon and amend. (Film scholars, not to mention psychoanalysts, will have a field day in years to come anatomising the call-and-response between the two movies, not least the way in which they deploy the same actress, Johansson, to fascinatingly contrasting ends.) Indrawn and somewhat unknowable behind spectacles that constitute the last word in geek-chic, Phoenix's Theodore has acquaintances, to be sure, not least a wife (Rooney Mara) with whom he is on the outs and, more nurturingly, a college buddy called Amy (an especially luminous Amy Adams, pictured below), who is there for her pal in three dimensions in a way that Samantha cannot be.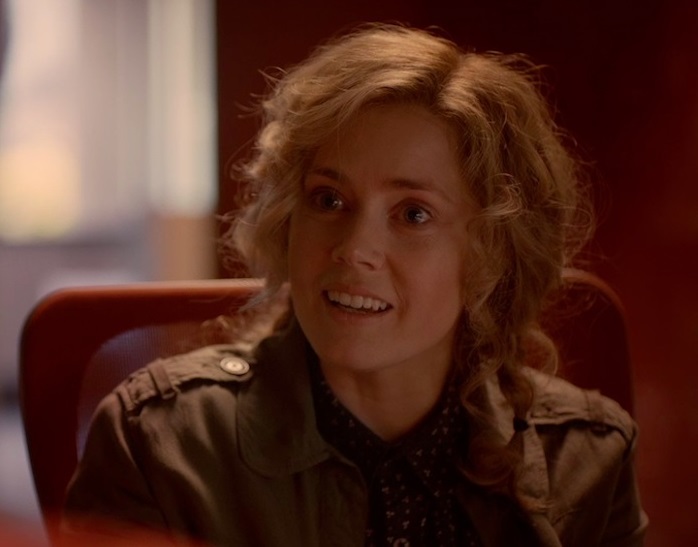 On the other hand, Samantha takes Theodore places - whether figurative or actual - that he didn't know existed, including a sexual encounter that redefines the notion of a threesome and an awareness of love that sweeps the reluctant Theodore into a newfound consciousness as exhilarating as it is scary. Indeed, in much the same way that Jonze's Being John Malkovich by virtue of its very title hinted at a giddily existentialist screen foray, Her widens the focus to get at the heart of what it means to be human. The irony, of course, is that it takes artificial intelligence to lead us there.
With the grievous death just recently of his co-star on The Master, Philip Seymour Hoffman, Phoenix joins Christian Bale, Robert Downey Jr, and one or two others on the shortlist of the cinema's current crop of acting mavericks who seem able to do it all, and the wonder of his starring performance here is how unvarnished yet acute it feels at every turn. Buttoned-down but not closed-off, an identifiable warmth and wit trying valiantly not to surrender to the soullessness that risks leeching whatever it is we call life, he puts himself fully in the service of a director who really does seem to view the world differently, and more deeply, from the rest of us. I look forward to revisiting Her many times over and letting its wondrous mood swings come at a spectator anew, but for now I can't imagine what could be more exciting cinematically than being Spike Jonze's brain.
Overleaf: watch the trailer to Her
Joaquin Phoenix joins the shortlist of acting mavericks who seem able to do it all
rating
Explore topics
Share this article