DVD/Blu-ray: Journey to the Centre of the Earth |

reviews, news & interviews
DVD/Blu-ray: Journey to the Centre of the Earth
DVD/Blu-ray: Journey to the Centre of the Earth
More like journey to the dull heart of feeble '50s special effects
Thursday, 21 September 2017
James Mason and Arlene Dahl in Journey to the Centre of the Earth
Oh dear. I thought that this was going to be one of those exciting fantasy films that livened up TV on weekend afternoons in my childhood, and that there would be kitschy special effects and ludicrous dialogue. But no, it's not 20,00 Leagues under the Sea, The Seventh Voyage of Sinbad or even Dr Doolittle.
It's a turgid plough through a Jules Verne
yarn
which doesn't even introduce a freaky creature until almost 50 minutes into the storyline, and then it's just some poor old lizards matted into a drab seaside set.
Journey to the Centre of the Earth frankly doesn't deserve the full restoration and re-issue treatment. James Mason plays an absent-minded professor of geology in an implausible Edinburgh. American pop star Pat Boone mangles a Scottish accent as Mason's aspiring student, who's in love with the Professor's niece (Diane Baker, fresh from playing Anne Frank's sister, here kitted up in Victorian frocks). Boone stumbles across a mysterious piece of lava that just happens to contain a secret message about a route that will lead intrepid explorers to the core of our planet and untold wonders. So off they go, picking up an Icelandic lady academic (Arlene Dahl) and her hunky sidekick (Peter Ronson, who doesn't speak English) and his pet duck. Deep into the steamy centre of the earth, which looks disappointingly like the kind of sets knocked up in the early days of Dr Who, all jiggly crystals, whirling maelstroms and steamy crevices.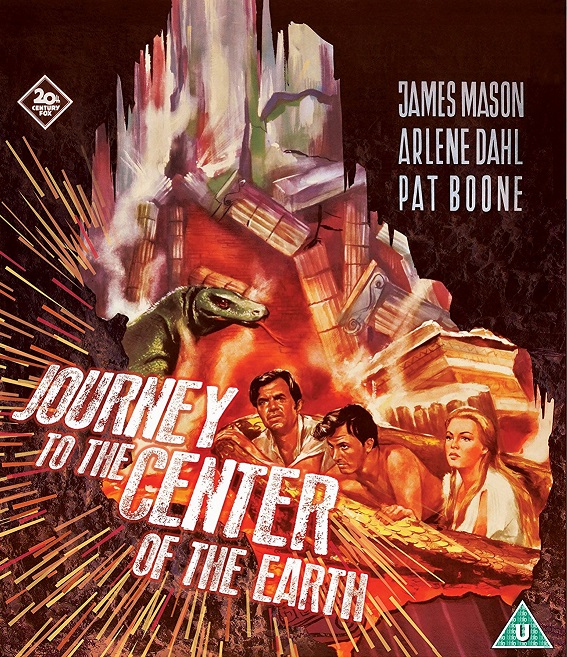 The duck is possibly the real star; Gertrude wears some alarming eye make-up which fluctuates from scene to scene. For those of us obsessed with waterfowl, Gertie is a very puzzling creature. Is it an Indian Runner duck crossed with a Pekin, or some other mutant breed created entirely for the film?
There is some skulduggery from a rival explorer (Thayer David) who definitely likes duck but in the wrong way, and there are far too many scenes where Pat Boone gets to amble around topless in his ripped shorts (as does the Icelandic sidekick). It's as if they were trying out for some Tom of Finland preliminary sketches. Mason deploys his magnificent vocal range on some blisteringly dull dialogue and you can imagine him moaning to his agent every evening on the 'phone. Why Charles Brackett kept his name on the script is a mystery. Bernard Herrmann composed the under-used score, but it's Boone's singing that scars the soul.
This new edition features an interview with the ever-enthusiastic critic Kim Newman, who has some dry observations to make on the director Henry Levin, who made scads of other films that no-one remembers. Best avoided, this is simply not camp enough to be fun.
Mason deploys his magnificent vocal range on some blisteringly dull dialogue
rating
Share this article