Cordelia review – Antonia Campbell-Hughes and Johnny Flynn star in an off-kilter tale of trauma |

reviews, news & interviews
Cordelia review – Antonia Campbell-Hughes and Johnny Flynn star in an off-kilter tale of trauma
Cordelia review – Antonia Campbell-Hughes and Johnny Flynn star in an off-kilter tale of trauma
Psychological drama about a traumatised woman and her weird neighbourhood
The Cordelia image that caused a social media stir
There's something deeply uncanny about Adrian Shergold's Cordelia. When the film's poster was released on social media, many mistook it for a kinky period drama with the power dynamics reversed. It definitely isn't a costume drama, but there's some kink.
It's unlikely the filmmakers intend this as a stunt, but it serves well enough to forewarn audiences that not all is as it seems with this
film
.
Cordelia is a strange psychological chamber piece that's reminiscent of Adrian Lyne's masterful, and genuinely terrifying Jacob's Ladder, with elements of Roman Polanski's Repulsion. At the heart of the tale is Cordelia (Antonia Campbell-Hughes, who wrote the screenplay with Shergold), a fractured soul that following a traumatic event on the underground is struggling to keep a grip on reality.
She lives with her sister, Caroline (also played by Campbell-Hughes), the more vibrant of the two. When she leaves for a weekend away with her boyfriend (Joel Fry), Cordelia is left alone with only her thoughts for company and the rat-and-mouse-obsessed Mr Moses (Michael Gambon in a fleeting performance) who lives opposite her. Then by chance, she bumps into her cello-playing upstairs neighbour, Frank (Johnny Flynn), who buys her a cup of coffee - but, all is not well with this new-found friend.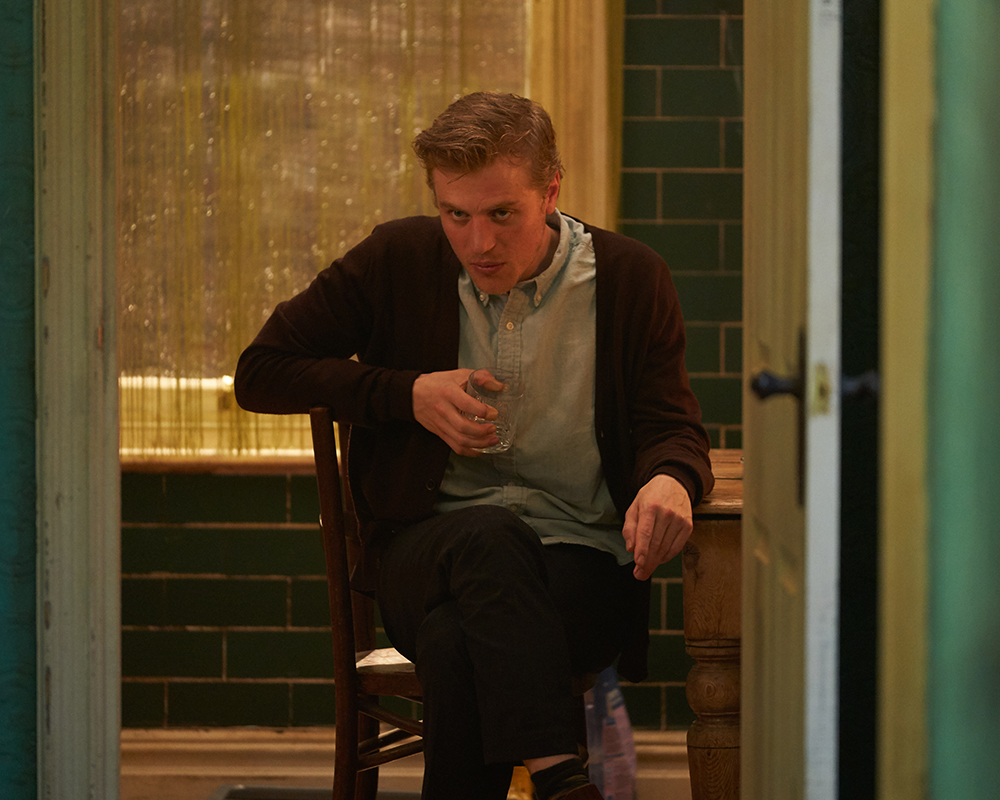 The London that the film is set in is very recognisable, taking place in and around Bloomsbury and Soho. The glass-bricked gloam of Cordelia's basemen flat, previously occupied by her late father, feels off-kilter, in part thanks to Tony Slater Ling's excellent camera work. It's a claustrophobic place, echoing the tube trauma from Cordelia's past. It feels more like a mindscape than a lived-in flat, and maybe it is. There's a nightmarish quality to the world. Fantasy and dreams slip deliriously back and forth, where it's impossible to tell what's real and what Cordelia is imagining. In one scene, Cordelia travels to her family home to bury a beloved pet. It's an unusual gesture, especially as she's carrying it on the train in a plastic bag - whether it has actually happened, it's impossible to tell.
Campbell-Hughes and Flynn have excellent on-screen chemistry. Flynn has an accent that makes you think of a young Phil Davis, but there's real menace there. Cordelia, on the other hand, is a product of trauma, where her fractured psyche switches between fight or flight at will, and her fight-response comes with a sharp bite.
As the film wears on, it's not just Cordelia that unravels. The narrative loses focus, and the joy of the cat-and-mouse dynamic of the first half of the film loses its edge. The result is frustrating, especially when the pacing slips. Still, there's something to this strange, unnerving drama that sticks with you, even haunts you.
There's a nightmarish quality to the world. Fantasy and dreams slip deliriously back and forth
rating
Share this article