Saint Maud review - creepy and strangely topical psychological horror |

reviews, news & interviews
Saint Maud review - creepy and strangely topical psychological horror
Saint Maud review - creepy and strangely topical psychological horror
Morfydd Clark is the troubled nurse with dangerously novel ideas about palliative care
Thursday, 08 October 2020
Keeping us guessing: Morfydd Clark in 'Saint Maud'
It only takes a few seconds of Saint Maud – dripping blood, a dead body contorted on a gurney, a young woman's deranged face staring at an insect on the ceiling, an industrial clamour more likely to score the gates of hell than the pearly ones – to make us realise that the film's title is a tad ironic.
That irony will become even sharper, and mordantly witty, when we find that for the eponymous hospital nurse turned private carer (references no doubt fudged for the private sector), sainthood would be most welcome.
"What's the plan?" she asks of God, with whom she frequently converses, in and out of prayer. "You saved me for something greater than this."
This, is a routine English seaside town, where the mousey, intense, alienated Maud (Morfydd Clark) is a fish out of water amongst the tacky arcades, fish and chips and bar life; her home, a narrow, depressing bedsit, which oftimes has the claustrophobic feel of a prison cell. But after that startling prologue, we find Maud packing her case for her next, live-in assignment. And at least a bit more space.
Amanda (Jennifer Ehle, pictured below) is an American in the last stages of a terminal illness, alone in her large pile in the hills above the town. At first glance, the nurse is unimpressed. "Dancer, choreographer, minor celebrity," she reports to the voice inside her head. "As you know, I have very little time for creative types, as they tend to be rather self-involved."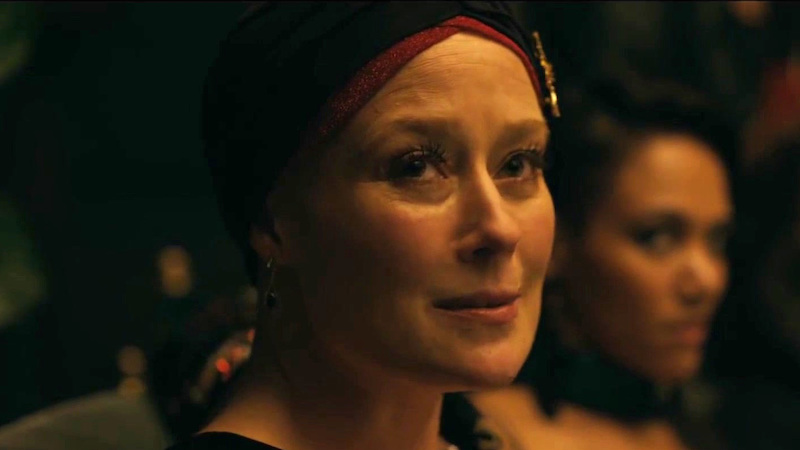 The chain-smoking patient certainly has a touch of the Norma Desmond in her affectations, and a defiantly hedonistic side that horrifies Maud. However, when Amanda shows polite curiosity in her carer's faith, Maud sees her chance. "Don't get me wrong. Palliative care is noble work." To God again. "But to save a soul: that's quite something."
It's been a year since writer/director Rose Glass's feature debut premiered at the 2019 London Film Festival, where this cracking psychological horror won an honourable mention in the best film competition. It's now in cinemas and, COVID-permitting, really should be seen on a big screen, where Glass's expert command of atmosphere, tension and horror set-piece can be best experienced. She's a very exciting new British talent.
There are some clear inspirations, from Polanski and Friedkin to Peter Strickland. At the same time, Glass's filmmaking is quite singular (it's worth checking out her acclaimed short film, Room 55, online) with a carefully considered aesthetic, a strangeness and a tightly-coiled chill all its own; and in this film her writing cannily uses the horror genre to investigate something that society is desperately trying to get to grips with right now, mental illness.
Despite the amusing one-liners, there's no doubt that Maud is an isolated and very disturbed young woman, her new-found religious fervour filling a deep well of need and desperation, yet sending her full-pelt towards psychosis. When she prays, "Don't let me fall", it's with a pathos that cuts to the quick. There is evidence of self-harm, with more to come, as inevitable rejection will send her over the edge. But to whom is Maud the biggest danger – herself, or others?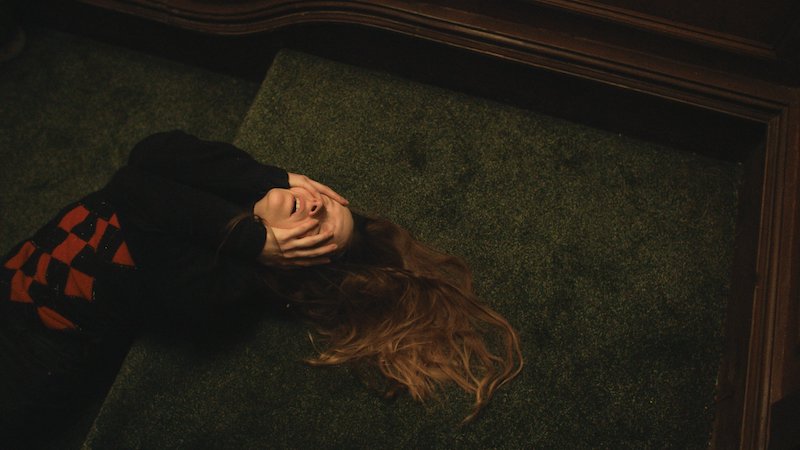 Glass imbues the character with ambiguity, the chief question being whether Maud's visions and physical experiences – including two fabulous, hair-tingling moments straight out of The Exorcist – are a matter of fantasy or some genuine religious ecstasy.
This ambiguity is heightened by the mood created by Glass and her production team. Every horror needs a good house: with Amanda's, production designer Paulina Rzeszowksa has created interiors that can seem spacious and stylish one moment – with an intricately patterned, retro vibe – but whose muted colours can suddenly become drab and forebidding. Cinematographer Ben Fordesman casts some impressive shadows, while tipping his image sideways, upside down, into deep focus and uncompromising close-up, all delineating Maud's state of mind – as does composer Adam Janota-Bzowski's atonal soundscape, whose jarring bursts of what sounds like foghorn evokes the score of another recent, top-notch psychological horror, The Lighthouse.
Morfydd Clark has been excelling in supporting roles for a time now (Love & Friendship, His Dark Materials, The Personal History of David Copperfield) so hats off to Glass for bringing the actress front and centre. Using her lilting, slightly childlike Welsh accent to good effect, Clark gives a finely-detailed, discomforting, edge-of-the-cliff portrayal of a woman at once vulnerable and dangerous. She's well-matched by Ehle, bedbound but deliciously effective as another character who plays with our sympathies.
Also to her credit, Glass doesn't rush for a body count or easy thrills, taking her time, slowly cranking up the creepiness and disturbance. When the conclusion comes, it's with a heartrending, terrible logic.
Glass's filmmaking is quite singular, with a carefully considered aesthetic, a strangeness and a tightly-coiled chill all its own
rating
Explore topics
Share this article