Contraband |

reviews, news & interviews
Contraband
Contraband
New Orleans smuggling yarn fails to burnish Mark Wahlberg's reputation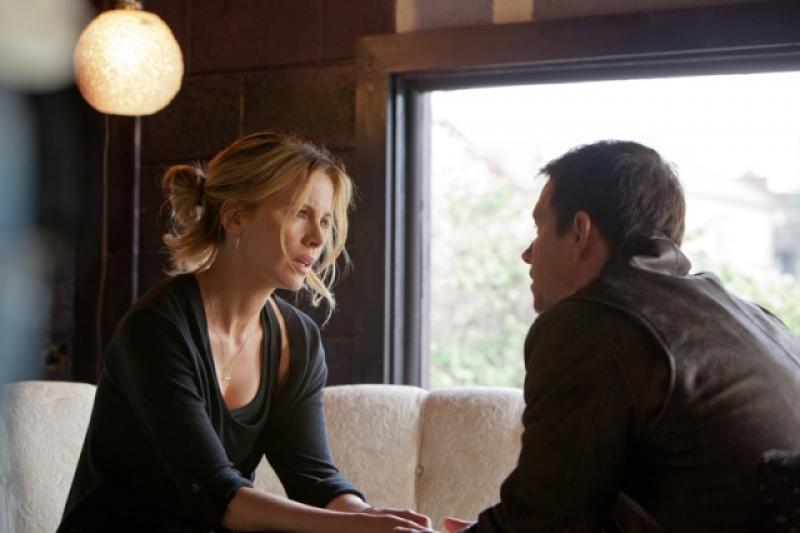 Kate Beckinsale and Mark Wahlberg wonder how they stumbled into the wrong movie
I always used to avoid any film that had Mark Wahlberg in it, because he seemed to have the acting skills of a park bench. Then I saw The Departed - because you have to see Marty's movies - and thought he was brilliant as the astonishingly foul-mouthed Sergeant Dignam. Now I've seen Contraband and regrettably, it may be time to revert to Plan A.
Contraband is an over-long and laborious heist thriller, a remake of the Icelandic flick Reykjavik-Rotterdam but transplanted to New Orleans. The atmospheric hook is supposed to be its evocation of a grungy Louisiana low-life operating in the margins of legality. Chris Farraday (Wahlberg) is a former smuggler who has given up crime to become a respectable father and family man, and now installs security alarms for a living. He lives in a modest working man's home with his wife Kate (Kate Beckinsale, unrecognisably blonde and poorly cast) and kids.
Unfortunately Kate has a brother, Andy (Caleb Landry Jones), a gormless simpleton who has been running drugs for scumbag gangster Tim Briggs (Giovanni Ribisi, pictured right). The movie's opening sequence is a dramatic raid by customs agents, who pounce by speedboat and helicopter on the cargo ship on which Andy is transporting his stash. In panic he chucks the drugs overboard, but Briggs doesn't consider a raid by the feds a plausible excuse for non-delivery. If he can't have the drugs, he wants the money. When Chris Farraday tries to intercede, Briggs says he'll kill Chris's family if Andy doesn't find $700,000, pronto.
And as night follows day, Chris finds himself signing up for our weary old friend, the "one last job", to raise the loot and buy off the villains. However, although he has a criminal history longer than the Mississippi, he's not really really bad because he refuses to traffic drugs. Instead, he declares that he'll join the cargo ship on which his jailbird-father Bud (William Lucking) used to run contraband, and bring back $10m in fake bills from Panama.
Director Baltasar Kormákur also starred in Reykjavik-Rotterdam, but instead of giving him special insight into the story, this merely seems to have left him rather bored with the whole enterprise. The thing stubbornly refuses to hit second gear for the first 40 minutes as the groundwork is laid for what we assume - or hope, at least - will be a tense and violent denouement. Once it does finally pick up some speed as Farraday arrives in Panama and finds his scheme for acquiring bundles of fake dollar bills isn't going to work out as easily as he'd hoped, everything feels too late, as if the exciting bits had to be botched together and hastily bolted onto the end.
For instance, there's quite a good scene where Farraday and his buddy Danny (Lukas Haas) are coerced into joining in an armoured car robbery by a demented Panamanian crime baron. This kicks off a wildly escalating pitched battle with the local SWAT (or whatever they're called in Spanish) people, but despite a vast hue and cry and piles of bodies littering the streets, Danny and Chris (pictured below in white van) can just stroll away from this and get back on their ship with no questions asked.
Again, the drama is meant to pivot on the notion that Chris's wife and kids are under terminal threat from the evil New Orleans mobsters while he's away, but they're never mean and vicious enough, as if their hearts aren't in it and there's nothing much at stake. The idiot brother-in-law does his best to screw up Chris's plans, but you know he's too lightweight to make much difference. And once Chris arrives back in New Orleans, the endgame plays out like rusty clockwork. There are no really clever twists, no stunning reveals, no shocking reversals of fortune. Belatedly, I will award a special mention to J. K. Simmons (formerly the shrink in TV's Law & Order), who has some fun as the brutish and cynical skipper, Captain Camp. As for Wahlberg, I'll grant you he has a great future as a producer.
Watch the trailer for Contraband
Everything arrives too late, as if the exciting bits had to be botched together and hastily bolted onto the end
rating
Explore topics
Share this article