Extract: The Book of Drugs by Mike Doughty |

reviews, news & interviews
Extract: The Book of Drugs by Mike Doughty
Extract: The Book of Drugs by Mike Doughty
Former Soul Coughing singer's vivid, brutally honest memoir of life as a drug addict and cult rock star
Saturday, 07 January 2012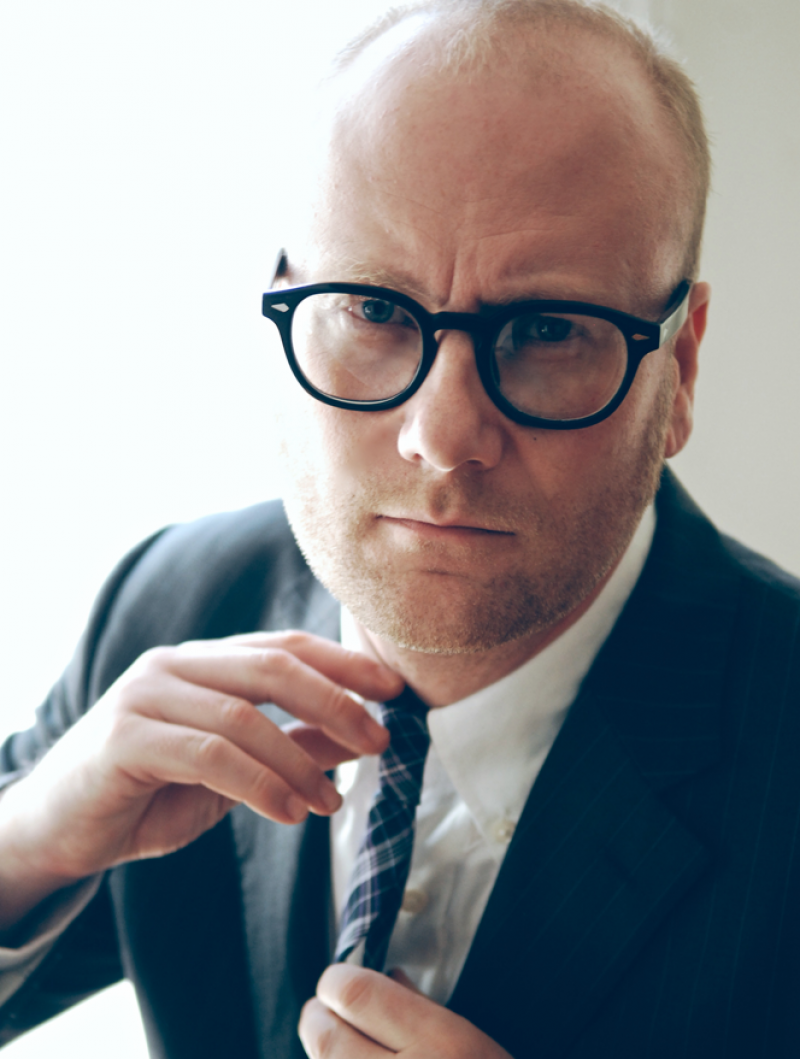 Mike Doughty: a man determined to distance himself from his previous life
I have been an admirer of Mike Doughty as a singer and songwriter since picking up Soul Coughing's first two CDs at a car boot sale for 50p each. I was drawn by the sinister, Lynchian art work and dryly witty song titles such as "Sugar Free Jazz" and "White Girl". You can't always judge a CD by its cover or its song titles, but in this instance I hit gold. Here's the opening line of "Is Chicago, Is Not Chicago", the first song on their debut Ruby Vroom: "A man drives a plane/ Into the/ Chrysler Building". I was hearing this post 9/11, but it was recorded in 1994. Soul Coughing, rather belatedly, became my favourite American band of the Nineties but, as The Book of Drugs reveals, they were Doughty's least favourite band of the Nineties. Or any other decade, for that matter.
The Book of Drugs is both the story of the most dysfunctional band in the history of rock and the story of one man's hell of drug addiction. Yes, both these stories have been told many times before - by many different fucked up and fucked off musicians - but rarely with such taught lucid prose and self-lacerating honesty. For example, in the extract below, Doughty tells us of his sexual exploits at the height of Soul Coughing's success. Each woman, encapsulated in a brutally compact sentence or two, is reduced to the prose equivalent of a photo-fit picture by her physical type, her nationality, or a soundbite of dialogue. Not in order to belittle them as human beings, but to convey Doughty's own tragic disconnection from his own feelings at the time.
The biggest compliment I can give The Book of Drugs is that - unlike so much writing in the often seedy sub-genre of the rock memoir - you don't have to already be a fan of the band or of the author to find it a moving and transportive read. The fired-up New York prose and incisively relayed anecdotes populating every page will keep you absorbed. As the man's simultaneously released solo CD Yes and Also Yes further demonstrates, Doughty is more than just a survivor. He is a writer who is only just finding out who he really is and what he's capable of. However, be warned. The extracts below plunge you straight into Doughty's sex, drugs and rock'n'roll hell. No punches are pulled. Howard Male
Watch "Is Chicago, Is Not Chicago" performed live by Mike Doughty's least favourite band
ATM
My lungs weakened. I had so little breath that I would routinely have a panicked, choking fight for air just by standing up from a chair too quickly. I like to leap up and pace whenever I get a good idea. So creativity was hazardous.
I couldn't stand all the way upright; I shuffled, half bent. It took me ten minutes to cross my tiny apartment, piss, and return to bed. It took half an hour to go down the stairs of my building - I walked backwards, gripping the rail, as if I were descending an Alp.
I never connected this with the $300 worth of dope I was sniffing daily. I was twenty-nine, and I thought, Well, twenty-nine, you know, getting older, the body starts shutting down.
Seriously, I thought this.
I smoked three packs a day. A morning pack, an evening pack, and then another pack rationed through the intervening hours
There was a Jennifer Lopez video that was on all the time - synopsis: Jennifer Lopez, a carefree girl from the Bronx, goes and picks up her paycheck at the beauty parlor, then gets on the train and heads out on the town with her friends, laughing. The video bewildered me. I knew, just from passive pop-culture consumption, that she was one year older than me. How's she able to do this? To function?
It was about four blocks to the bank machine. Every day I beeped Greg, and then headed for the stairs. Thirty minutes down. Then one block down Ludlow Street, which was transitioning from a discount market - Hasidic Jewish guys in their black hats and quasi-nineteenth-century garb selling knockoff leather goods - to a groovy-people playground. I felt invisible on the street. Maybe life was moving around me so much faster than I was that I was invisible.
Most likely, though, people were just averting their gaze from this guy who was clearly dying. I didn't look like a dope fiend, more like a cancer patient.
It took me three lights to cross Delancey, a wide street leading to the Williamsburg Bridge, looming grey in the distance. One Walk and I started across the westbound lanes. When I was halfway across, Don't Walk started flashing. Drivers would wait, rolling their eyes - gruff white commuters, thuggy dudes in decked-out Mazdas, delivery vans, Jersey-plated cars filled with girls in sequined outfits, en route to parties - as I finally got to the traffic island. Some time spent wheezing on the traffic island, my heart racing. Then I started crossing the eastbound lanes. It took me ninety minutes, sometimes two hours, to the ATM and back.
Most likely, though, people were just averting their gaze from this guy who was clearly dying. I didn't look like a dope fiend, more like a cancer patient
Explore topics
Share this article
Subscribe to theartsdesk.com
Thank you for continuing to read our work on theartsdesk.com. For unlimited access to every article in its entirety, including our archive of more than 10,000 pieces, we're asking for £2.95 per month or £25 per year. We feel it's a very good deal, and hope you do too.
To take an annual subscription now simply click here.
And if you're looking for that extra gift for a friend or family member, why not treat them to a theartsdesk.com gift subscription?