Christine |

reviews, news & interviews
Christine
Christine
Forcing an end: Rebecca Hall searing as TV presenter caught by mental health issues
Saturday, 28 January 2017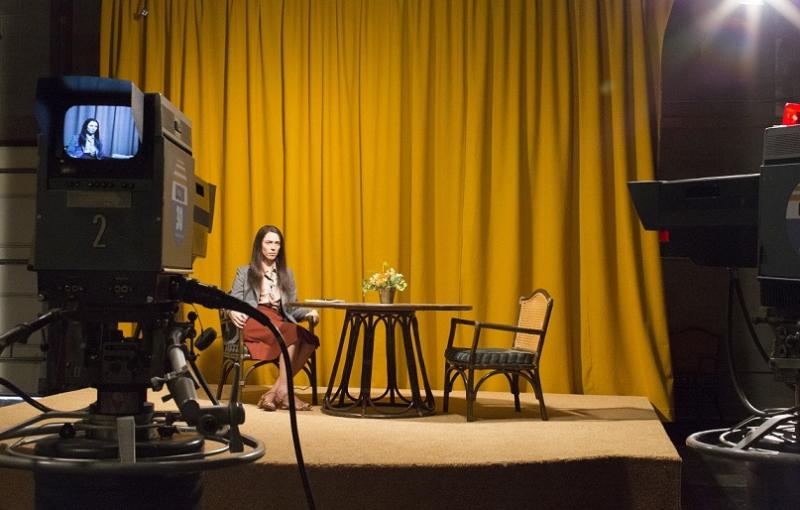 Facing the world: Rebecca Hall as Christine Chubbuck
If Christine may occasionally be an uncomfortable film to watch, it's impossible not to be gripped by Rebecca Hall's sheer, virtuoso turn in the title role of Antonio Campos' third feature: it sears itself on the memory with a pitiless rigour that won't be easily forgetten.
Hall plays Christine Chubbuck, the Florida television presenter who shot herself in 1974 while live on air on the station for which she worked. If that's a real-life act that's (inevitably) impossible to follow, Craig Shilowich's script and Campos' direction open her story out to us with a fully convincing wider perspective, a story that combines talent with aloneness, insight with mental illness, and personal drive with a brittle everyday manner (when a colleague tells her, "You're not always the most approachable person", it's an understatement).
Michael's remedy is to apply an 'If it bleeds, it leads' news policy
It's also a time that doesn't accept assertiveness from a woman easily: when the channel's boss Michael (Tracy Letts, sympathetic even when he's driven to exasperation) accuses her of being a feminist, he means "always talking louder than the other guy". It doesn't help that revenues are down, for which Michael's remedy is to apply an "If it bleeds, it leads" news policy, a headlines-chasing search at odds with the "issue-oriented" journalism that Christine advocates for her "Suncoast Digest" strand (but doesn't always manage to find, Sarasota being something of a backwater, so she's left covering plenty of local curiosity stories).
But if such a précis sounds dour, Christine isn't. There's plenty of humour in Shilowich's script, not least in its depiction of how a news studio actually works: how long-ago it all seems now, with TV still shooting material on film, the move to video only just underway here. (Christine's television world clearly recalls Sidney Lumet's 1976 Network too, not least because that film is about a presenter threatening suicide on air: Network clearly absorbed elements of Chubbuck's story, even if writer Paddy Chayefsky said that he'd started developing its script before her death.)
There's a finely crafted sense of the dynamics of this small working company. Michael C Hall is the station's anchor George, the good-looker on whom Christine has a crush – as weathercaster Steve pays hopeful but unrequited attention to her – but though a late scene shows him to be considerate to Christine, George is more caught up with "the little blonde number in Sports", especially when the chance of a promotion to a larger station comes along. There's real sensitivity from Maria Dizzia, who's superb as Jean, Christine's immediate assistant (and camerawoman), whose intentions are all good but can't keep up with the increasingly hyper tendencies that her boss (and friend) is showing (pictured below: Rebecca Hall).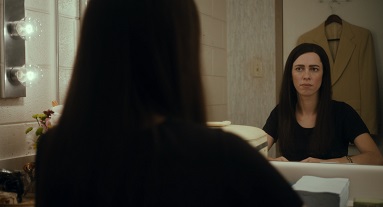 At home, that's the problem also facing Christine's mother Peg (J. Smith-Cameron, a wonderfully sympathetic performance that has her trying so hard to do the best, but just unable to find the right keys to press). There's clearly been a breakdown in the past, and Peg can spot the symptoms again – better than the doctor to whom Christine goes about another ailment that proves the source of new anxiety. The doctor is ready to offer, so characteristically for the Seventies, pills for the stress that Christine complains about all the time, without recognising the deeper channels of her mania.
There's so much more nuance than any retelling of the film's story can suggest. We see Christine not only when she's struggling, but also when she's volunteering as a puppeteer at a local children's home, which reveals a different side to her. I have no idea if Shilowich drew that element from real life, or added it to his story, but it blurs our expectations beautifully – if we only saw Christine as a neurotic harridan, we would not be rooting for her, for things to turn out any other way than as they did.
Another element that strongly colours the film is its sense of period, specifically the months around President Nixon's resignation in the aftermath of Watergate, an act that somehow forces America to confront a national neurosis that parallels that of Christine. Production design from Scott Kuzio catches a terrific sense of the moment, and it's there to a tee in Emma Potter's costumes, too, all the colours and the cuts. The outstanding technical achievements extend to sound design (Coll Anderson) that sways with Christine's moods, alongside a score from Danny Bensi and Saunder Jurriaans that employs some glorious tracks of the time. It's a lovely balance: we relish Christine singing along to pop as she drives around determinedly in her yellow Volkswagen Beetle every bit as much as we feel with her when she's entering darkness.
It's a five-star performance from Rebecca Hall that reveals whole new facets to the actress, whose omission from the Best Actress Oscar shortlist looks little short of perverse. It's more than enough – not that there isn't a great deal else around to merit it – to swing a fifth star for the film itself, not least for the hope that director Antonio Campos delivers on its promise. The two films he made before were at the arthouse end of the spectrum, and we can only cheer that a studio (Universal) gave him the chance to make a film that gives – in the best, if now rather old-fashioned sense? – adult viewers an adult story, one that challenges. Christine may make demands, but how much more richly it repays them.
Overleaf: watch the trailer for Christine
We can only cheer that a studio gave Campos the chance to make a film that gives adult viewers an adult story, one that challenges
rating
Explore topics
Share this article
Subscribe to theartsdesk.com
Thank you for continuing to read our work on theartsdesk.com. For unlimited access to every article in its entirety, including our archive of more than 10,000 pieces, we're asking for £3.95 per month or £30 per year. We feel it's a very good deal, and hope you do too.
To take an annual subscription now simply click here.
And if you're looking for that extra gift for a friend or family member, why not treat them to a theartsdesk.com gift subscription?