Captain Phillips |

reviews, news & interviews
Captain Phillips
Captain Phillips
Piracy drama prompts bravura all-action display from director Paul Greengrass
In peril on the sea: Tom Hanks as Captain Phillips, caught between hunters and hunted
Earlier this year we saw Tobias Lindstrom's A Hijacking, a Danish-made thriller based on true events, about a freighter hijacked by Somali pirates in the Indian Ocean. Featuring familiar faces from Borgen and The Killing, the film skipped the part where the vessel was seized, and focused on the excruciating and seemingly infinite negotiations between the hijackers and the shipping company in Copenhagen. Harrowing and claustrophobic, it evoked the sufferings of the crew incarcerated below decks while businessmen calculated what value they could afford to ascribe to their lives.
But Hollywood isn't interested in all that, and instead has fastened upon the juicy hero-battles-the-odds story of Captain Richard Phillips. He was in command of the container ship Maersk Alabama, which ran into the seaborne Somali menace in 2009 while en route for Mombasa, and Captain Phillips is based on his book about the episode. The Alabama's crew put up some resistance, but weren't able to prevent their captain being taken hostage on one of the ship's lifeboats.
The drama is so enveloping that you're hooked from intro to final credits
It's a powerful premise for an action thriller, and director Paul "Bourne" Greengrass makes the perfect man for this particular season (his father was a merchant seaman, as it happens). As the maker of earlier innocent-citizens-in-jeopardy dramas Bloody Sunday and United 93, as well as the Iraq war mystery Green Zone, Greengrass has burnished his credentials as a director of turbocharged action thrillers grounded in real life events, with a greater or lesser degree of political controversy bubbling along in the background.
The politics in Captain Phillips has been turned down to a low simmer while Greengrass concentrates on action and character, but the story is "political" simply by virtue of having taken place. It's located in the hot zone where a web of international interests clash, where Al Qaeda is ominously active in the Horn of Africa, and where any American ship might easily be construed as a provocation. Greengrass gives us a brief introductory scene where Phillips (Tom Hanks) is driving to the airport from his home in Vermont to fly out to Oman to join his ship. He and his wife (Catherine Keener) chat about their children and family stuff, but the undertone of anxiety about his voyage into the watery badlands is unmissable.
There's an equally economical set-up sequence of the Somali pirates ashore. They're depicted as impoverished, desperate and driven to bloody competition by bandit leaders to fight for places on the hijacking boats, which amount to their own brutalised version of the National Lottery. They're all zapped on khat, which they chew perpetually. The convergence of the twain unfolds inexorably amid steadily-ratcheting tension, with Greengrass deploying juddering hand-held camerawork and seasickness-evoking speed-cutting to formidable effect.
After a spate of recent hijackings, Phillips is tense from the off, scouring the internet for information and keeping a close watch on radar. When he sees two blips coming up fast astern, you feel his adrenalin-jolt of alarm. He triggers emergency manoeuvres and prepares the ship's array of fire-hoses to ward off the approaching boarders, and it's hard to grasp how a handful of pirates in battered wooden skiffs could ever pose a threat to a towering ocean-going leviathan like the Alabama. But... (Boarders ahoy, pictured below)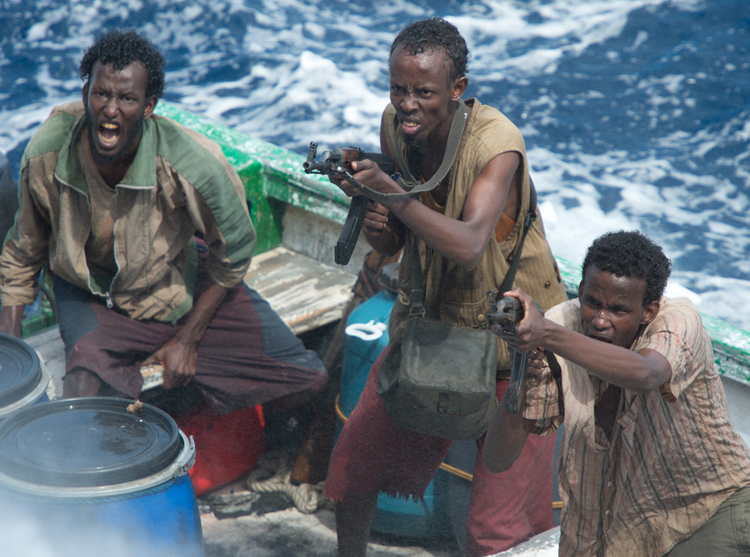 A battle of wits ensues as Phillips lures the pirates, led by the sinister and skeletal Muse (Barkhad Abdi), away from where the rest of his crew are hiding, and tries futilely to buy them off with the wad of cash in the Alabama's safe. Fast forward to the skipper in the lifeboat with the bandits, heading back to the Somali coast, as the episode escalates into a major international incident. Soon the little craft is surrounded by a US Navy task force, while a SEAL team (appropriately led by Max Martini, reprising his character from TV's The Unit) is parachuted in to take control. As the pirates grow increasingly hysterical and unstable, the Navy remorselessly turns the screw. The director subtly plants the question of how much force is too much, and lets you take it away with you.
At 134 minutes this isn't a short film, but the drama is so enveloping and the pulse so skilfully controlled that you're hooked from intro to final credits. Hanks comfortably commands both his ship and the trajectory of Phillips's ordeal, but even if he hadn't there was no way Greengrass was going to slacken his grip. This is a cracking good thriller, even if it does perforce view the world through Hollywood-tinted glasses.
TO THE RESCUE: TOM HANKS SAVES THE WORLD (AND SOME IFFY MOVIES)
A Hologram for the King. Tom Hanks is the reason to see Dave Eggers's sentimental Saudi comedy
Bridge of Spies. Spielberg's warm-hearted Cold War thriller is lit up by Tom Hanks (pictured below) and Mark Rylance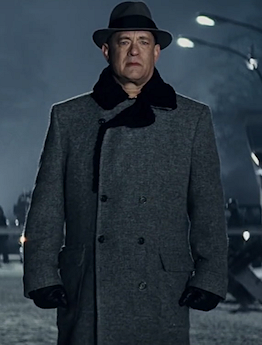 Cloud Atlas. Star company assumes various guises as David Mitchell's time-travelling masterpiece is lovingly told in under three hours
Extremely Loud and Incredibly Close. Oscar-nominated adaptation of Jonathan Safran Foer's novel is lacking in magic
Saving Mr Banks. Emma Thompson as PL Travers and Tom Hanks as Walt Disney track the journey of Mary Poppins from page to screen
Sully: Miracle On The Hudson. Eastwood and Hanks are the right men for an epic of understated heroism
Toy Story 3. To infinity and no further: Woody and the gang (sob) go on their final mission
PLUS ONE TURKEY
Inferno. In Dan Brown's dumbed-down Florence, Tom Hanks saves the world. But not the movie
Overleaf: watch the trailer for Captain Phillips
Subscribe to theartsdesk.com
Thank you for continuing to read our work on theartsdesk.com. For unlimited access to every article in its entirety, including our archive of more than 10,000 pieces, we're asking for £3.95 per month or £30 per year. We feel it's a very good deal, and hope you do too.
To take an annual subscription now simply click here.
And if you're looking for that extra gift for a friend or family member, why not treat them to a theartsdesk.com gift subscription?