A Hijacking |

reviews, news & interviews
A Hijacking
A Hijacking
Familiar Danish faces are seized by Somali pirates in a tense hostage drama
Nowhere to run: Mikkel (Pilou Asbaek, right) considers his options
Tales of pirate drama on the high seas have come a long, unpleasant way since Errol Flynn. Borgen and The Hunt co-writer Tobias Lindholm's debut as solo writer-director explores the human factor behind Somali pirate headlines, with the cool grip Nordic drama fans now expect.
Inspired by the real seizure of two Danish freighters, Lindstrom uses a parallel narrative split between Copenhagen and the terrifying emptiness of the Indian Ocean, where the crew of his fictional freighter are trapped below decks by Somali captors. At their shipping company's HQ, CEO Peter Ludvigsen (Soren Malling – Borgen's editor Friis), an invincible contract-closer, takes personal charge of negotiations, against the strong advice of Aussie hostage expert Connor (Gary Skjoldmose). Meanwhile on the ship, sunny-natured cook Mikkel (Pilou Asbaek – Borgen spin doctor Kasper) is among the human collateral herded and dehumanised by the armed pirates. Their fate hangs on the words Peter chooses as he haggles the ransom over thousands of miles on a mobile phone.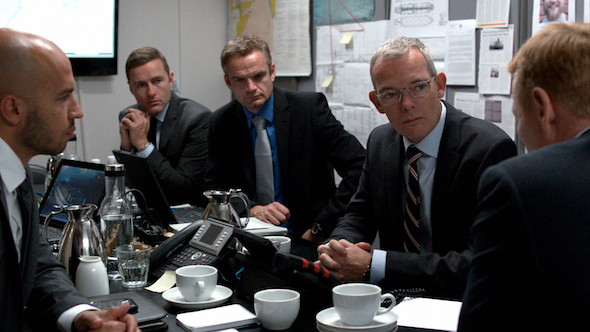 "Do you have an appointment?" Peter (pictured second right) absently asks his wife, before his emotionally mastered life sinks under the weight of the seemingly infinite negotiations. But even as Peter starts to crack, his cool, clean office is contrasted with his hostage employees' fly-blown quarters. These men are floating off the shore of the corporate world, stuck in a gun-happy, piss-stinking place of brutal physical consequence, only dimly understood in Copenhagen. Lindholm draws no explicit lesson from this. He lets the shit-and-rust-brown light below decks and HQ's gleaming surfaces state simple, physical facts.
Lindholm admits to being a dryer writer than his collaborator on The Hunt and Submarino, Thomas Vinterberg, and a concern for authenticity dumped the relevant cast and crew on a freighter previously seized by pirates, for secret filming in Indian Ocean wastes where history might have been repeated. Back in the boardroom, Skjoldmose isn't an actor, but a hostage crisis expert who has led such negotiations in real life. His advice mostly seems counter-intuitively, hostage-death-sentencing bonkers. How strange that it's right.
A Hijacking's realism doesn't anyway rest in documentary detail. It's in the incremental traumatising of the ship's crew, Mikkel especially (pictured right), longing for a reunion with his family after a long voyage that now stretches agonisingly out of his grasp. There's a touch of mutual Stockholm Syndrome, as pirates and hostages break the shared boredom with an afternoon's fishing. In the drunken aftermath, the Danes revert to Viking type, bonding with the Somalis for a moment. Mikkel, turned into a shuffling slave by the pirates' machine-guns and prone to sobbing panic attacks, gives a truer account of this crime's cost.
A Hijacking is schematic at times, especially in the boardroom scenes. The simply tense device of Peter being unable to see his words' consequences, sometimes suggested with a machine-gun's rattle, does work well though. And by its end, you may feel The Hunt's final gut-punch again.
Watch the trailer for A Hijacking
These men are floating off the shore of the corporate world, stuck in a place of brutal physical consequence
rating
Share this article