Sully: Miracle on the Hudson |

reviews, news & interviews
Sully: Miracle on the Hudson
Sully: Miracle on the Hudson
Clint Eastwood and Tom Hanks are the right men for an epic of understated heroism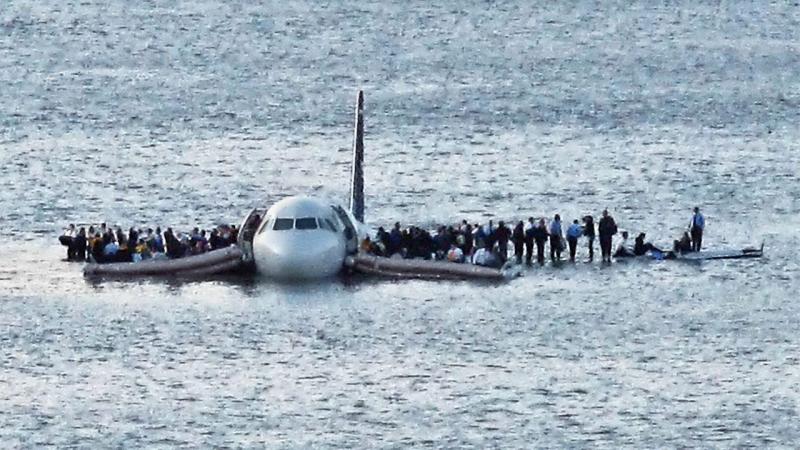 A wing and a prayer: Flight 1549 stays on the right side of the Hudson's icy water
The pilot and the sniper have a lot in common for Clint Eastwood. In his previous US blockbuster, American Sniper, Chris Kyle's cool shooting under pressure helped extract his comrades from overwhelming assault in Iraq, as part of at least 160 kills confirmed by him there. On January 15, 2009, Captain Chesley Sullenberger kept his head to land his failing airliner on the Hudson, saving all 155 on board. The achievements are opposite in effect, but the professionalism Eastwood so admires is the same. "We did our job" is said in Sully like an article of faith.
Kyle's myopically racist view of the war he was fighting, accurately displayed in Eastwood's film, combined with its battle scenes' bludgeoning realism to make an iconically effective, right-wing classic. Sully's almost wholly white, right world of airline crew and passengers would also seem to suit the new Trump order, if not for the true nobility displayed. As Norman Mailer found when writing about the Apollo 11 astronauts, you'll starve waiting for displays of emotion from a man like Sully. Even the slow-burning anger animating the equally laconic Man With No Name is absent in Tom Hanks' buttoned-up portrayal here. He's a Clint hero anyway, in a clear line with all his other work.
The three minutes between geese ploughing into the flight's engines and its scarcely believable landing are doled out carefully and repeated from different angles by screenwriter Todd Komanicki, intercut with Sully's difficult subsequent progress, as celebrity, a looming investigation questioning his actions and post-traumatic stress crowd in on him. "Been a while since New York had news this good. 'Specially involving an airplane," he's told. The most giddily potent scene here sees him watch mesmerised from his hotel window as a plane flies far too low through Manhattan's canyons, flitting behind one skyscraper, then reappearing to plough flaming into another. This is a city and country's post-traumatic stress compressed into one man's waking nightmares.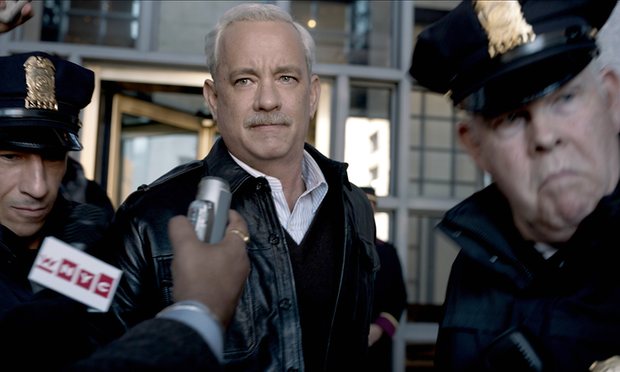 There are few other creative leaps (though the hostile investigation by no-nothing, computer-reliant pencil-pushers which gives Sully its narrative tension is by all accounts exaggerated, Dirty Harry-style). Eastwood's reputation for low-maintenance, frills-free filming has been convincingly tied to a degree of laziness by his debunking biographer Patrick McGilligan. But it's wholly suited to this story. During the accident, you feel the weight of the plane in the sky as it lumbers down towards the water. Mostly, though, there's the cockpit quiet Sullenberger remembered as he and co-pilot Jeff Skiles (Aaron Eckhart) worked to save everyone, like the unnatural, feverish calm heard this week in a Bolivian pilot's last words. Airport-style, disaster movie histrionics are minimal. Coolness under pressure, extended out to the emergency services who swiftly congregate on the Hudson as if for a minor, waterborne 9/11, is enough for Eastwood. He's found a true story which demonstrates his beliefs, and tells it faithfully. Aged 86, he's made one of his most symptomatic films.
TO THE RESCUE: TOM HANKS SAVES THE WORLD (AND SOME IFFY MOVIES)
A Hologram for the King. Tom Hanks is the reason to see Dave Eggers's sentimental Saudi comedy
Bridge of Spies. Spielberg's warm-hearted Cold War thriller is lit up by Tom Hanks (pictured below) and Mark Rylance
Captain Phillips. Piracy drama prompts bravura all-action display from director Paul Greengrass and captain Hanks
Cloud Atlas. Star company assumes various guises as David Mitchell's time-travelling masterpiece is lovingly told in under three hours
Extremely Loud and Incredibly Close. Oscar-nominated adaptation of Jonathan Safran Foer's novel is lacking in magic
Saving Mr Banks. Emma Thompson as PL Travers and Tom Hanks as Walt Disney track the journey of Mary Poppins from page to screen
Toy Story 3. To infinity and no further: Woody and the gang (sob) go on their final mission
PLUS ONE TURKEY
Inferno. In Dan Brown's dumbed-down Florence, Tom Hanks saves the world. But not the movie
Subscribe to theartsdesk.com
Thank you for continuing to read our work on theartsdesk.com. For unlimited access to every article in its entirety, including our archive of more than 10,000 pieces, we're asking for £3.95 per month or £30 per year. We feel it's a very good deal, and hope you do too.
To take an annual subscription now simply click here.
And if you're looking for that extra gift for a friend or family member, why not treat them to a theartsdesk.com gift subscription?