Brighton Rock |

reviews, news & interviews
Brighton Rock
Brighton Rock
Who dares wins: Rowan Joffe scores with Greene makeover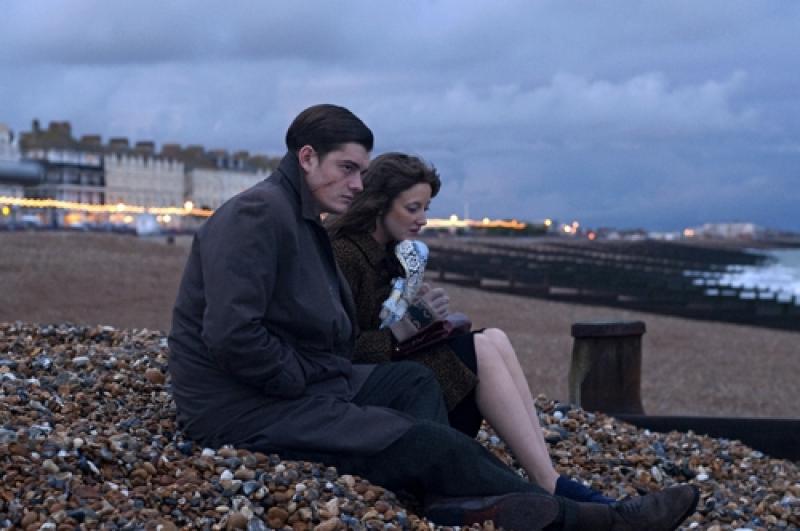 On the Brighton waterfront: Pinkie (Sam Riley) and Rose (Andrea Riseborough)
Revisiting Brighton Rock was bound to cause an uproar. A couple of weeks ago, The Daily Telegraph's Simon Heffer launched a ferocious assault on Rowan Joffe's new screen version of Graham Greene's novel, while admitting he hadn't seen it. Mind you, he had read some hostile comments on the internet. "Well ought to have been left alone," he decreed.
Joffe's film has little hope of acquiring the mythic status of the 1947 John Boulting version, as he's doubtless well aware. But Joffe's line is that he didn't set out to remake the Boulting film, but to shoot a new interpretation of Greene's book. What's important is that he has skilfully marshalled an excellent cast to make it work on its own terms.
Joffe has moved Greene's original late-Thirties time frame up to 1964, which has allowed him to fill Brighton with swarms of parka-clad Mods on Lambrettas (pictured below), though he sensibly avoided packing the soundtrack with over-familiar Beat Boom hits. It was a smart move, framing the story's warring gangsters against Mods-versus-Rockers anarchy while hinting at the arrival of contemporary celebrity mobsters like the Krays and the Richardsons. Teenage hoodlum Pinkie, as incarnated by the finely chiselled Sam Riley (last seen as Joy Division's Ian Curtis in Control), represents a criminal Nouvelle Vague bidding to overturn the old order.
The movie pivots on the cold-blooded Pinkie and his fatal entanglement with Rose, the deceptively passive tea-room waitress. Riley plays Pinkie with a coiled viciousness fuelled by adrenalin-pumping fear that the original's Richard Attenborough would surely admire. He has manoeuvred himself through the murky Brighton underworld to take over the gang formerly run by Kite, who we see murdered by the knife-wielding Colleoni mob in the film's opening sequence. Kite's death, with blood bubbling from his slashed throat, establishes the narrative's unsparing tone.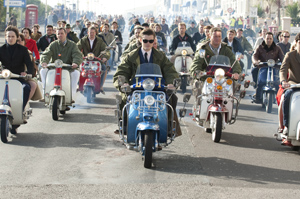 As Rose, Andrea Riseborough gives the kind of performance that may see her following the kind of trajectory Carey Mulligan experienced post-An Education. Indeed, Mulligan had been Joffe's first choice, but she pulled out in favour of Oliver Stone's recent Wall Street sequel. At first a mousy, downtrodden girl living in a squalid council flat with her brutish father - who lets Pinkie take her off his hands and marry her in exchange for 150 quid - Rose blossoms within her relationship with Pinkie despite understanding only too well where it's heading.
Pinkie, who always travels with a knife and a bottle of acid in his pocket, has only married her to prevent her from testifying against him for his involvement in a pair of murders (the death penalty was still in force in 1964). He'll bump her off if he has to, as we see in a palpitating climax on Beachy Head, but for Rose a suicidal joyride with a flash, photogenic thug beats the life she's been leading.
Greene's Catholic undercurrents have survived the journey. Riley's Pinkie seems gripped by a fetishistic obsession with damnation, while the pregnant Rose finds herself incarcerated in a Catholic dormitory for fallen women. As café proprietor Ida, Helen Mirren (pictured left with John Hurt) is blowsy femme fatale and Mother Superior simultaneously, adopting Rose as a kind of private moral crusade. Her scenes with John Hurt, as the desiccated bookie Phil Corkery, lend some sorely needed wit and warmth, not least the moment when Mirren starts giving Hurt a voluptuous come-on ("Blimey!" he gasps incredulously).
Joffe has got most of the colour and detail right. His Brighton is dirty and dark, unrecognisable as today's affluent resort with its pink pound and raves on the beach. While punkish Pinkie lives in a squat-like ruin with guns in his bedside drawer and banknotes stuffed into a bathroom mug, rival crime lord Colleoni (Andy Serkis) swanks it up with his entourage in a powder-puff seafront hotel, to the strains of waltzing violins. The milieu feels rotten, corrupt, ripe for some sort of revolution.
Is it better than the 1947 version? I'd just say it's a rattling good thriller. Best to see it before judging, of course.
Watch the trailer for Brighton Rock
Joffe has framed his warring gangsters against Mods-versus-Rockers anarchy, while hinting at the arrival of celebrity mobsters the Krays and the Richardsons
Share this article