Blu-ray: Les Demoiselles de Rochefort |

reviews, news & interviews
Blu-ray: Les Demoiselles de Rochefort
Blu-ray: Les Demoiselles de Rochefort
Pure joy: this iconic French film musical has never looked or sounded better
Tuesday, 26 November 2019
Deux sœurs jumelles: Françoise Dorléac and Catherine Deneuve
Where to start with Les Demoiselles de Rochefort? Begin with director Jacques Demy's technical brilliance: the opening minutes are eye-popping, and even feature a transporter bridge. Teesiders, take note. La La Land's beginning is nifty, but Demy got there first.
Then watch the camera swoop up from the main square after the "Arrivée des camionneurs", straight through an open window and into the ballet studio run by the Garnier sisters. Demy features Rochefort as an uncredited extra, production designer Bernard Evein even repainting much of the town centre. The streets and shutters gleam.
Michel Legrand's through-composed, multi-layered score is superb.
This was Demy's big budget follow up to 1964's Les Parapluies de Cherbourg, placed on hold for two years until there was a gap in Gene Kelly's schedule. His presence, along with that of fairground labourers George Chakiris and Grover Dale, is an affectionate nod to the Hollywood musicals which Demy adored. On The Town is an obvious reference, that film's bold New York location work an inspiration. There's also Demy's plot, On The Town's frenzied 24 hours expanded here to a whole weekend, after which the travelling fair packs its bags and leaves.
Demy had considered making Les Demoiselles de Toulouse, eventually opting for Rochefort because of its capacious central square. Catherine Deneuve and her sister Françoise Dorléac play the twins of the title, looking for love and an escape from the ennui of provincial France (despite Demy and Evein making Rochefort look like a place you'd never want to leave). Michel Piccoli and Danielle Darrieux excel as middle-aged former lovers unaware that they're now near neighbours, their reunion profoundly moving despite its inevitability.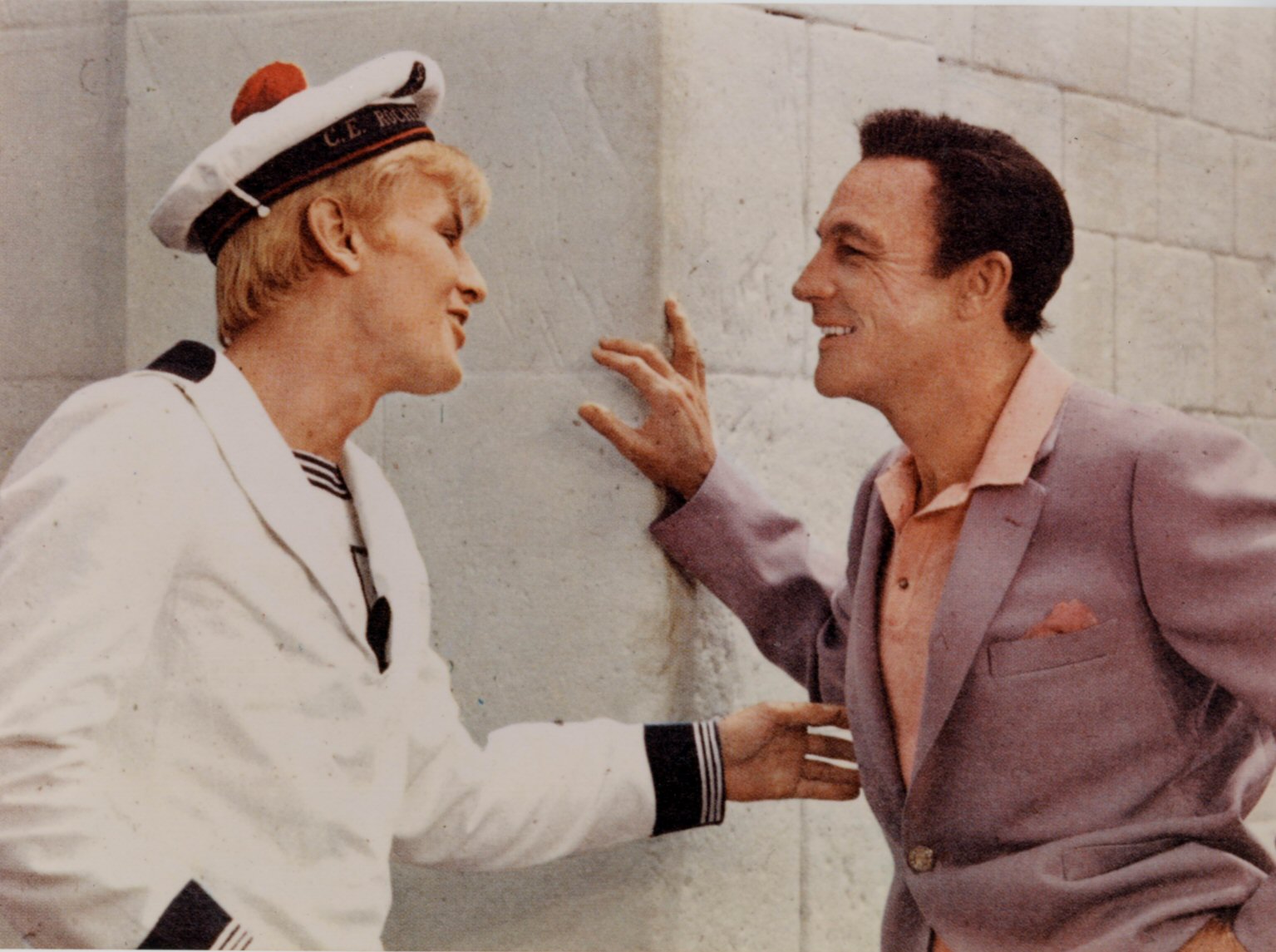 Deneuve's Delphine splits up with her arrogant art dealer boyfriend in search of an ideal man, who turns out to be sailor and wannabe artist Maxence (Jacques Perrin, pictured above with Kelly), whose portrait of an ideal woman looks just like her. Meanwhile, Solange (Dorléac) falls for Kelly's composer Andy Miller after a chance meeting, a visiting friend of music shop owner Simon Dame (Piccoli), whose unfortunate surname caused a rift with a lover who didn't wish to become Madame Dame. Confused? You won't be. Things are resolved with last minute pantomimic neatness, one thread only tied up in the closing seconds. The plot is secondary to the overall mood, Demy describing Les Demoiselles as "a light film about serious things." It's glorious: melancholy, wit and profundity concealed within a soufflé-like exterior. Deneuve and Dorléac's climactic dance number is spectacular, and the piano concerto finale which Legrand provides for Dorléac is an earworm I'll happily live with.
Bonus features include interviews with Deneuve, Demy and Legrand, plus a Guardian Lecture from 1980 featuring Gene Kelly in conversation. Best of all is Les Demoiselles ont eu 25 ans, a documentary made in 1992 by Demy's widow Agnès Varda. This poignant return to Rochefort in 1992 features interviews with cast and production team, and it's moving to witness Deneuve renaming the square in front of the Gare de Rochefort after her late sister. Look out for the brief conversation with the student who compares Demy's work to Bach, always carrying a VHS cassette of Les Demoiselles in her rucksack. She's right: this film really is that good.
Demy makes Rochefort look like a place you'd never want to leave
rating
Share this article