Interview with director Agnès Varda, who has died at 90 |

reviews, news & interviews
Interview with director Agnès Varda, who has died at 90
Interview with director Agnès Varda, who has died at 90
The French/Belgian filmmaking legend talked with Demetrios Matheou about her career
Here's looking at you: Agnès Varda and her younger self
I met Agnès Varda, who died today aged 90, just once, for the interview that's reproduced below. It was in Paris in January 2018, shortly before the Belgian-born filmmaker was to become the oldest Oscar nominee in history, for the wonderful documentary Faces, Places. The encounter felt like a lucky break – blessed exposure to an icon and one of the most grounded and delightful inspirations one could imagine.
On paper, the event was of the sort that journalists loathe, a 'round table' that, due to Varda's popularity, grew by the second until there were perhaps 30 interviewers surrounding the tiny figure on the sofa; but such was her energy, good humour and focus, that the result felt like an intimate one-on-one. No-one was missed, every answer was detailed, her enthusiasm was infectious.
Have no doubt, Varda was a phenomenal filmmaker; she just happened to be a thoroughly endearing human being to boot. The fact that her co-director on Faces, Places, the artist JR, was decades younger than she spoke volumes of her ability to engage across generations – which she often did, all over the world, with her little bag of her DVDs on her back.
---
AT a time when the issue over the scarcity of opportunities for female filmmakers is finally winning traction, it's important not to forget those women who have succeeded, despite the obstacles. One of these, and one of the very first to make a singular impression, is Agnès Varda.
Not for nothing is the Belgium-born Varda referred to as the "grandmother of the New Wave". With her first film, the low-budget La Point Courte in 1955, Varda's use of real locations, her combination of documentary and fiction, and professional and non-professional actors, and her auteur's control over her material provided a blueprint for much that followed from the likes of Godard, Chabrol and Resnais.
The film included a verité account of the lives of a fishing community in a neighbourhood of Sète, in the south of France, where Varda spent her teens after her family fled Belgium – and the war – in 1940. She subsequently moved to Paris, where she first trained and worked as a photographer, making the transition to cinema – without any training – in the Fifties. Photography has remained a strong element in her work. As she once told Sight and Sound magazine: "I take photographs, or I make films. Or I put films in the photos, or photos in the films."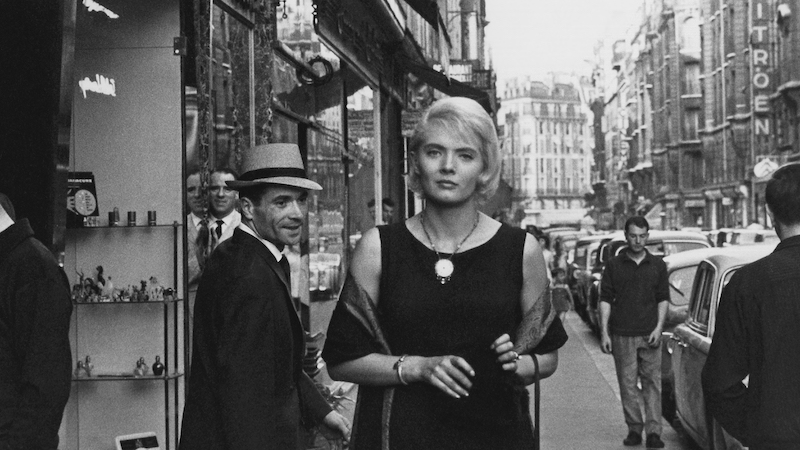 Her second feature was set in her new home. Cleo from 5 to 7 (1962, pictured above) is one of the nouvelle vague's most outstanding films. A witty, empathetic account of a hypochondriac singer's response to the fact that she may actually be seriously ill, it not only offers an extraordinarily vibrant and accessible portrait of Paris, but is that rare thing – a film that placed a nuanced, fully-realised female protagonist front and centre of every frame.
Most of her new wave friends and colleagues are now dead, including her husband Jacques Demy. But like Godard, Varda just keeps going. She has made films consistently across seven decades – both documentaries and fiction, with a combination of seriousness and mirthful humanity. Among them, the romantic drama Le Bonheur (1965); Vagabond (1985) ,her moving drama following the last weeks in the life of a young female vagrant which won Venice's Golden Lion; Jacquot de Nantes (1991), a drama based on Jacques Demy's early life; the award-laden documentary The Gleaners & I (2000); and her autobiographical documentary The Beaches of Agnès (2008).
When speaking about Vagabond (starring Sandrine Bonnaire, pictured below), Varda summarised the essence of her work. "It taught me a lot about what I wanted to achieve with my films… Creating a strong character and seeing it well acted, in a fiction about an important issue. Immersing myself in places. Getting across the variations in space. Filming this fiction with a documentary texture. Moving and questioning audiences."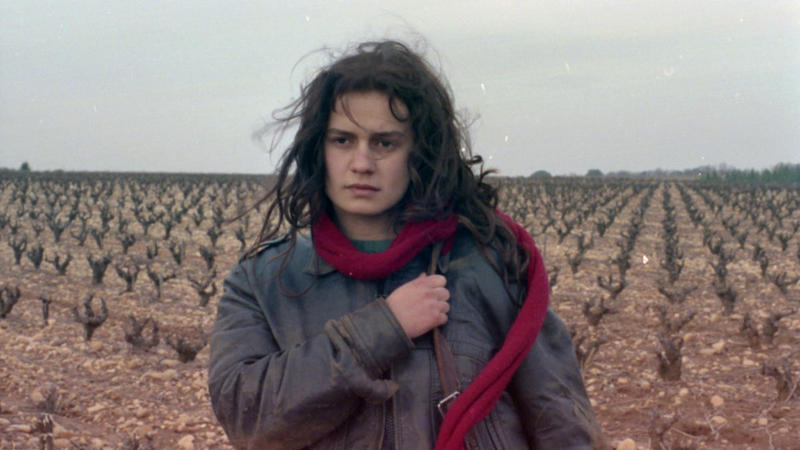 She was 80 when she made The Beaches of Agnès. To call it an autobiography doesn't do justice to the substance of a charming, evocative, idiosyncratic and deeply humane exercise in memory, which is as much about the people Varda has met over the years as herself. "I am alive, and I remember," she says in the film. If only everyone could express memory so magically.
When her latest film, Faces Places, was nominated for a documentary Oscar this year, the then 89-year-old Varda became the oldest nominee in Oscar history. It's co-directed with the artist JR, known for his giant black and white photographs, usually portraits of ordinary people, that he pastes provocatively in public places. By teaming with him, the symbiosis between film and photography in Varda's own work has never been stronger.
The film follows the pair as they tour France in JR's van cum large-format photo booth, meeting factory workers, farmers, dockers, a village postman, the residents of a former mining town, taking their images and pasting them in places that create the maximum resonance. At the same time the developing relationship between this odd couple – the thirtysomething who hides behind ever-present sunglasses, the octogenarian with her trademark pudding-bowl haircut now a combination of white and dyed orange – becomes incredibly touching.
Like Godard, Varda never stops seeking to innovate; unlike her reclusive old friend, she retains an infectious pleasure in engaging with the world. This contrast in their personalities informs the final section of her film, which the director discussed openly when The Arts Desk met her in Paris. Varda has an utterly charming way of holding court, speaking in English, quickly and passionately, her energy and focus completely belying her now 90 years.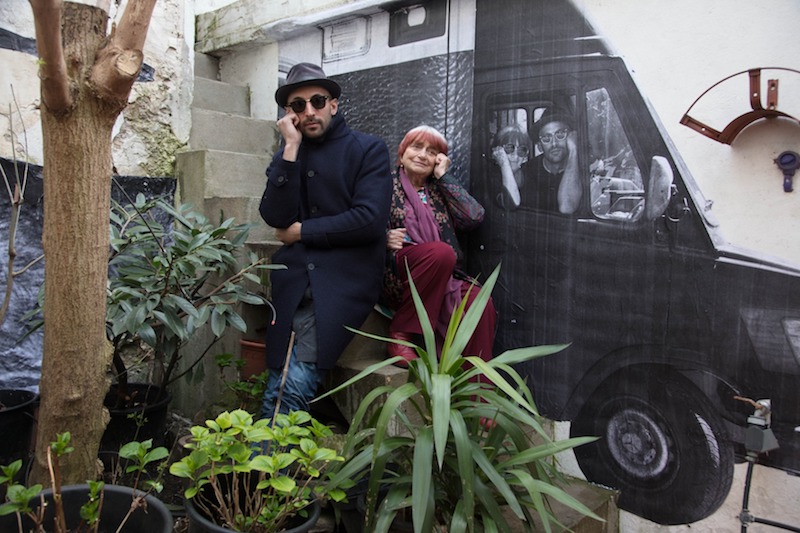 DEMETRIOS MATHEOU: You've had quite a year, with the warm response to Faces Places in Cannes and since. It seems like a new generation of filmgoers is embracing you.
AGNÈS VARDA: I know that I've never had huge, mainstream success. But in my category, which is the margin, I know I have friends all over the world. I go everywhere. And people still speak about Cleo from 5 to 7, which I made in 1961, many people in the world know that film. It's interesting, being old, I have a little backpack with my films, and some of them are known. It's good to feel that.
You talk about death in Faces Places. Was the film a farewell to cinema?
You think I'm finished?! You know, when I did The Beaches of Agnès (pictured below), it was a sort of self-portrait. I thought my children and grandchildren will never know how I started, I should tell them – the people I met, the things I did. So I thought that was the last film.
But then, when I went around the world showing The Beaches of Agnès I took my little camera with me – I enjoy filming so much – and I started to film myself in planes, in the cities I visited, and I made a series called Agnès Varda: From Here to There. Five 45-minute films of my travels. And then, again, I thought I would slow down. But then I met JR.
My daughter Rosalie, who now takes cares of the company, she said: "How come you don't know each other?" So she called him and invited him to visit me – this is in the film. And I went to see his studio the next day. The third day we said, "OK, we have to work together."
What do you like about him?
We have the same empathy for people. He loves people. He has made a film called Women are Heroes. And he does that thing which is so interesting, with his magical truck. He drives to places, takes photos of people he meets, and the photo comes out of the truck like a poster, which they put on a wall. It's like creating a community of people who, sometimes, don't know themselves so well. I fell in love with his truck, really. I wanted so much to travel with that, then stop in a village and do things. We prepared a little, we chose places, but then we knew that chance would propose other things.
In the movie you say that "chance has always been my best assistant".
It's true. I take an example. JR told me about a German blockhouse from the war, that had fallen from the cliffs. In Saint-Aubin-Sur-Mer, in Normandy. By chance I had been there in 1954, taking many pictures, and taking pictures of my friend Guy Bourdain, who was not known at the time but became a famous photographer. I told JR and said, "Oh God, then I want to come." And I brought the photos I had taken there, and that's where JR is very inventive – he pasted one photo of Guy on the blockhouse, which became a grave for my friend. It was very dangerous when they did it, because it was windy and the ladder was not totally solid. And we knew it wouldn't last, because the tide would take it. It was a big experience, using chance and working with our imagination to transform things. I love that sequence.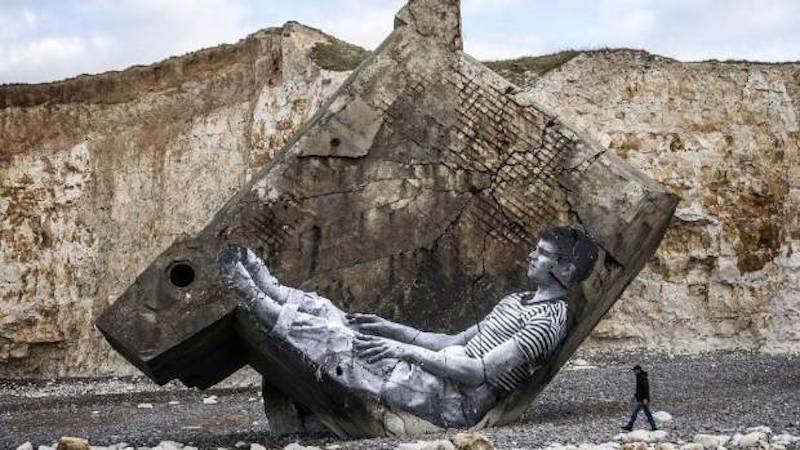 And I loved it when the dockworkers in Le Havre helped us to make that incredible celebration of women – using their machines to pile up these huge containers and build the images of their wives. We were lucky, because they were on strike. Normally they could not have given all that time. It's a surprise for them, for us. It's creating something while we shoot. It's not a screenplay. There is just the idea, to meet people. And there is a connection that doesn't go through their work, their money, their politics, their family.
And it's more than simply meeting people. You're learning about communities.
That's right. For example, we learn the way farming is now. We couldn't believe that a man alone would look after 800 hectares, speaking just with his computer all day long. I remember when I was young the harvest was a big thing, with people together, and they had a party at the end of the harvest, drinking and singing. So life has changed. With our film we're doing a sort of sociology. We love to have fun, we love to make jokes, but it's still a sociological study of France today.
How did you and JR share duties?
We shot over 18 months, one week a month, because I cannot do more than a week. Standing, moving, up and down, it's OK, I do it, but after a week it's too much. Then I wanted a slow editing process because for me editing is the most important thing in a film. I have edited all my films, believing that this is where the film takes its own style. JR shared everything on the shooting, but he said that editing is not really his thing.
One of the more striking episodes is your house call on Godard. Despite agreeing to meet you, he doesn't answer the door. Why do you think he was so insulting?
Maybe he wasn't. I did feel shocked, and he caused me pain because he spoke about Jacques Demy – you could speak about Jacques Demy to me now and I'd almost cry. But in a way, by missing the meeting he created something, he built a sequence in itself. If we had met, perhaps it would be dull. "Hello, comment ça va…?" Maybe he would speak about his health, he would ask about mine - old people speak always about illness. We had sort of prepared the meeting, a little. Now we were caught by surprise – and we had to film that. That's the real documentary in the film.
I was also touched because my son Mathieu, who was not supposed to shoot, had said he would come with us because he wanted to see Jean-Luc. So he was the one who did the second camera. It's my own son who filmed me in trouble and pain. But I also wanted to remember the years we had friendship and joy, with Jean-Luc and Anna [Karina], and Jacques and me. This is my nature, to bring up good memories instead of crying. And my memory of Jean-Luc taking his glasses off [in her short film The Fiancés of the Bridge Mac Donald, pictured below] gave JR the idea to do the same, to be nice to me. So it brings something to the film.
But do you think that was Godard's intention?
He's not an enemy. I think he was smart. He has my respect and my love. I loved him when he was young – I can't cut the machine and say I no longer love him. But I'm still mad because I sent him the DVD and he's said nothing!
What's next?
I have been invited so often to do lectures. And we've filmed that lecture now. It's my idea to send the film – and not go.
I tell about my life, how I made the films, how I work with three big words in my mind. Inspiration: why I make a film, where it comes from, what pushes me to do it. Creation: what was the way of doing it. Sharing. They are the key words of all my work. And mostly creation, because most of the time I do not have a plan.
I wait, until something pushes me, an urgency, an impression. When I discovered people gleaning in the markets, I started the film [The Gleaners & I]. When I met my uncle I made a film right away [Uncle Yanco]. When I discovered there were not only vagabond men on the road, but young women, and they had found somebody dead under a tree, I worked on that subject [Vagabond]. I never planned, I never adapted anything, a book, a screenplay, because I wanted the film to come from nothing other than the inspiration.
Then I work on the film. I wrote Le Bonheur in two days. So I try to make the film close to the time that I've thought of it. Some filmmakers are very courageous, they have a project and they wait three years – to find the actor, to find the money, to find the distributor, and then they do the film. Good for them. I am not that courageous. I want to do it fast, I want to be in the excitement of the subject, of the desire to make the film.
What are your dreams?
Dying in peace. At my age, it's a dream. Not in an accident, not with illness, dying in peace is a good way. But I work. I'm very alive, I enjoy my grandchildren, I enjoy many things. I'm normally tired. But that's part of the game.
Faces Places is released in cinemas on 21 September
We love to have fun, we love to make jokes, but it's still a sociological study of France today
Explore topics
Share this article