theartsdesk Q&A: Choreographer Stephen Mear |

reviews, news & interviews
theartsdesk Q&A: Choreographer Stephen Mear
theartsdesk Q&A: Choreographer Stephen Mear
The theatrical dance dynamo talks striptease, triple threats and the power of escapism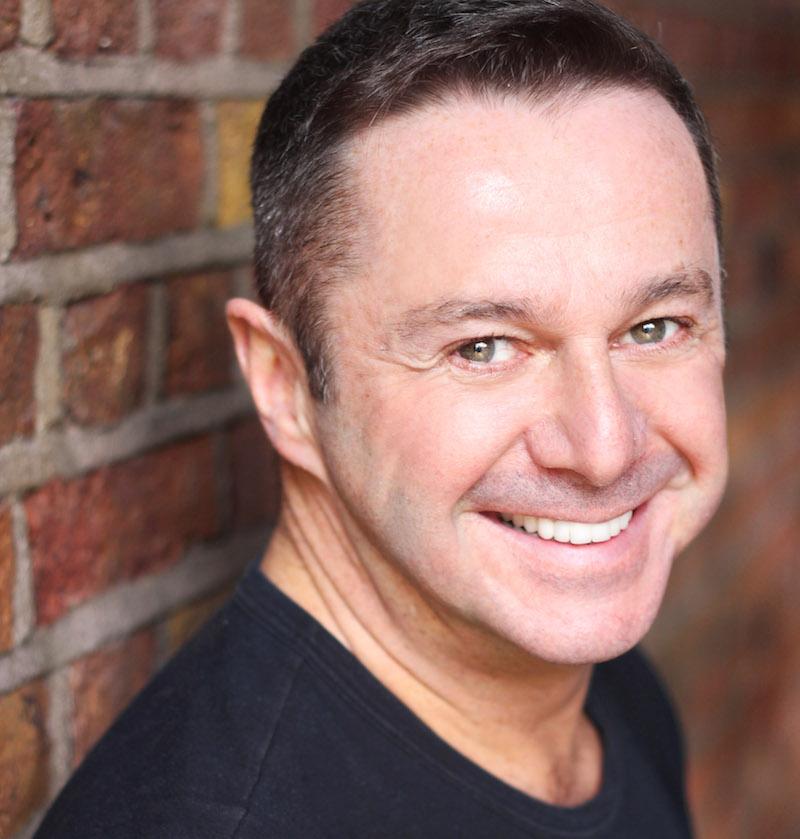 Happy feet: musicals maestro Stephen Mear
From Singin' in the Rain and Anything Goes to Hello, Dolly! and Mary Poppins, Olivier Award winner Stephen Mear has done more than any other British choreographer to usher classic musicals into the modern era. But adept as he is at razzle-dazzling 'em, there's more to Mear, as recent excursions like City of Angels at Donmar Warehouse and Die Fledermaus for the Metropolitan Opera prove.
His contribution to the lauded
Gypsy
revival, opening next week at the Savoy Theatre following a triumphant Chichester run, demonstrates the combination of emotional engagement and quick-witted entertainment that makes him such a formidable talent.
MARIANKA SWAIN: What was your first experience of dance?
STEPHEN MEAR: I was born in Loughborough in 1964, and my mum was a dance teacher at our local school. I used to run in and out of the lines so much that the head said I should probably just join in, so I did. It was a fabulous school for tap dancing, so tap's always been in my blood, and I'm hugely grateful – it's a wonderful foundation. I didn't do as much ballet, which meant at college, I went from being one of the best boy dancers to the bottom class. I knew I had to work on it, so I took 14 ballet classes a week. I ended up playing Mephistopheles in Cats in the West End, something I never thought I could have achieved. But I was willing to find out what I needed to improve on and work hard.
Were you always fascinated with musicals?
Absolutely. I used to sit with my mum on Sunday afternoons watching old movie musicals on telly. The first stage musical I ever saw was Piaf at Nottingham Playhouse, starring Imelda Staunton (pictured right in Gypsy, by Johan Persson) – isn't it funny how life comes full circle? My first West End musical was Pal Joey, and I immediately connected with those great period pieces. I love stepping back into another era.
Was your primary passion performing or choreographing?
I knew I wanted to choreograph from the beginning. At college, I created pieces for other people's assessments. I was blessed to be in some brilliant West End shows, even while I was still at London Studio Centre, but I knew I wasn't going to have a career as a leading man; I was always understudying. I was incredibly fortunate though – I had a very clear path from dance captain to being mentored by the great Susan Stroman, who I assisted on Oklahoma! at the National.
What did you learn from her?
Focussing on the feeling of a number, but also constructing it very tightly – that's a real craft. If I hadn't worked with her, I'd never have learned quite how to build a number up, pull it back slightly, and then bring it home. Also, her musicality is brilliant – it's because of her that I work with a musical arranger; very few British choreographers insist on that. I didn't have one for [English National Opera's] On the Town, and I felt like I was trapped in someone else's choreography. The incredible Gareth Valentine does most of my arrangements – we sit in a room for literally two weeks, working out every detail. I didn't learn to read music till later on, which I really regret – it makes all the difference. I have a drummer in the rehearsal room now, and you don't just want to say "Give me a bang", but "I want a snare on that beat". You have to find places where your different languages meet.
Were you tempted to keep working with Susan?
Yes, she actually asked me to stay on and do The Producers with her. But I felt there were no new British choreographers about then – we had Gillian [Lynne], Arlene [Phillips] and then a big gap. I got an Olivier nomination for my first solo show, Soul Train, and that made me feel like "Right, I could actually do this."
What excites you about choreographing for musicals?
At first I loved the music – now, I'm really passionate about storytelling, and how dance can power the story. I believe movement should always forward the plot, not just be dance for dance's sake. I've worked with some brilliant directors, like Trevor Nunn, Jonathan Kent, Richard Eyre, and I've learned so much from them about structure, shape, timing. And Victoria Wood, who I worked with on Acorn Antiques: The Musical! – she told me "You can't do a step on that, because you're stepping on the joke", and I was so annoyed with myself, because I kind of knew! All those elements have to work together.
I also love seeing "characters" dance – people who don't look like run-of-the-mill dancers, all shapes and sizes. Because then Joe public watching the show, they feel they can do it, and I get excited when you can surprise people in theatre. Stick-thin chorus lines bore me, unless it's part of the story, like our beautiful showgirls in Crazy for You. Really, I love working with character performers, because I know so many that are brilliant dancers, and it's fun to showcase that.
Is that the start of your process – character?
Definitely. I make sure they don't do anything their character wouldn't do. I've seen some choreographers just stick in a big dance number, and I don't know why it's there. My pet peeve is not honouring the story, not being true to character. In Gypsy, Imelda has a strip at the end and we've done it so it's uncomfortable – it makes you feel like she shouldn't be doing that, even though in her head she thinks she can do it. It's slightly deranged, but you have to make it look like she could have done it at some point – she's a dance teacher, she has to have some movement.
I also have to do "bad" choreography in the show, because it's Rose choreographing these kids, not me trying to be classy. At first, I was being a bit too clever for my own good, so I pulled it back, and it works so much better – they drop a hat, a cane, they're not trained. It has to be done organically, so it feels real. I always think of Les Dawson, who was a fantastic pianist but managed to play so badly for comic effect. It's no good just dancing terribly – you have to know what the steps are to just tweak them a little bit, and show what that person's trying to do, and how they fall short. You have to be brilliant to be bad!
Ideally, you should never be able to tell where the director's left off and the choreographer's taken over
Do you prepare a lot in advance, or see what happens in the room?
I tend to have a long preproduction process. If there are big dance sections with lots of people, I'll get those done well in advance. But I prefer working on the bodies of the people that I've got. Like Dan [Burton], who plays Tulsa in Gypsy, I didn't want to do anything on his big number until I'd explored with him – if he turns best to the left, I'll do that; when he leaps, which leg is best. I choreograph around people's abilities, which makes my choreography look better – I'm not stupid! And it makes them feel comfortable, which makes the show better. It's good collaboration.
That's such a key word for musical theatre.
God yes. There's only twice I've really clashed with directors, and that's when they had no interest in being collaborative – "Just do your thing and don't interfere with mine." Directors like Richard ask my opinion about scenes, not just the dancing. Ideally, you should never be able to tell where the director's left off and the choreographer's taken over. Years ago, there used to be those numbers where someone just came on and danced, and then you went back into the scene, like a light switching on and off. That's unacceptable now.
And we have so many more triple threats today.
When I was in my first job, in Evita, back in the 1980s, there were singers, actors, dancers – that was it. Like different species. Ridiculous! We have some brilliant triple threats working here now, though not as many as America – but that's not surprising, given England fits into Texas three times.
You do have a reputation for getting non-dancers moving. How do you gain their trust?
Sometimes you have to be sneaky! When I did Anything Goes at the National, there was a division between actors and dancers, but I had to get them all in a number together. So I snuck some of the steps into the actors' warm-up, and then when I came to teach the number they all went "Oh, yes, I know that. Well, OK then, I don't mind doing a bit more if you want." It's amazing what confidence you can give them. And people trust me, because they know I wouldn't make them look stupid, or do something that feels uncomfortable or wrong. Imelda didn't want to move as much as she does now – we worked our way up, starting from the acting side, getting things into her body, and then she felt "OK. I get it now."
Is there a better understanding now of what movement can contribute to performance?
People often think choreographers just do big numbers, but it's so much more than that. It took me a while to learn it too! When I was asked to do Amadeus at Chichester, I thought: "Why on earth do you want me?" But I worked on all the physicality and scene changes, and came to realise that's a huge part of the show. Josie [Rourke]'s asked me to help with The Vote at Donmar, and I have no idea what I'm even doing yet! Probably fluid transitions again. City of Angels (Rebecca Trehearn and Rosalie Craig pictured above, by Johan Persson) was very actor-driven, but there was a lot to do – 40-odd scene changes, plus all the numbers. Even though they weren't big jazz-hands numbers, they were choreographed to within an inch of their life.
Is it hard balancing fidelity to period with your own innovations?
Not really. I like putting a slant on things, but it's no good trying to be too tricksy and losing sight of that era. I do lots of research, so I can figure out the posture, style, down to tiny details like the angle of a head or a shoulder roll. Clothes come into that – women in the 1940s wore all these undergarments that pulled them in. I always chat to designers as I'm working. Generally they're really good about "Well, this is the kind of thing they used to wear, but I don't want it to be a burden if you've got big lifts."
Like Anthony [Ward]'s strip costumes in Gypsy, which are vital technically. She has to get changed so quickly – four strips, one into another (Lara Pulver pictured below, by Johan Persson). We've made it even quicker than Chichester, and it's amazing to watch. You'd swear there were four people. Plus it's in the dark, and a wig change on the last one. Magic! And it all comes from working together. Jonathan understood the rhythm of that section, if a bit of dialogue was too slow, or we needed another beat to see her confidence building. There's not a lot of time to tell that story – physicality can be brilliant for putting across a lot fast, if you understand how to use it. That's why, though I love doing big Busby Berkeley type numbers – I'm a huge Busby fan – it's great doing these intimate pieces, because you can really look at people as well as patterns.
I learned so much working with Josie on City. She's a young director, and she'd never done a musical, but she had such a clear vision and she's so blindingly intelligent. Actually, I found that intimidating at first! I'm dyslexic and I really struggled at school. Though the scariest experience I had was on Kiss Me, Kate [at the Old Vic] – Trevor announced we were having a Shakespeare morning. I thought: "Oh no, I remember doing this at college and it was a disaster, I used to hate it. I want to rip my own arm off and beat myself to death." And then, thank god, he was so inspiring. I learned more in those few hours than I ever learned at college. It was just sensational – I didn't want it to finish. It changed my thoughts on everything.
It's great that you're still finding learning opportunities, later in your career.
That's the best bit for me. Adam Garcia was in Kiss Me, Kate, who's a fantastic tapper, but his style is very different to mine. So for his solo, I said: "Let's combine – we'll take some of yours, and then sort of throw you off guard with my steps, and it changes what we both do." My rhythms really threw him, and vice versa, so it was pretty terrifying. But it really helped me develop as a tapper and a choreographer. And then Acorn Antiques was basically a comedy master class, working with these brilliant actresses – figuring out how to slow a number to pay off a punchline about haemorrhoids!
Do you think the flood of revivals makes it tougher for new musicals to succeed? So many new British musicals struggle.
It's so hard to know what makes these things work. I did Betty Blue Eyes, which had such charm, and we got fabulous reviews, but then it lasted six months. And Stephen Ward (pictured above; photo: Nobby Clark) – that lasted six minutes! I'd love to do more, but producers are scared, so there's less investment in workshops. And there are no guarantees something will be a hit. You just pray that it is. No one sets out to create something bad!
The Little Mermaid, on Broadway, that was great fun initially. I wanted the fluidity of underwater, without using wires – that's just not something I can do, because the physicality is so different. I found a solution walking through Disneyland when this kid whizzed by me. I literally chased him and asked what he was wearing, and it was Heelys – those shoes with wheels, they'd just come out. It worked brilliantly, but that show cost so much to keep on. The costumes got so elaborate, everything got bigger and bigger, I kept having to cut my choreography – it would have taken 10 years to recoup all those costs. I didn't speak up, and I should have – that's a big lesson. Bob Avian, who was a wonderful support to me, said you should always be generous, but always speak your mind. It took me a while to figure that out.
Do directors sometimes make requests that you know won't work?
Yes, and you have to be diplomatic. "Really? Well, I'll try. But can we have a Plan B?" I like having plans. Improvisation kills me – I'm such a control freak! Though working with Matthew Bourne on Mary Poppins was fascinating, because his process is the complete opposite, but he's such a visionary. I used to make myself sick panicking if I couldn't choreograph eight counts right at the start, but he was so open to exploring ideas. Now, I know just filling the music doesn't make it good, or right, so I'm more free. I'll set sections, dot around depending on who I've got in the room, and create gradually. My advice to young choreographers is there's no set way. Figure out what works for you.
Sometimes I'm too safe. If there's a big traditional musical, I'll always get offered it first, which is fab, but it's nice to push the boat out
Did you think about following his example with more pure dance pieces?
I love doing ballet – I haven't had the chance to do much. On the Town was a real treat. Though I remember my mum coming and complaining: "Where's the tap?" I mean, god, I've just done a seven-minute ballet! At the beginning of Act II, there was a boop-boo-be-doop number with five girls with feathers – the kind of thing I could do standing on my head – and she leant across and said: "That's better." I could hardly speak to her when we left!
But I think the really fun thing for me is finding different audiences. Shoes at Sadler's Wells, written by the Jerry Springer guy, Richard Thomas, was very weird – they tried to make it a musical, and it wasn't. It was these slightly bonkers vignettes. But I'm glad I did it, because it pushed me into a different area. Sometimes I'm too safe. If there's a big traditional musical, I'll always get offered it first, which is fab, but it's nice to push the boat out. People say "Oh, I didn't think you'd want to do that." So you have to go after things. I contacted Josie about City, and Jonathan for Gypsy. I was determined to do it – I knew this was my gig!
Do you try to retain your own style or voice when you're doing all these different projects?
It's funny, a lot of people say to me "Oh, I know your style, I can tell your work", so I must have one. But it's not a big thing for me. I suppose I do use a lot of humour, which I love. Even if it's a tiny joke and only four people notice that the cow winks. Or in Gypsy, I've got Louise doing a posé turn the wrong way – that's something I know the dancers will laugh at.
And I do bring things from my own experience. My partner Mark [Smith] is deaf, and he's brought so much into my life with signing, so when we were working on Poppins, I thought: "Why don't we put signing into 'Supercal'? 'Step in Time', I didn't want to just do the big jump and leap ballet for the sweeps – I wanted a tap number, because I thought it would bring something extra. I've actually gone the other way in Gypsy and changed Tulsa's number from tap to a big Gene Kelly piece. So I do play against things.
I felt very scared when I did Pajama Game, taking on the 'Steam Heat' number, because it's so iconic, with the bowler hats, but we did something really fun with it – we had this fabulous girl in a boiler suit, which she ripped off to reveal a Dita Von Teese outfit, and we had jets of steam coming up, and lots of tapping. So it felt like me. But I do like to tip my hat to these brilliant choreographers who led the way for us. Of course, if you show respect, some people claim it's copying, so you can't win…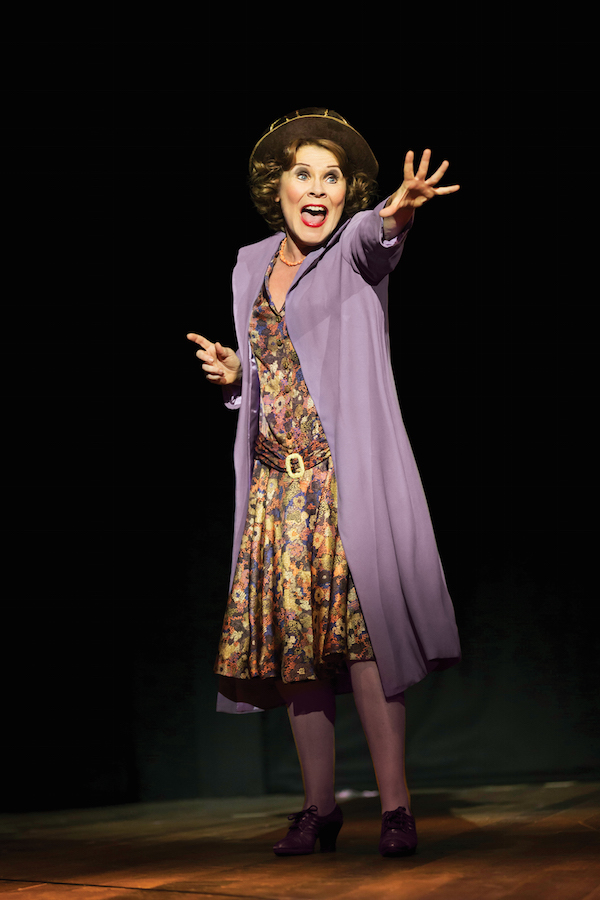 You had a great opportunity with 'Gypsy' to bring something fresh.
Yes, we were allowed to change the dance arrangements. There was some negotiation with the Jerome Robbins estate – I refused point blank to do the Tulsa number as was, but I said yes to keeping the stripper number ['You Gotta Get a Gimmick'], because that does what it says on the tin. Plus you watch the film and it cuts to Natalie Wood a lot, so I could still add bits! The rest of the show is mine. I would never say I'm better than Robbins, because he was a master. It's just an honour to do it now.
Did you and Jonathan discuss what you wanted to say with your version?
It's a really dark production, even though it's funny. I've seen loads of Mama Roses, brilliant ones, but Imelda (pictured right, by Johan Persson) brings something totally different. She verges on psychotic. She has no fear of not being nice! But you can see where that nastiness comes from, what she's been through, her disappointments in life. At the end, when she does that dressing room scene with Lara, you can see she's met her match – horns locking! I find that amazing. Lara, too, that's the other performance in the show that's mind-blowing. She graduates from gangly plain Jane to this beautiful swan – there's so much detailed physical work. It's 40 years since Gypsy's been in the West End, and I think this production is worth the wait. I'm proud just to be part of it. And thankful to Chichester – I've had such a great run there.
Chichester's become a real powerhouse venue.
Jonathan Church and Alan Finch have done wonders. They get things selling out before people really know what they are. It's fantastic having that haven away from the West End – no big producers breathing down your neck. That can be a lot of pressure, and sometimes it makes you weaken, not follow your heart. It becomes creativity by committee. I've been blessed doing all those shows at Chichester, the way I want them, and I've got Mack & Mabel coming up. Regent's Park is wonderful too, and the regional theatres.
The cuts, and lack of funding in the regions, that's a real worry. I find it sad because you learn your trade in those regional theatres. I started at West Yorkshire Playhouse 15 years ago with Singin' in the Rain. I've always loved the reps, and I think some of my best work has been in rep. Not everybody gets to see it, but that's great in a way, because you're not in a fish bowl.
Do you think there's enough support for dancers and choreographers?
I hope so. It does break my heart a little. Mark tries so hard to get funding, to keep his company going. So many great projects deserve grants. And there's not enough to go around – it's always an afterthought. We need to persuade politicians of the value of dance, especially in schools. I read about the change in one of these schools when they introduced dance – how much it helped the kids' behaviour. It's a massive force for good.
Of course, on a professional level, it's a tough industry to crack. But once you're in it, it's fantastic. And the future's very bright. I do workshops at colleges like Arts Educational and Laine Theatre Arts, and they're turning out serious triple threats. I love inspiring young people to dance, and it's a two-way street – it's your duty as a choreographer to discover what's coming out of colleges. I get lots of students auditions. Even if they don't book a job, it helps them get used to that process, lose the nerves, that fear of rejection.
People want to dance. It's joyful. It releases something in you
Did you have a lot of rejection early on?
People say to me "You never stop working", but there were tons of auditions I didn't get. I had an agent who threw me into everything. It wasn't that I got the job all the time. I just kept pushing myself. And you have to think about why other people are getting picked – there's no point bitching at the back of the room. Watch, and you'll figure out "Ah, his vocals are better, that's what I have to work on".
When I audition people, I try to make them feel comfortable. I never do numbers – always names. I get more out of people if I'm slightly chatty and get them feeling relaxed. I know I've let dancers slip through the cracks when I was forced to do rushed auditions, and then you see them crop up somewhere else doing brilliantly and you kick yourself! I've called people back in who've done a bad audition, who I know are good, and said "You need to go back in and pull yourself together", and they've got the job.
Sometimes people are cast because of name recognition rather than talent, though. Is that frustrating?
I'm not so hot on people who haven't got any talent being made stars by reality TV – that bugs me. And then seeing them cast when I know hundreds of people who could wipe the floor with them… If I was told "You HAVE to cast so-and-so from The Only Way Is Essex", that would just destroy me. I love seeing people come up through the ranks, rather than importing "names". Imelda's not a big big star, but you watch this, and you think of a "star" who could do what she does every night.
Besides, you can't do eight shows a week without solid training. One of the guys from Blue went into Chicago and his phone went off on stage! That's what comes of not learning craft and discipline, not doing proper graft. It's like me taking over flying a plane with no experience. The technique dancers have to develop, what we put our bodies through…there's no short cuts. When I was choreographing, there were times I wanted to do more than I should, and I wasn't ready then. I hear that complaint from some of the ones coming up now – I think: "Do your grafting, you'll get there." (Stephen Mear pictured below in rehearsals for Gypsy, by Johan Persson)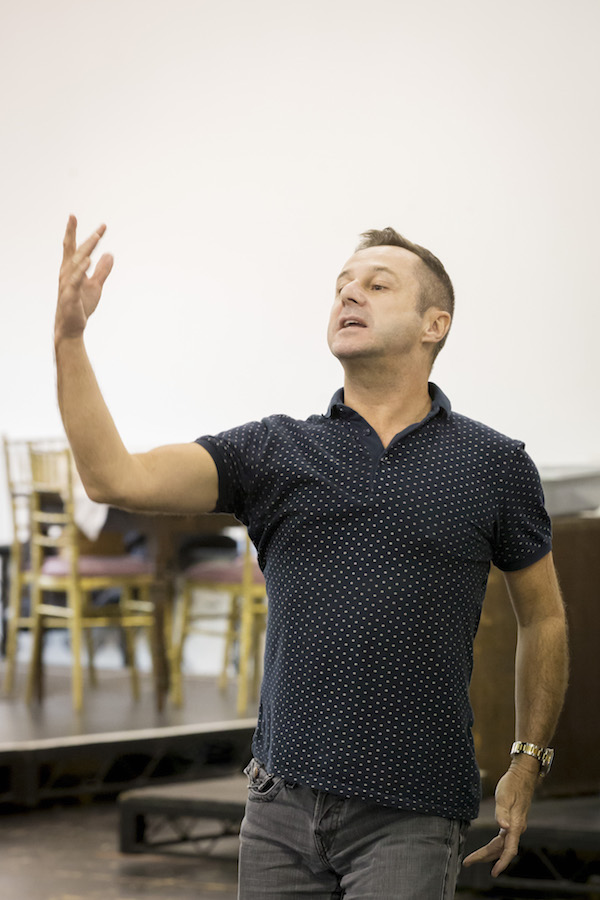 How does the work ethic compare with Broadway?
There's a different discipline in America – they're in the gym all the time, obsessed with their bodies. The jobs are so difficult out there because there are so many of them. At auditions they only sing like two bars – it's ridiculous. We were nice to people on Mermaid and said "Why don't you sing the whole song?", and about eight people forgot it – they'd never been asked to sing it all! But there's a hunger, and it's healthy competition. I don't think the talent's different, it's just a smaller version here. We normally get everything about four years later, but when we do, we nail it! On Broadway, they're all saying they'd love to work in the West End. I'm thinking: "For that money, you really wouldn't." They're paid about three times as much. I told them that every dancer here teaches – I did, all the time I was in shows. So I always believe people here are doing it because they really love it.
One thing I think we could take from America is they're so upfront about saying "I want to be good". That can be taken as arrogance, but it's easy to confuse passion and arrogance. I look at all these fabulous young choreographers coming up, and it makes me do my homework and work harder. But I also love supporting other choreographers and getting them work – that's part of being an Associate at Chichester, getting creative teams together for other shows. People like Drew McOnie and Alistair David are doing really exciting stuff.
What's left on your wish list? More directing, or other media?
I'm being asked to do a lot more directing, and I want to, but when you've worked with all these fabulous directors, I'm worried if I take that on, they'll stop asking me to choreograph! And I don't think it's good to say yes just because you get to direct. She Loves Me I knew backwards – no one could catch me out on anything about the period or the story. Sometimes I look at a director and think: "Really, you don't know all this 100%?"
If I could get a backer, I'd love to do a big Gershwin show. And I'd love to direct and choreograph 42nd Street. Also shows like Baby and Is there life after high school? that aren't as well known, but they're brilliant. My other big wish is a film – maybe a drama with dance in it. There's a great new era of movie musicals in the States with people like Rob Marshall. It hasn't quite happened here yet, but fingers crossed. There's definitely more of an appetite for dance now, and it's more acceptable, especially for men – Strictly did us a massive favour. People want to dance. It's joyful. It releases something in you. I just did Singin' in the Rain in Paris, and after the show, people were tap dancing down the street. You think: "My god, they've done that because they watched our show. Isn't that wonderful?" I'm terrible for escapism. I admire all kinds of dance, political and so on, but I just think there's something about these shows… The audience goes bonkers. It fills a void, somehow.
Last year, I pulled back a lot, because both my mum and my sister had cancer. It's really made me think about why I'm working, what's worth giving your time for, and being grateful for all the opportunities and positive people in your life. If I see someone moaning, I tell them "You'll have plenty of time to moan when you're out of work. Enjoy everything while you can." If I drop dead tomorrow, I want people to say "I'd love to have worked with Stephen", or "Oh, he was part of that show. That was marvellous." Being part of something greater: that's special. You should always fight your corner, as a choreographer, but never forget the whole picture of the show. When everything works together, it's magical.
Looking back, what are your career highlights?
I'm so proud of my Oliviers for Dolly and Poppins – I never would have dreamed that could happen to me. All these super talented but down-to-earth people I've worked with, like Imelda, Victoria, Julie Walters. The great directors. I never stop thinking how lucky I am. The day I do, I'll known I'm done.
I believe movement should always forward the plot, not just be dance for dance's sake
Explore topics
Share this article