Scotch Symphony/ In the Night/ Ballet Imperial, Mariinsky Ballet, Royal Opera House |

reviews, news & interviews
Scotch Symphony/ In the Night/ Ballet Imperial, Mariinsky Ballet, Royal Opera House
Scotch Symphony/ In the Night/ Ballet Imperial, Mariinsky Ballet, Royal Opera House
Maybe it takes US choreography to uncover the greatest Russian ballerinas
Great Mariinsky ballerinas are a breed apart, even from Bolshoi women. They take the stage with a consciousness of entitlement that's thrilling to watch, and when this almost sacred sense of mystique and grace instilled in St Petersburg comes with vivid expressive distinction too, then there really is nothing like it. Even if three American 20th-century ballets might not be thought the likeliest territory to make such discoveries, what a night for ballerinas last night was. Viktoria Terëshkina and Alina Somova are on their way to joining the peerless Uliana Lopatkina at the high table.
Maybe it takes American choreography to reveal what's most Russian in St Petersburg's monastically trained ballerinas. Russian blood ran in the veins of the US master choreographer George Balanchine, two of whose works were on the bill, and who influenced his acolyte, the brilliant Jerome Robbins. Ever since the Mariinsky reclaimed the clipped spun-sugar aesthetic of the émigré ancestor Balanchine two decades ago, it has been their Balanchine that draws beady and expectant eyes. But last night the Robbins was the outstanding experience in an altogether distinguished evening of choreography.
In the Night, the centrepiece, is a romantic reverie under a star-strewn sky for three couples. It's what US balletomanes call a "piano ballet", with long dresses, Chopin nocturnes, and love on the agenda - it can be as lavish or as stilted as its interpreters make it. For sure, there's no other art form that so eagerly glorifies flaky emotional behaviour by women, but what succulent movement it inspires in the hands of a genius of theatre like Robbins when a woman can be played back and forth through dance like a yoyo.
No three ballerinas could have been more deeply involved with potential emotional nuances and more finely poised in their dancing than Evgenia Obraztsova, Alina Somova and Uliana Lopatkina last night, their squires almost unimportant except as porters and devoted worshippers. Yet with quiet courtesy the well-bred Mariinsky men allowed the women to make of their relationships a trio of profoundly different stories, insights into the heart, each pair oblivious of the others except when at the end they almost bump into each other, come to their senses with a polite how-d'you-do, before whirling off again back to their fantasies.
Listen to Artur Rubinstein play the first Nocturne used in the ballet, Op 27 No 1
It's Robbins's genius that he fashioned steps for the three that are both generically similar and yet crucially different in signposting feeling. You might instinctively check your own life in the mirrors the three hold up to love: the first pair, meltingly intimate; the second, a bargain being fashioned between (as I read last night's interpretation) a demurring younger woman and an older man; the third, a fractious, nervy belle in black hassling her partner, making for some acrobatic and amusing moments, moving to her heartrending apology with fluttering hands and a beseeching prostration, and his sweetly ironic reply, hoisting her high like a goddess to reassure her, and then unceremoniously dropping her into his arms for a cuddle.
The petite, exquisite Obraztsova and the silkily tall Lopatkina have long ago proved their piercing sensitivity, so the greatest surprise to me was Somova, the young dancer whose extravagant tastelessness in some of her physical moves elsewhere has no outlet in this piece. Instead she showed a touching gravity and sense of potential tragedy with the dignified Evgeny Ivanchenko which turned the short but intense middle episode into the heart of the 25-minute ballet.
The performance's directness was underpinned by the turbulently emotive piano-playing by Ludmila Sveshnikova, a small, surprisingly elderly woman, evidently vastly more to the Mariinsky than a mere rehearsal pianist.
Viktoria Terëshkina is a magisterial not-for-export Mariinsky ballerina of the finest distillation
She turned up again having a doughty and passionate stab at the torrential piano part of Tchaikovsky's Second Concerto for Balanchine's Ballet Imperial, one of his glistening tributes to his memories of Kirov ballet style. Created in 1941 for a wartime tour of South America, this work makes much of its large corps de ballet, offsetting their pretty and traditional filigree with one of his most provocative central couples, jousting with their musicality in what's more a danced dialogue than a duet. Despite the touches of romanticism it demands a couple of supreme wits, and the boyish and unaffected Vladimir Shklyarov is that, a pleasure to watch.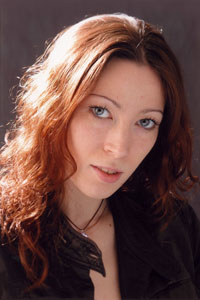 But on another level is the exceptional Viktoria Tereshkina (pictured left, courtesy Mariinsky Theatre), a magisterial not-for-export Mariinsky ballerina of the finest distillation who, like Lopatkina, one can't imagine in any other ballet company than St Petersburg's. Dark, fascinating, forbidding, she danced her solos with mesmerising intensity and momentousness, almost more with the piano than with her partner, as if requiring him to be interesting enough to claim her attention (which is the kind of artistic imperiousness I do love to see in a ballerina). There are many aspiring princesses in ballet, very few true queens of the blood about, and Terëshkina is one of them.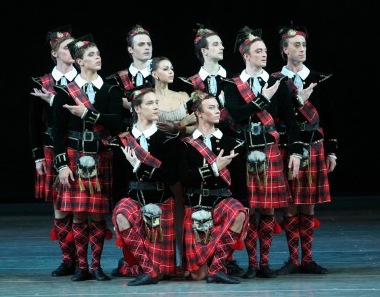 One needs someone like her or Alina Cojocaru, rather than the commonplace Anastasia Matvienko, leading Balanchine's peachy Scotch Symphony. This is a madly kilted Scottish romp (pictured right, by Natasha Razina) set to Mendelssohn's eponymous symphony, inspired by Balanchine's 1952 trip to the Edinburgh Festival. It's as much Brigadoon as La Sylphide, and deserves quicker musical relish and niftier feet than the ensemble showed - though the ponderous conducting of Boris Gruzin must take some blame.
Fortunately the leading lad was a courteously handsome young dancer and thoughtful artist, Alexander Sergeyev. In every gesture you saw him striving to earn the right to represent his great tradition honorably, both aesthetically and expressively. He does, with laurels.
The Mariinsky Ballet season at the Royal Opera House continues with this programme tonight; Swan Lake tomorrow, Monday; Ratmansky's Anna Karenina Tues, Wed; and La Bayadère Thurs-Sat 13 Aug