Alina Somova: dancer or circus pony? |

reviews, news & interviews
Alina Somova: dancer or circus pony?
Alina Somova: dancer or circus pony?
ARCHIVE Daily Telegraph, 3 August 2009: Ismene Brown meets the Mariinsky's most controversial young ballerina and her partner, rising star Vladimir Shklyarov
I'm only prancing: Alina Somova's notorious 'smiley' jeté
It is a curious feeling to go to meet a hated figure and find a delicate, blonde girl with a sweet face.
On Monday, 23-year-old ballerina Alina Somova opens the batting for the legendary Mariinsky Ballet's Covent Garden tour in Romeo and Juliet, needing to defy her critics who line up from West to East accusing her of vulgarising the majestic, poised St Petersburg style that defines classical ballet worldwide.
Even for a ballerina, in an art where physical evolution seems to move twice as fast as anywhere else, Somova is peculiarly flexible. She throws her leg high over the vertical, even in a long skirt. She leaps more like a hurdler than a drift of silk, her very long legs flying weirdly above horizontal. Eye-catching it is; classical, beautiful, musically eloquent it is not.
Hence, during Somova's rapid rise in the past three years, the loud protests that her promotion as the new face of Russia's grandest tradition debases it.
It is not her fault. The Mariinsky only spotlights ballerinas when the director chooses to, and the current director, Yuri Fateev (not a man known for flash), insists that young Somova is special. Much the same used to be said about Sylvie Guillem.
Fateev tells me he has full confidence: "You'll see Alina's potential in London." Maybe. Last year I thought Somova 40 per cent intriguing and 60 per cent circus pony. This year as the Princess in Alexei Ratmansky's new The Little Humpbacked Horse for the Mariinsky, she was a delight, as dewy as a milkmaid. After the show, ballet's grande dame Maya Plisetskaya plucked her diamond earrings off her ears, handed them to the awestruck girl and told her to go grab herself a brilliant career.
"Maya told me that in her times they danced worse than they dance now," says Fateev. "That dancers now have such fantastic bodies which they never had before, long limbs, flexibility, this amazing material to work with. Art is volatile, it's a live thing. We have to use this material to the utmost."
Somova, then, has enough gold-plated endorsement not to let detractors worry her, and she is changing.
Last year when I saw her she was dancing with the Mariinsky at the Lowry on a memorable night for St Petersburg, when its top football team Zenit was beating Glasgow Rangers up the road at the Manchester City stadium. During Balanchine's Diamonds, a roar from an offstage television tuned to the match ripped through the Lowry and all the dancers on stage broke into grins. Somova, bright blonde with glittering fingernails, claimed the ballerina role like a born WAG.
"Yes! We were dancing but really we were all at the football match! We celebrated at the hotel afterwards with the players." Endearingly, Somova is a fervent Zenit fan. She regularly shrieks from the football stands, and has football's anthemists Andrea Bocelli and Luciano Pavarotti on her iPod.
She's the first in her family to dance, and says her reed-like build comes from her father – he's in construction – and they both pile into blinis without ill effect. In Russia "usually it's children from simple families who achieve most." Her mother, she says, is a tough character, and she has inherited her determination. "People do say I am a hard worker. Without that you could never be a ballerina."
A recent documentary about the Mariinsky, Bertrand Normand's Ballerina, showed a nervous young Somova (pictured, as Nikiya, in the film) in the company reigned over by the fastidiously elegant Ulyana Lopatkina and Diana Vishneva; three years later she is ranked principal alongside them.
How does she answer the charge that she overeggs the physical side and distorts a glorious tradition? "Hmm," she pauses, "I think I would like to be thought of as able to dance, to really dance, not just do a combination of gymnastic movements. But we will never dance like they used to in the past.
"Yes, in a ballet like Sleeping Beauty I agree, I need to control it. My natural flexibility doesn't suit the artistic demands of that style but at the same time I can use it, développé my leg more slowly and fully, and it could be high but still carefully développéd – not snapped up like in Don Quixote, for example."
Clearly, then, with a recent change of coach to Tatiana Terekhova, Somova is beginning to use her head. As she says, in life 23 may be young, "but in ballet it's no longer an aspiring young girl". She tells me that she broke up with her boyfriend over her work ethic.
"Ballet can't interest everyone – it is a life for a certain group of people, it's a high art. But people will always want to watch classical ballet. For me classics have an eternal appeal. Most of all I love Balanchine – I feel as if his ballets were made for me."
It was up one night, down in the corps the next, you never knew why
Somova's shooting star contrasts with the steadier rise of 24-year-old Vladimir Shklyarov, who shares the opening-night honours with her.
At the Mariinsky he stands out in the 10am class not just for his high carefree leaps and instinctively graceful carriage, but for his ferocious concentration.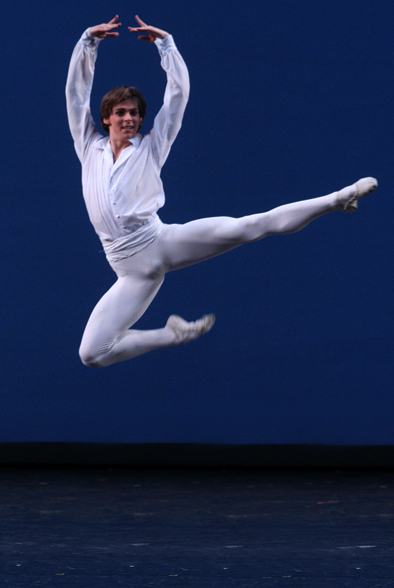 Afterwards, he says he has forced himself to take the daily repetitions seriously: "It's the beginning of my working day; the whole day will depend upon the way I prepare my body in the class."
The Mariinsky theatre is a combination of lethal jungle, survival course and political minefield, where to come out on top takes more than just shining artistic talent. Under the previous director Makhar Vaziev, Shklyarov struggled to survive his first years: "It was up one night, down in the corps the next, you never knew why." But in the past two years, he has become the Mariinsky's new man to watch.
He is less slash-and-burn than Somova about past dancers: he avidly searches out treasured snippets of past dancers on YouTube. He says that even though repeated watching underlines even great icons' flaws, "you also can analyse little professional things that people do which suddenly fire the show – I think of Igor Zelensky, Faroukh Ruzimatov, Vladimir Malakhov, the Cojocaru/Kobborg partnership. Plus, of course, our grand heroes, Nureyev and Baryshnikov. They may belong to the history of ballet… but we can still learn a lot from them, their attitude to work, their intense effort to find out new things."
I ask Shklyarov when he first took ballet seriously – not until he joined the company and actually performed, he replies. What if he hadn't got in? "I'd have killed myself," he says. "Only kidding. Of course, I have a lot of other interests, but I think I would have just vanished in any other life."
I try to imagine Shklyarov and Somova vanishing in another life, and somehow it seems unlikely.
The Mariinsky Ballet opens at the Royal Opera House on Monday 3 August, 2009 with three ballets, Romeo and Juliet, Swan Lake and Sleeping Beauty
People do say I am a hard worker. Without that you could never be a ballerina
Share this article