Christopher Wheeldon premiere, New York City Ballet |

reviews, news & interviews
Christopher Wheeldon premiere, New York City Ballet
Christopher Wheeldon premiere, New York City Ballet
Story-ballets are back with a vengeance at the temple of abstract ballet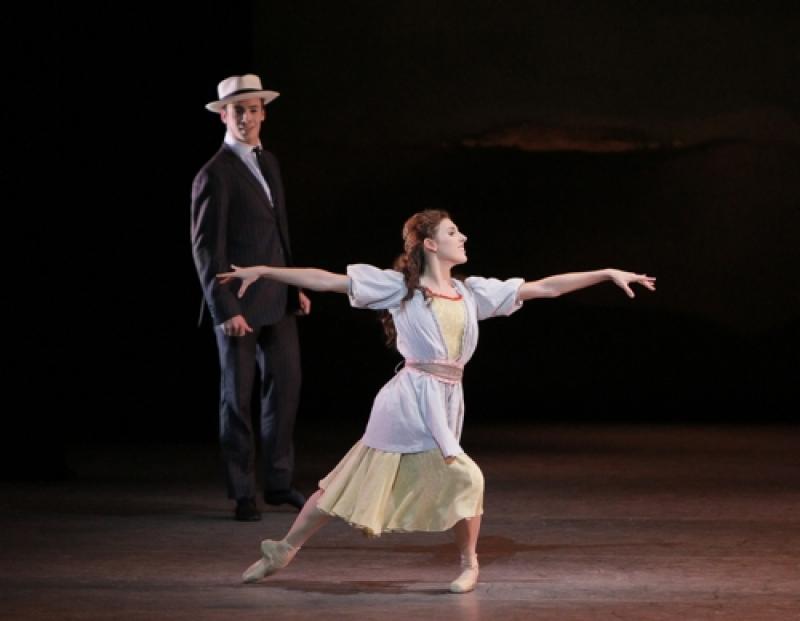 Tyler Angle and Tiler Peck in Wheeldon's 'Estancia': an old-fashioned story-ballet in the heart of neo-classical abstract dance
What is going on at New York City Ballet, home of the abstract, neo-classical, pared-down, no-scenery, no-story, nothing-extraneous aesthetic that George Balanchine made into an artistic religion? So far, three out of the four pieces commissioned for the company's ambitious "Architecture of Dance" festival have been - more or less - story ballets (only Wayne McGregor has resisted the lure).
Alexei Ratmansky's
Namouna
offered a dizzying whirl through a
faux
-19th-century ballet, complete with mystifying characters, impossible plot and glorious choreography. Of Benjamin Millepied's
why am I not where you are,
more later. And last night came the premiere of Christopher Wheeldon's
Estancia
, a city-boy-meets-country-girl tale set to the ballet music of the same name by the Argentinian composer Alberto Ginastera.
Estancia has an interesting history; the score was commissioned in 1941 by Lincoln Kirstein, during a South American tour by the New York City Ballet's precursor, the American Ballet Caravan. Kirstein intended Balanchine to choreograph the ballet, but Ballet Caravan disbanded that year, and the piece was never made in the US. (The score was used in 1952 by Michael Borowski, who choreographed the ballet for the Teatro Colon in Buenos Aires.) This history makes a nice neat loop back to City Ballet, and it's easy to see (or hear) the appeal of the score, full of dancey folk rhythms and lyrical romanticism. What is surprising is how literally Wheeldon has used the original libretto, which sets the action on an estancia, or ranch in the Argentinian Pampas.
A city boy (Tyler Angle), in suit and hat, arrives early one morning to find a group of country folk beginning their daily tasks. He is immediately drawn to a local girl (Tiler Peck), who rejects him, but is eventually won over when he tames one of the wild horses that the ranchers are trying to subdue. Love blooms, and a pas de deux follows as night must day. (In fact, night does follow, then day again - the action takes place in a 24-hour span that is beautifully suggested by Mark Stanley's marvellous lighting.)
Wheeldon does an admirable job with all of this. The opening solo for Angle, against a beautiful painted backdrop by the architect Santiago Calatrava (who has done the scenic design for four of the seven festival ballets) which evokes the wide plains of the pampas, is langorously lyrical and moody; Peck's character is quickly established as his counterpart through a melancholy solo of her own, set against slow-moving groups of the country people.
There are strong overtones of Agnes de Mille's Rodeo and even Martha Graham's Appalachian Spring in these images - the lone woman or man against the vast plains, the idea of the essential nature of country life, the choreographic suggestions of rootedness in the earth as groups bend into deep second-position pliés or stoop to the ground with repetitive sowing motions.
Later, Wheeldon changes the tone and the pace with the slightly fantastical introduction of five dancers as wild horses - a potentially disastrous idea that actually works rather well once you suspend disbelief about animals on pointe. The unexpected effectiveness of the horse section is partly due to the strangely realistic effect of Carlos Campos's bodystocking costumes, partly to Wheeldon's mane-tossing, tail swishing choreography, danced with fierce bucking, leaping energy, most particularly by Andrew Veyette and the marvelous Georgina Pazcoguin.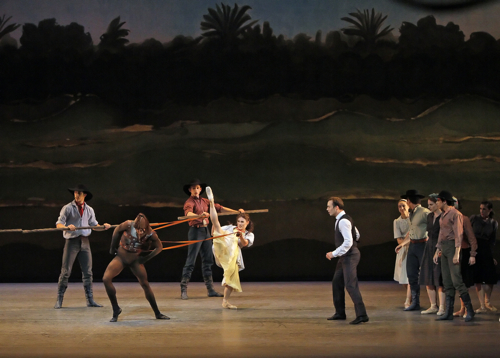 Angle eventually tames Pazcoguin, catching her in a Firebird-style foot-to-back-of-head attitude, and Peck is his. Night falls, the stars emerge, and the pair dance a beautifully tender pas de deux, devoid of impressive lifts and tricky partnering, full of slow turns and small bends and tilts in and out of supported positions, suggesting their mutual dependence, a literal falling-in-love. Here, as in the rest of the ballet and its rousing finale, Wheeldon does an impeccable job of conveying his story through the movement. His deployment of groups, his structural composition are things of beauty.
He makes lovely use of a sung interlude (a fine performance from Philip Cutlip) by setting Angle and Peck in a side-by-side dreamy duet. And he gives his central couple roles that bring out unexpected aspects of their dancing. Peck, a technical whizz who is often cast in soubrette roles, shows a dramatic, earthier self; Angle, a long-limbed natural ballet prince, is softer and funnier, uninhibited and touching.
But in taking on a story ballet, Wheeldon doesn't resist the tropes of the genre, and they crop up with annoying and predictable regularity. No couple-to-be in a ballet ever meet without a locked-eyes, frozen moment of recognition before the inevitable rejection. No feisty female lead ever does anything but melt unhesitatingly into the man's arms the minute the rejection period is over. No outsider is ever looked upon with anything but suspicion by the crowd. No hero is ever accepted into that crowd without first getting slightly manhandled, then given an approving slap on the back. And so on.
It's hard also not to see the literalism of Estancia as a strange throwback to another era, no matter how well done. But perhaps I'm alone in this opinion; the audience clearly adored the ballet, giving the dancers and Wheeldon a long standing ovation, and the most enthusiastic response of any of the festival premieres so far.
Below, Gustave Dudamel conducts the Simon Bolivar Youth Orchestra in dances from Ginastera's 'Estancia' (YouTube):
Millepied's why am I etc, (surely the worst title of the year? the decade? ever?), which had its official premiere last week after a preview outing at the company gala, took a more cautious approach to narrative. With clear echoes of Balanchine's La Valse, and fainter ones of Prodigal Son, it sets an outsider (Sean Suozzi), dressed in white, amidst a crowd of dancers in particularly ugly ballroom-style costumes (by Marc Happel) of turquoise, purple, green and pink. Suozzi is drawn to one of the young girls (Kathryn Morgan), but apparently invisible to her and the others until the evil masterminds of the piece, Amar Ramasar and Sara Mearns, begin to layer brightly coloured garments upon him. Now Morgan can see him, and return his affections, but for some inexplicable reason, the evil pair intervene, pulling off the outer layer of her costume so that now she is dressed in white and invisible to him.
Millepied creates a big, ambitious ballet out of all of this, its scale amplified by Calatrava's huge, sculptural semicircle-within-a-semicircle that covers the back of the stage and provides a central entranceway for the dancers. The sculpture is rather beautiful, the cords between the two curves shimmering and changing colour in the light, but Millepied doesn't do much with it, apart from letting us glimpse Mearns and Ramasar plotting behind. (Below, the ensemble photographed by Paul Kolnik)
The music, a commissioned score by Thierry Escaich, is full of shimmering tones, and soft percussive sounds that sometimes recall Stravinsky's Firebird, and Millepied uses it skillfully, creating big swoops of corps de ballet movement, impassioned pas de deux, and dramatic solos for Mearns and Ramasar. But despite committed performances by the principals, there is something generic-feeling and implausible (even with the general implausibility of the genre) about the whole ballet. You never understand why Suozzi is rushing around moodily, or why Morgan is any different from any of the other girls at the ball, or why Ramasar and Mearns have to incarnate von Rothbart and Cruella de Ville (which they do with admirable energy).
As efficient as Millepied's choreography is, the movement never communicates character, intention or emotion as it does in Estancia. Both ballets seem oddly old-fashioned works to produce in 2010, but Wheeldon at least captures something genuine in his story and his characters. Millepied, a strangely on-and-off choreographer, doesn't yet seem to have found a real voice. You get the feeling, looking at his work for different companies, that he is something of a chameleon, trying to meet expectations rather than following an inner voice. He is a skillful enough craftsman to make us hope he can find it.
Both ballets seem oddly old-fashioned works to produce in 2010, but Wheeldon at least captures something genuine in his story and characters
Explore topics
Share this article