Globe to Globe: Romeo and Juliet, Shakespeare's Globe |

reviews, news & interviews
Globe to Globe: Romeo and Juliet, Shakespeare's Globe
Globe to Globe: Romeo and Juliet, Shakespeare's Globe
A tragedy that's played strictly for laughs simply ends up being dull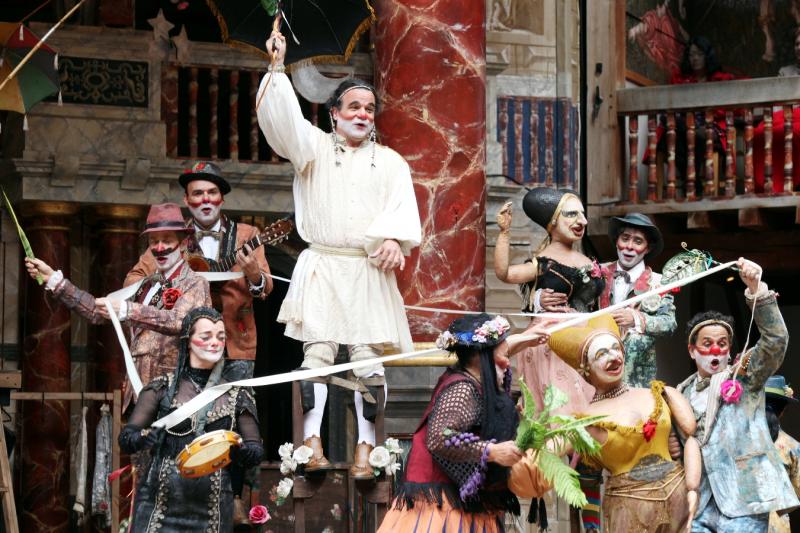 Where the nuts come from: all-singing, all-mugging Romeo and Juliet
The Globe to Globe season has enjoyed tremendous goodwill from audiences and critics alike. And this has been largely repaid, for it's been a joy and a wonder to learn just how much contemporary relevance can be mined and brought into sharp relief, and with such audacious wit, when stripped of the plays' native tongue. So one wishes one could keep up the momentum of goodwill for every production.
And why not? If one can be convinced by a South Sudanese production of Cymbeline and an Armenian King John (neither plays are highlights of the Shakespearean repertoire, whatever case can be made in their defence) how is it possible not to be captivated by that most enchanting and popular of tragedies, Romeo and Juliet?
This staging of the play isn't a first for Brazilian company Grupo Galpão. We read it's been a landmark in the company's career since it was premiered in 1992. Nor is it, in collaboration with Grupo Galpão's director Gabriel Villela, the first time they've bought it to The Globe. It was last seen here in 2000.
With her great flapping, stitched-on jugs, which Bara heaved and caressed throughout, we were given plenty to laugh at
But though one can appreciate why it's been a popular staple for a company which has its roots in Brazilian street theatre, this carnivalesque production – with face-painted actors mugging for the audience, with dancing and stilt-walking and singing, and a cameo performance by Shakespeare himself (Antonio Edson) providing the commentary, as well as a clownish friar playing the mouth organ – in the confines of a stage, this is one production that left me cold, despite being surrounded by the audible enthusiasm of the audience for the matinée performance I attended.
There were certainly plenty of laughs. After all, there is a natural vein of humour to be tapped in the first half of the play. There is the coarse banter of the Capulet servants, which kicks us neatly off, and the jesting between Romeo (an accordian-playing Eduardo Moreira) and his friends, though much of this was left out, since it would have been inaccessible for a non-Portuguese-speaking audience. But there is still great potential for bawdy humour through the Nurse, played here with great gusto by Tueda Bara. With her great flapping, stitched-on jugs, which Bara heaved and caressed throughout, we were given plenty to laugh at.
But the comedy in Romeo and Juliet sets us up to feel the greater force of the oncoming tragedy. And here, in this all-singing, all-mugging production, there is no tragedy. This is a shame, because the comedy itself just isn't quite funny enough to sustain, nor frenetic or physical enough for belly-aching farce. This means that everything quickly begins to feel just a little flat. When finally Juliet (Fernanda Vianna) performs her death as a comedic dying swan, there have been no shifts in tone, mood or texture throughout the entire play.
Out of generosity, or at least one suspects that might have been the case, audience goodwill remained intact throughout. But this was a disappointing production of what might easily have been one of the festival's highlights.
In this all-singing, all-mugging production, there is no tragedy. This is a shame
Share this article