Final Portrait review - utterly convincing portrayal of an artist at work |

reviews, news & interviews
Final Portrait review - utterly convincing portrayal of an artist at work
Final Portrait review - utterly convincing portrayal of an artist at work
Geoffrey Rush is the spitting image of Giacometti in Stanley Tucci's fly-on-the-wall portrait
Final Portrait: Geoffrey Rush as Giacometti and Armie Hammer as his preppy sitter, James Lord
I hate biopics about artists in which the portrayal of "genius" is hyped to the point where it becomes a ludicrous cliché. Although I appreciate that, as far as entertainment goes, seeing pigment brushed onto canvas is on a par with watching paint dry, I still can't forgive directors who resort to dramatic extremes in the hope of evoking the tribulations of the creative process.
Stanley Tucci's Final Portrait, his first film in 10 years, is in a class of its own, though. In place of melodrama he gives us detailed observation of Alberto Giacometti grappling with his inability to translate what he sees onto canvas. And since Geoffrey Rush is the spitting image of the artist and Armie Hammer is utterly convincing as his sitter, the American writer James Lord, you feel as if you are present in the studio eavesdropping on the actual encounter.
This took place in Paris in September 1964, when Giacometti asked Lord to pose in his cluttered Montparnasse studio for a quick sketch that would, he said, take only an afternoon. Lord planned to fly back to New York a day later, but as the sittings swallowed up one day after another – 18 in all – his flight had to be reschedule many times. Luckily, he had the foresight to take photographs of the painting as it progressed and to make notes about his interactions with Giacometti. Later these were turned into a book, which Tucci follows faithfully to provide in-depth insights into Giacometti's eccentric working methods.
"You have the head of a brute," Giacometti tells the preppy Lord. "And side on you look like a degenerate. One way you go to jail, the other way you go straight to the asylum." Looking over the artist's shoulder, we watch the portrait taking shape, only to be obliterated with a few broad brush strokes that allow the process to start all over again as the artist mutters, "It's gone too far and at the same time not far enough. I'll never find a way out of this."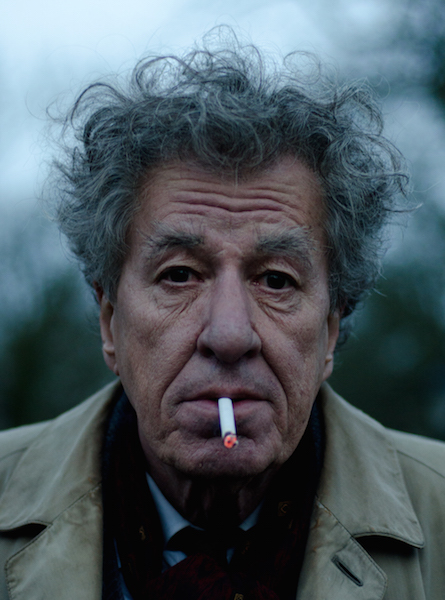 The repeated construction and destruction of the image follows Lord's photographs so faithfully that you really feel as if you are watching Giacometti at work on the original picture, and the camera angles are so well chosen that you also believe that Rush is the one whisking the brush over the canvas. The painting is realised in a palette of white, grey and black plus a little ochre, and the film is shot in similarly subdued colours with the addition of a few details in blue grey, yellow ochre and crimson. Not only is this beautiful, but it produces an exceptional feeling of empathy between the film and its subject. It's as though we have entered and been absorbed by Giacometti's world.
Two years earlier, the artist won the Grand Prize for Sculpture at the Venice Biennale, but success only exacerbated his doubts. "It gets worse every year," he tells Lord. "What better breeding ground for doubt than success?" Daily rituals, such as consuming two hard-boiled eggs and two slices of ham with bread, two glasses of Beaujolais and two cups of coffee, plus incessant chain-smoking help alleviate the anxiety, but he still has to confront the fact that "it is impossible ever to finish a portrait".
To distract himself from the size of the task, he talks as he works, so we get to hear his thoughts on suicide: "What really appeals to me is burning yourself alive. That I would really like to do." And death: "I'm curious. I think death must be the most fascinating experience." Despairing at his own ineptitude, he yells and curses and holds his head in his hands. As his frustration grows, the tension between artist and sitter mounts; this would be unbearable (for us as well as him) if it weren't for the presence of Giacometti's wife Annette (Sylvie Testud) and brother Diego (Tony Shalhoub), who sit regularly for Giacometti and can sympathise with Lord as he lets off steam.
Caroline (Clémence Poésy), a prostitute who sits every evening for Giacometti (pictured below with Rush), is used as an excuse to introduce some sexual intrigue that doesn't feature in the book. While I appreciate the need to open things up – and the scene in which Giacometti buys off Caroline's pimps with wads of cash is amusing and poignant – I can't help thinking it would have been braver to forgo the salacious subplot; this visually stunning film would have been even stronger without it.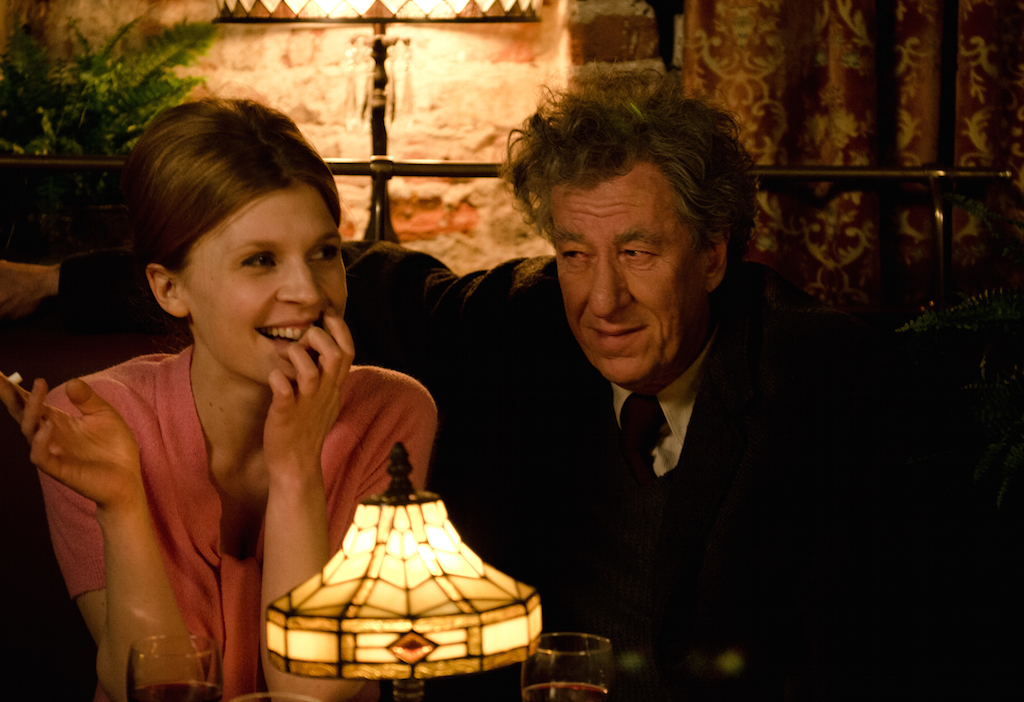 In November 2015, Giacometti's portrait of James Lord sold at auction for over $2 million. In the sales brochure, Christie's describes the painting as a "superb head whose eyes flash the penetrating gaze of a Byzantine icon, a seated figure that displays the assertive presence of an Egyptian pharaoh, and a lambent corona of silvery grey paint that projects the aura of a Christ en gloire, en majesté".

Thank heavens Tucci was wise enough to avoid the filmic equivalent of this idiotic guff; instead he relies on subtle attention to detail and superb acting to portray an artist who, as his brother Diego explains, "refuses to rely on past achievement and feels it is necessary to start his entire career over again every day."
Final Portrait

is released on 18 August