Swan Lake, Royal Ballet |

reviews, news & interviews
Swan Lake, Royal Ballet
Swan Lake, Royal Ballet
A handsome couple open the new run, without sharp edges or dark suspense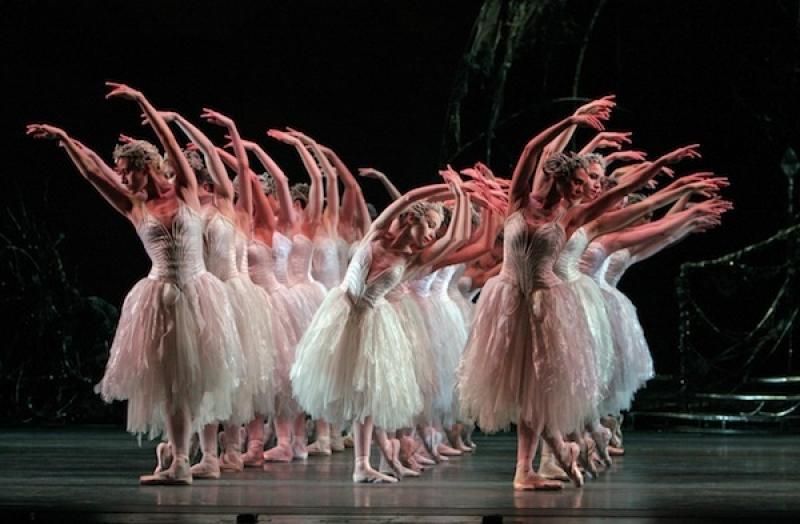 Sonnabend's 'Swan Lake': A Fabergé-era vision whose florid excess undercuts the story's power
The return of the Royal Ballet's Swan Lake production coincides with the tumult over the film Black Swan, about which the company's marketing department must be pretty pleased, even if some of the dancers aren't. The chief surprise for any newcomers drawn to the ballet by the film, obsessing as it does about the leading ballerina, must be how long it takes to meet the Swan Queen at all.
An entire act goes by of the Prince having a party before the scene changes to the lake of swans, and it's in this first act, long before the Swan Queen herself must step on stage, that a company proves its stripes. The first impression of this production is its luxurious fussiness, the baubles and ribbons dripping everywhere, gold wires swirling, the Fabergé/Art Nouveau furbelows hinting at unconscious birth fantasies, hedonism, magical darkness. Attractive as the costume period is, and attractive as the idea is of setting the ballet in the era of its own birth, any poetically receptive viewer will sense how this florid excess undermines the plot - in this relaxed royal court (where courtiers carelessly drop glasses, smirk impolitely at the Dowager Queen and treat rank with no importance) there is nothing harsh to oppress Prince Siegfried, no urgent need for him to run into the dark and dangerous night, other than to fulfil the synopsis.
The more I see Swan Lake, the more I want to feel this surging essence, this vacuum in the soul that desperately seeks to be filled, no matter how unrealistically. Otherwise the entire experience is simply about display and decoration, about iconography of swan queens and sweet, melancholy Tchaikovskyan sentiment. Swan Lake is too much treated as a gorgeous, emotive, mannered ritual, swathed in Chantilly flutters and spun-sugar violins, without a dangerous suspense, and so it was with the opening performance by Sarah Lamb and Federico Bonelli.
A very beautiful couple they make, both fine-limbed, calm, unhurried, tracing nice careful shapes with leg and arms. Lamb often hit a particularly satisfying right-angled arabesque. What was missing in either of them was the burn, the fire, the fatal resignation colliding with the explosive rebellion of a mind that can no longer contain itself in reason. Siegfried may not be one of the largest dancing roles in the male canon, but it's the most extraordinarily dramatic, and when you've seen a Johan Kobborg or an Anthony Dowell, you can't doubt this is the Hamlet of the ballet repertoire. Bonelli is one of the most handsome of men, but he did not look once troubled by Siegfried's doubts nor seized with the recklessness that sends this young prince so quickly to his death, chasing his own guilt.
Lamb, with her ethereal blonde aura, should likely be more an Odette than an Odile, the Black Swan, and yet she seemed to flare with more certainty in the evil role. Though she drew long light lines in the white acts, one sensed her more comfortable going "up" than "down", so that the swooping qualities that make the bird visible and unsettling in the woman was missing in the solos. She's one of those ballerinas (Viviana Durante, I always felt, was another) who radiates more strongly in pas de deux, drawing fuel from a partner. But the solos, as both Odette and Odile, are where you see who this or that other female really is (or pretends to be), and as Isaac Stern has said of playing music, it's the spaces between the notes where the high imagination is needed, as well as a flawless technique, to find what links familiar ballet syllables into piercing phrases that can seize watchers with desperate sorrow and alarm.
All Lamb needs to become a fine Swan Queen is to evoke the hugeness of the soulscape in this ballet. A more lyrically abandoned conductor might come in handy other than Valery Ovsyanikov, who allowed some very gruff brass-playing to go on and thudded through some of the more painterly parts of the music as if to cancel out Sonnabend's watery fancies. (Pictured below, her Act Four backcloth design on the page and on the stage.)

A highlight was Genesia Rosato's Dowager Queen - the gravity with which she mimed her disapproval of her son's irresponsibility, the way she extracted every last gram of character as she held her son's eyes, or cast a chill glance at some insubordinate staff, this is a great actress at work. A lowlight was the Act One pas de trois, which is the very first view the audience has of formal ballet dancing in the entire work, and therefore is not to be thrown away by the pallid carelessness of a group like Kenta Kura, Iohna Loots and Emma Maguire. This big, challenging dance number is an early calling card for an entire company's quality, and it needs to be of the most ebullient technical relish and the nimblest musical idiom. When occasionally you see true principal-quality artists in it, its gaiety and sophistication are unspeakably uplifting.
Swan Lake is at the Royal Opera House, Covent Garden, in repertory until 8 April. Lamb and Bonelli perform again 21 March
Sarah Lamb interview on theartsdesk
A video on the ROH website explains the scene change from Act Two (the swans) to Act Three (the ballroom)

Subscribe to theartsdesk.com
Thank you for continuing to read our work on theartsdesk.com. For unlimited access to every article in its entirety, including our archive of more than 10,000 pieces, we're asking for £3.95 per month or £30 per year. We feel it's a very good deal, and hope you do too.
To take an annual subscription now simply click here.
And if you're looking for that extra gift for a friend or family member, why not treat them to a theartsdesk.com gift subscription?