Simon McBurney On Creating A Dog's Heart |

reviews, news & interviews
Simon McBurney On Creating A Dog's Heart
Simon McBurney On Creating A Dog's Heart
The Complicite director explains how and why his opera debut came to fruition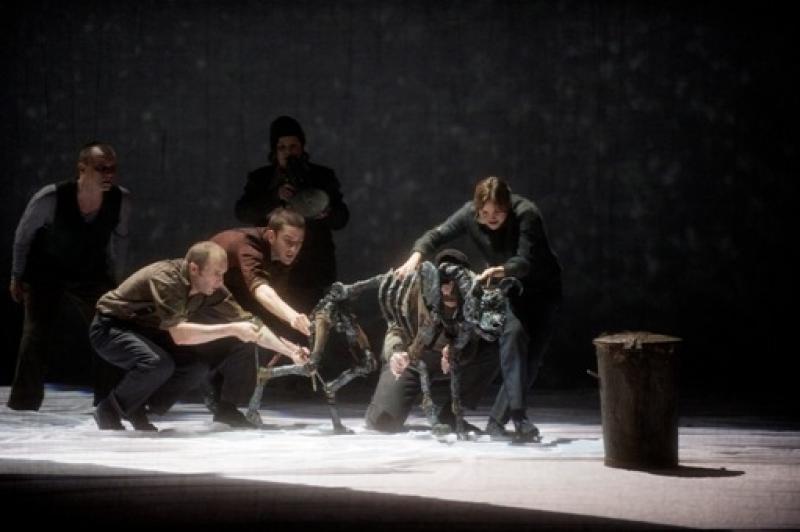 Puppet on a lead: Puppeteers Blind Summit manipulate Bulgakov's dog
For anyone who grew up in the former Soviet Union, Heart of a Dog is a seminal text. But it's also in the great tradition of Gogol and all the Russian satirists. It springs out into absolutely delicious flights of fantasy, but really sharp-edged. The mixture is there in Ostrovsky too: both very dark and very funny and also suddenly beautifully poetic.
The theme of the piece is the manipulation of people, about the way that in 1926, after the new economic miracle, Stalin has come into power and a lot of people realise that something is turning sour. It's like when we got New Labour and people thought, maybe something will change, and a few years down the line everything started to sour.
Part of satire is the idea that people are being manipulated to certain kinds of opinions, and the whole piece can be taken as a satire on many different forms of manipulation. It's not as if Bulgakov takes a stand. It's not at all clear as to who we should side with and care about. In fact it's constantly fluctuating. But you do get the constant sense of manipulation. The professor has manipulated the dog into a man and then the dog starts to manipulate Soviet ideals of the new communist state and apply them, not because he believes in them but because he wasn't somewhere warm where he could live and constantly feed. And then the professor from above is manipulated by the big boss.
The nature of the satire is that it is not merely a satire on the social and political situation in the Soviet Union in 1926 but that it really is a human satire. In order to bring that out, rather than doing something which I'd find a little bit of a gimmick – "I'll update it to modern times to make it relevant" – the key is in how it's performed. If we see that it is very clearly an artificial construct, you yourself are obliged to imagine the situation. By seeing it made in front of you, by definition it becomes present and you become involved in it. You don't just raise the curtains in 1926 in the Soviet Union. The curtain is already open and you see people putting up lights and you understand that everybody is trying to make this story as present as possible.
So the image of the puppet seemed apposite in many ways. Sometimes people associate the work that I do with a lot of hi-tech wizardry. I don't know why because for me that's just a tool, but the truth is I'm interested in the oldest forms of theatre as well as the possibilities our age brings us. I have used and worked with puppets since I began Complicite. Because of the success of War Horse and The Lion King people go, "Oh my goodness me, puppets have just arrived on the London stage." Of course puppets are as old as theatre is: Bunraku, shadow puppets in Indonesia. What has just arrived is the idea that you can put it in the centre of a play.
This dog is starving and thrown onto the rubbish heap. So in our workshop we thought, let's try and make this job out of rubbish. Out of the garbage came the dog. That eventually became too difficult. Then we went to the next stage and I started to look at pictures of a dog by Giacometti. That gave me an idea that maybe the dog should be fire-blasted with just the skeleton and made with black gaffer tape and bits of plastic. But it really is a dog. I brought in Mark Down who has his own puppetry company called Blind Summit who I have already worked with, and we started to make this creature come to life. Gradually we brought in other puppeteers. In this first workshop I showed Sasha [Raskatov, the composer] what a puppet dog could do and how the singers could relate to it and the voice could be an extension of puppeteering.
The great element in all of this adventure has been in working with the music. I never really understood opera as a child. But very careful musical education by my brother Gerard, who is artistic adviser to the Chicago Symphony Orchestra, opened my eyes to all sorts of different kinds of music. The very first pieces Complicite made were very often inspired by music. Street of Crocodiles was enormously inspired by Schnittke's Concerto Grosso. I've made strange pieces with musicians: a piece about Shostakovich with the Emerson Quartet or working with Esa-Pekka Salonen in Los Angeles on Berlioz.
I suppose it was a question of time before I would accept doing an opera. But having begun work on this one I've found it absolutely thrilling to have music as the text. Raskatov's score's makes an incredible bridge between 1926 and elements of Soviet music all the way through to an absolute contemporary moment. For me it is completely liberating. Music for me is the key to my imagination, to imagining anything. I don't know the exact neurological processes of the brain but something happens when I'm listening to music that I find I can imagine things in a completely different way. It almost opens your mind to the possibilities of the world. You have a score that tells you absolutely everything you can or you can't do. You know that you have these parameters that you must work within and there's nothing better for an artist than to work within certain parameters.
Music for me is the key to my imagination, to imagining anything
Share this article