A Disappearing Number, Novello Theatre |

reviews, news & interviews
A Disappearing Number, Novello Theatre
A Disappearing Number, Novello Theatre
Forget the classroom, this is maths as you've never seen it
Wednesday, 15 September 2010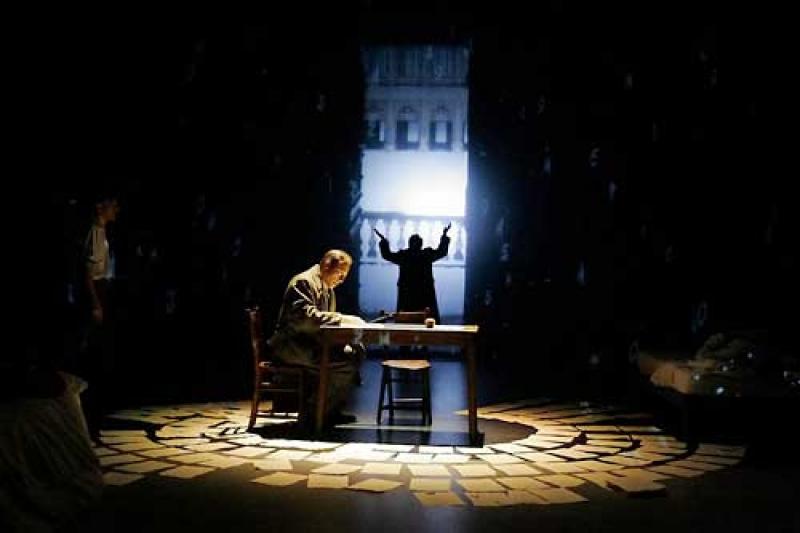 'A Disappearing Number': 'Complicite have freed maths from the lecture hall, allowing its pure concepts to adopt a human and beautiful face.'
"I want to disrupt your sense of logic and show you something really thrilling," explains a young academic, as her animated scribbling on the whiteboard gains pace and incomprehensible complexity. It's a promise that Complicite's A Disappearing Number – now making its third London appearance – has little trouble fulfilling.
A maths lecture may seem an unprepossessing (if not downright unappealing) start to a play, but in loosing their theatre from the conventional unities of time, space, chronology and even the axes of vertical and horizontal, Complicite have also freed maths from the lecture hall, allowing its pure concepts to adopt a human and beautiful face.
Two narratives weave and dance in amongst one other in this extraordinary show. The unlikely kinship between Brahmin mathematics genius Srinivasa Ramanujan – "The most romantic figure in the recent history of mathematics" – and Cambridge don G H Hardy during the First World War is explored alongside the relationship between contemporary maths lecturer Ruth Minnen and her Indian-American husband Al. At the core of it all – filling gaps, forging links – is always maths.
Connections, repetitions and echoes abound, mirroring Hardy's belief that "a mathematician, like a poet or painter, is a maker of patterns". Fractured into episodes, the narrative's fluid transitions and swift temporal leaps are visually enabled by Michael Levine's set whose only constant is change, with even walls and floor proving an unstable quantity. (The latter showcased wittily in a bird's-eye view breakfast scene.) Combining detailed film and image projection with deliberately naïve use of props – the chairs of a lecture room become a taxi in Chennai, an unmade bed transforms into a mountain range – the production's symbols lure the audience into their own synecdochal substitutions and intuitive leaps, paralleling those of the mathematicians.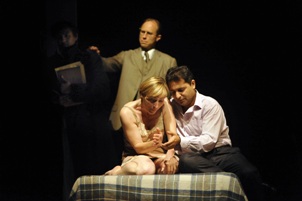 The cast move as one, flowing and shifting between roles and eras in a mixture of dialogue, shadow play, slow-motion movement and even dance. G H Hardy (David Annen) and the young couple, Ruth Minton (Saskia Reeves) and Al Cooper (Firdous Bamji, pictured with Reeves), are the only characters who remain unchanged, a contingent triangle of history, emotion and scepticism respectively. Reeves is particularly moving in her fragile progress from abstraction to human interaction, with a miscarriage scene carrying particularly painful weight and emphasis in her journey.
It is the humanising, the reframing of mathematics that is the success of this integrated drama. Without ever reducing the complexity of its concepts, maths finds its mirror in human interaction. A romantic relationship is expressed as a converging sequence; numbers – phone numbers, prime numbers, imaginary numbers – take on personal and dramatic significance whose weight can be understood even while the concepts themselves remain unattainably complex.
All this would be elegant and worthy enough, but a single 80-minute act might prove too rich were it not for the tart humour that pervades. "For those who don't have a working knowledge of string theory I will quote Spike Milligan." The metatheatrical frame, in which the actors joyously poke their fingers through their theatrical "glasses" and push walls to one side, not only releases the tension of the charged narratives, but also makes a case for the alternative reality of mathematics. "She's an actress playing a role, but the maths is real – terrifyingly real."
Music, in an original score by Nitin Sawhney, features throughout, its raga-inspired shapes establishing their own set of patterns. The rhythmic shapes of the tabla player are echoed and transformed into dialogue itself as words give way to voiced rhythmic plosions, the poetry of Ramanujan's mathematical processes.
There is an elation, a freedom about this incredibly precise drama that is intoxicating. Surrender yourself to its freefall of images and ideas and it repays the trust tenfold, bombarding you with suggestions but rarely imposing conclusions. Above all, A Disappearing Number is a translation of the beauty of numbers and abstraction for the layman, a concept much attempted but rarely successful. Simon McBurney's is theatre at its most inventive, drawing connections and making relationships in a way that both G H Hardy and Ramanujan would surely have understood.