Rev, Series 3, BBC Two
Rev, Series 3, BBC Two
Desperate times call for desperate measures from the Rev Smallbone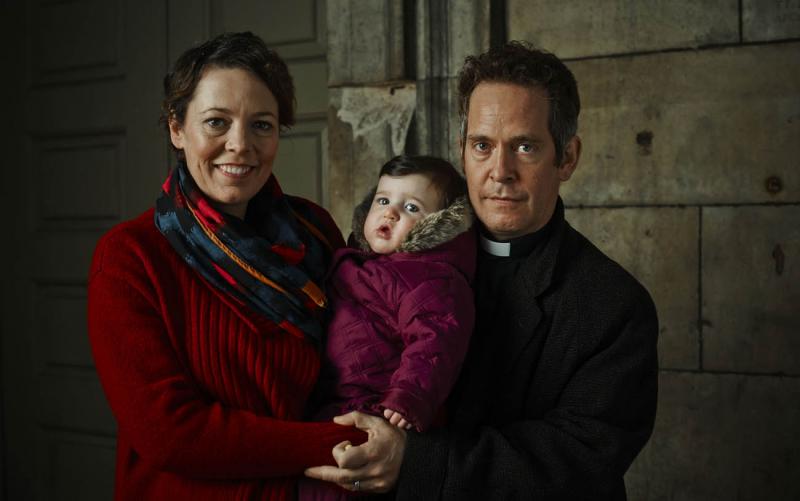 Meet the Smallbones: Alex (Olivia Colman), Adam (Tom Hollander) and Katie
Perhaps the BBC didn't need to make W1A, its new self-satirising sitcom. In the clerical comedy Rev, the Church of England could be considered a very serviceable metaphor for the Corporation, with its unfathomable layers of bureaucracy, well-meaning but slightly pitiable niceness, a self-image that belongs to a forgotten century, and self-flagellation before other cultures. Though the BBC does have rather more money to spend.
In this series three opener, the Rev Adam Smallbone (Tom Hollander) became a new father, after his wife Alex (Olivia Colman) had very nearly given birth in the back of taxi while the Archdeacon (Simon McBurney) found himself receiving a crash course in DIY gynaecology. Down at the playground in the local park, the Rev Smallbone bumped into the young and dynamic local imam Yussef Hasan (Kayvan Novak). They both agreed that the decrepit recreational facilities were a disgrace, and the imam thought maybe they should do something about it.
Like Lord Sugar in 'The Apprentice', he urged them to go forth and turn a profit
Smallbone, who hides a streak of cunning behind his haplessly bumbling exterior, recalled this conversation while being grilled by the brusque new Deacon, exuberantly played by Joanna Scanlan. A running gag is that the Church of England is trying to remodel itself into some sort of viable business - clearly an absurd notion - and the Deacon, abetted by her Scrooge-like sidekick Geri Tennison (Vicki Pepperdine), is pursuing a cost-cutting agenda and seeking value for money in all areas of clerical activity. The axe was about to fall on Smallbone's Hackney church (congregation about a dozen on a good day) when the Rev brilliantly spun his as-yet non-existent multi-faith fundraising initiative as an example of the inspirational work his church was performing in the community. Saved, for the time being at least.
Yussef (pictured far right, above) enthusiastically embraced the challenge, and reckoned he could raise his share of the funding in a mere day. Smallbone, flabbergasted by the energy and efficiency of his Muslim counterpart, had to resort to the desperate stratagem of handing out a £10 note to each of the handful of parishioners attending his church, and, like Lord Sugar in The Apprentice, urging them to go forth and turn a handsome profit.
The Archdeadon managed to raise 68p after investing the tenner in a City fund, but the standout performer was Colin (Steve Evets), who generated 350 quid by buying some crack, cutting it with detergent and selling it to the kids on the council estate. Full marks for entrepreneurial drive, but obviously this had some ethical drawbacks. Happily Yussef galloped to the rescue, having raised £12k from his congregation, saving both Smallbone's blushes and his church. This was a nifty little yarn, played pitch-perfectly by the ensemble, though its depiction of the parlous state of the C of E must have made the faithful weep.
This was played pitch-perfectly by the ensemble, though its depiction of the parlous state of the C of E must have made the faithful weep
rating
Share this article