Made in Germany, Stuttgart Ballet, Sadler's Wells Theatre |

reviews, news & interviews
Made in Germany, Stuttgart Ballet, Sadler's Wells Theatre
Made in Germany, Stuttgart Ballet, Sadler's Wells Theatre
German culture, German quality, and (yes, really) German humour
Tuesday, 19 November 2013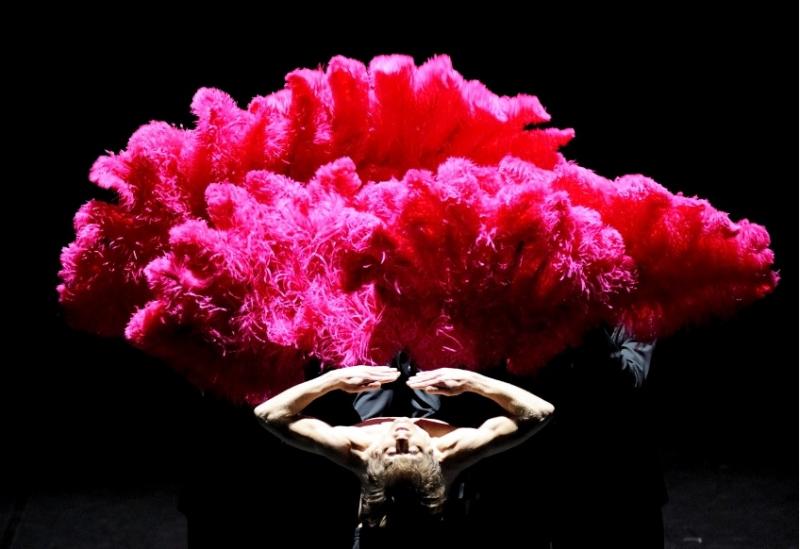 Fancy Goods: Friedemann Vogel in Marco Goecke's mesmerising solo
Stuttgart Ballet, one of Europe's most highly respected companies, is clearly determined to show London its best sides – all of them. Thirteen pieces in one performance is less a mixed bill than a tasting menu, and one that aims to impress: this smorgasbord of pieces were all choreographed for the company, and more than half have not been performed in the UK before.
The menu proper is preceded by an amuse-bouche which sets the tone for the evening: John Cranko's short Hommage à Bolshoi (1964) is a velouté of classical loveliness (perfectly rendered by the stunning lines of Maria Eichwald) with a piquant garnish of set-piece "Russian" lifts. It's over in a flash, but lines, lifts and love will be constants in this programme, which showcases the company's principal dancers in nine pas de deux, three solos, and only one ensemble piece.
Most of the night's standout moments are concentrated in the first third, which might be subtitled "the absurdity of love". Marco Goecke's Fancy Goods (2009) is a mesmerising solo in which Friedemann Vogel, a bundle of tensed nerves, shivers around the stage, tendons standing out on his neck like whipcords, to the whisky-tender sound of Sarah Vaughan's voice. In Little Monsters (2011), another Stuttgart-grown choreographer, Demis Volpi, uses the sharp-sweet contrast of a velvety voice, in this case that of Elvis, and the angular bodies of Elisa Badenes and Daniel Camargo to give a witty take on an ambivalent relationship.
A third Stuttgart choreographer, Christian Spuck, takes a direct shot at the excesses of love in classical ballet; Le Grand Pas de Deux (1999) is a laugh-out-loud parody of the traditional white ballet consummation. The slapstick touches – flat feet, a ballerina in spectacles – are funny for anyone, while the sly satire will delight ballet aficionados. "Will you dance?" mimes Jason Reilly to his princess, twirling his hands in the textbook iteration of this classical staple. A sweet smile accompanies Alicia Amatriain's equally classically-mimed reply, "Absolutely not."
After the first interval, love takes a serious turn in a quartet of earnest duets. The pas de deux excerpted from Cranko's Romeo and Juliet (1962) and John Neumeier's The Lady of the Camellias (1978) fall curiously flat in their truncated form, perhaps because there is no time for the subtle character development which is the hallmark of the Stuttgart story-ballet. Shining instead is another Cranko piece, the third movement from Initials RBME (1972), a gentle meditation in thistledown for soloists Maria Eichwald, Evan McKie and ensemble. Women float across the stage like dandelion clocks, held high and straight on men's shoulders, an image so arresting that Cranko's close friend Kenneth MacMillan would copy it for angels in the 1976 Requiem he created for Stuttgart Ballet in memory of Cranko.
In its last third, the programme tackles love in the 21st century – a noisy business, apparently. Under fluorescent lights Anna Osadchenko and Evan McKie (pictured above left) wrestle to the sound of percussive, scratchy strings in Douglas Lee's Fanfare LX (2009). The soundtrack is a typewriter for Reilly and Amatriain's second appearance, in Itzik Galili's pulsing, athletic Mono Lisa (2003). And in Marco Goecke's Äffi (2005), the talented Marjin Rademaker (pictured right) not only dances to Johnny Cash in Goecke's trademark, jittery style; he whistles Brahms as well. Respect.
By the time the finale from Christian Spuck's The Seventh Blue (2000) rolls around, there is a sense that the exhaustive programme has outstayed its welcome by a piece or two. But a slightly numb bum is a small price to pay for seeing so much exciting choreography danced by such good principals. Stuttgart Ballet prove that "Made in Germany" is still a mark of the very highest quality.
Friedemann Vogel shivers around the stage, tendons standing out on his neck like whipcords, to the whisky-tender sound of Sarah Vaughan's voice.
rating
Explore topics
Share this article