The Stone Roses: Made of Stone |

reviews, news & interviews
The Stone Roses: Made of Stone
The Stone Roses: Made of Stone
From one fan to the others: Shane Meadows' souvenir of the Manchester band's reunion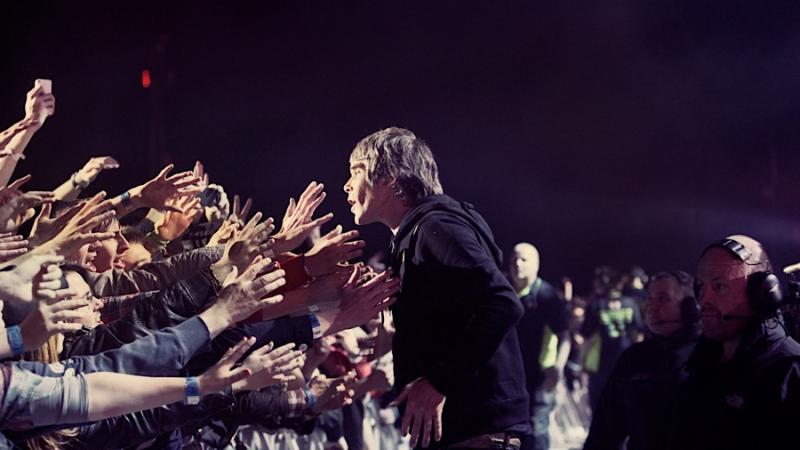 Shane Meadows captures The Stone Roses' Ian Brown meeting the faithful at Heaton Park
Titling their long-delayed second album The Second Coming meant The Stone Roses had run out of religious metaphors for their 2012 reunion. They already had a song called "I Am the Resurrection". Still, with super-fan director Shane Meadows on hand to capture their return, actions spoke louder than words. At their homecoming concert in Manchester's Heaton Park, he caught their singer Ian Brown touching the outstretched hands of the faithful, anointing them with his mystic power.
To some, the return of The Stone Roses after their messy demise in 1996 was tantamount to a spiritual rebirth. Handily for the band, Brown and Meadows had already met, so when the director received the call inviting him to chronicle the events surrounding their reunion he was thrilled to oblige. As his first documentary, Made of Stone seemed to take Meadows away from the realist fiction of A Room for Romeo Brass, Dead Man's Shoes or This is England. His self-indulgent 2009 mock rockumentary Le Donk & Scor-zay-zee is the closest he's come to Made of Stone.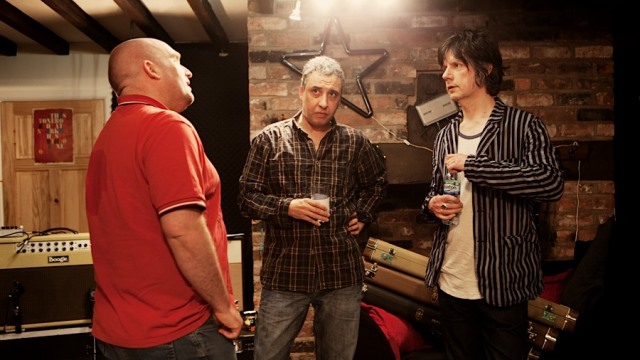 Admitting he was star struck, Meadows has said his reason for making Made of Stone was "completely love". In 1990, he missed The Stone Roses' era-defining Spike Island show as, after taking acid, he'd given his ticket away. This completes unfinished business (pictured right, from left to right: Shane Meadows, The Stones Roses' Alan Wren and John Squire).
With that background and motive, Meadows was never going to dig too deep, be disrespectful or undermine his perceptions of who this band are. Accompanying them on their continental European warm-up dates, he's there when drummer Alan Wren leaves their Amsterdam venue before the planned encore. Ticked off, Brown calls the absent Wren a "c**t" before the audience. Afterwards, in his hotel room, an emotional Meadows explains to camera why he wasn't going to bug the band about the new bust-up, and wonders if this is the end for the reunion.
Made of Stone is made by a fan for fans. Despite overuse of split screen, some of the new performances of the music are wonderful: spine-tinglingly lovely. Rehearsing "Waterfall", the reunited band sparkles like tinsel – a word of caution though: the film's credits include a "re-recording mixer" and a "live dubbing mixer". What's heard is not neccesarily what was played on stage. Intermittent segments detailing the band's history include some tremendous previously unseen early footage and evocative snaps of members as scooter boys. Bust-ups with their labels and management are mentioned, but the damage they inflicted to their own reputation is sidestepped. Their disastrous 1996 Reading Festival show, without guitarist John Squire, is not mentioned. Neither is what happened to the members between the band's demise and its reunion. Meadows is not concerned with solo musical adventures.
Meadows is strongest depicting fans' relationship with the band. Before Heaton Park, they played a short-notice free show in Warrington where the elated mood of fans is encapsulated. One audience member declares "fuck Oasis, fuck Man City, it's all about The Stone Roses." People literally downed tools to make sure of seeing the show (pictured left: an excited fan just before The Stone Roses' Warrington show).
Of the band themselves, Meadows doesn't get too close. It's hard to see who they actually are. They have personas, but that's about it. Brown swaggers and is all a front man should be. His 1998 spell in jail for threatening to chop off the hands of an air stewardess is of no concern. On time out from Primal Scream, bassist Gary Mounfield is a cheeky chap, talking of having a boner the morning of the Warrington show. Drummer Alan Wren is seen as a normal guy, crying after that show. He never wanted fame to embrace him.
Squire is more enigmatic, often half smiling at a private joke. In 2009 one of his artworks included the phrase "I have no desire whatsoever to desecrate the grave of seminal Manchester pop group The Stone Roses." Of his reasons for joining in with the reunion, "everything changed when me and Ian started seeing each other again" is all he will allow. Perhaps Made of Stone isn't that far from being a form of fiction.
Made of Stone succeeds on its own terms. But anyone not already a fan isn't going to be converted to the faith. Although a fine - if seemingly sonically doctored - souvenir of the reunion, it will struggle to be more then a footnote for Meadows.
Watch the trailer for The Stone Roses: Made of Stone