Samson et Dalila, Royal Opera review - from austerity to excess, with visual rigour and aural beauty |

reviews, news & interviews
Samson et Dalila, Royal Opera review - from austerity to excess, with visual rigour and aural beauty
Samson et Dalila, Royal Opera review - from austerity to excess, with visual rigour and aural beauty
Peerless mezzo and conductor, promising tenor at the heart of this hard-to-stage hybrid
The taunting of Samson in the temple of Dagon, with Elina Garanča as an iconesque Dalila and SeokJong Baek's Samson to the right
Words and situations are one-dimensional, but the music is chameleonic, if not profound, and crafted with a master's hand. What to do about Saint-Saëns's Biblical hokum? In Richard Jones's new production, the end justifies the means, with persecuted Hebrews and mocking Philistines circling two essential star turns, and Antonio Pappano's handling of a hard-to-pace score is vivid from opening keenings to final cataclysm.
Let's be clear: Saint-Saens started with the music of the second act, which is pure opera – an aria and two duets threaded by a brewing storm – while it's Act One which starts like the oratorio too many assert he meant to compose from the start, including the kind of choral fugue you rarely get in the theatre. No matter: Pappano makes the Prelude immediately vivid with the lunges of cellos – typically informative, the Royal Opera's seemingly infallible music director tells Jessica Duchen in the programme that their lowest C string has to be tuned down to B – and while the chorus begins in the wings, the impact when the Hebrews finally let rip with their laments downstage is all the greater.
In Hyemi Shin's initially austere stage picture with nothing but Dalila's simple middle Eastern house – a voice behind me complained loudly to his presumably Philistine god – Jones shows us clearly how the Philistine militia, idol Dagon on the backs of their shirts, oppress and casually terrorise (funny, you think, it's the Israeli army which is doing that now). Samson tows on an auditorium; the rituals begin and an abuser is despatched (pictured below with, centre, Goderdzi Janelidze, SeokJong Baek and Blaise Malaba).
If all this seems unglamorous, the music is, too; and the symmetries of Saint-Saëns' outer acts are given extra help; as so often with this director, everything adds up in the end. The Philistine triumph over blinded Samson in Act 3 is a gaudy tauntfest where Nicky Gillibrand's costume designs truly come into their own, with additional Jones touches such as the cut-off hair in a box - echoes of the smiley-faced container for Banquo's head in the Glyndebourne Macbeth - and the slot machine spilling gold coins on the side of the 'altar'. The Act 1 "church" is now a gathering of jeering party people, with giant matchboxes - Dagon logo again, as on the balloons at the back of the stage - taking the place of the Hebrews' holy books (and the idol is more Mammon than Dagon, with a big hint of Trumpian Americana, though Jones always keeps things mythic). Where Samson stood at the top of a staircase in triumph over the Philistines in Act 1, Dalila as icon is there, posied for the celebrations. He got the flowers from the women in Act 1, she gets them from the militia in Act 2. In the claustrophobic rectangle where Philistine Abimélech died to the horror of the High Priest, the blinded Samson, his killer, feels his way with darkness all around.
Jones gives much-needed impetus to Dalila's desire for revenge; Abimélech (Blaise Malaba) is her relative, and his corpse brought in at the start of Act 2 on a bier prompts her re-seduction of a man she perhaps once loved. The Old Hebrew, a second bass part (resonantly sung by Goderdzi Janelidze), is Samson's Rabbi, and falls victim to the eye-for-an-eye syndrome.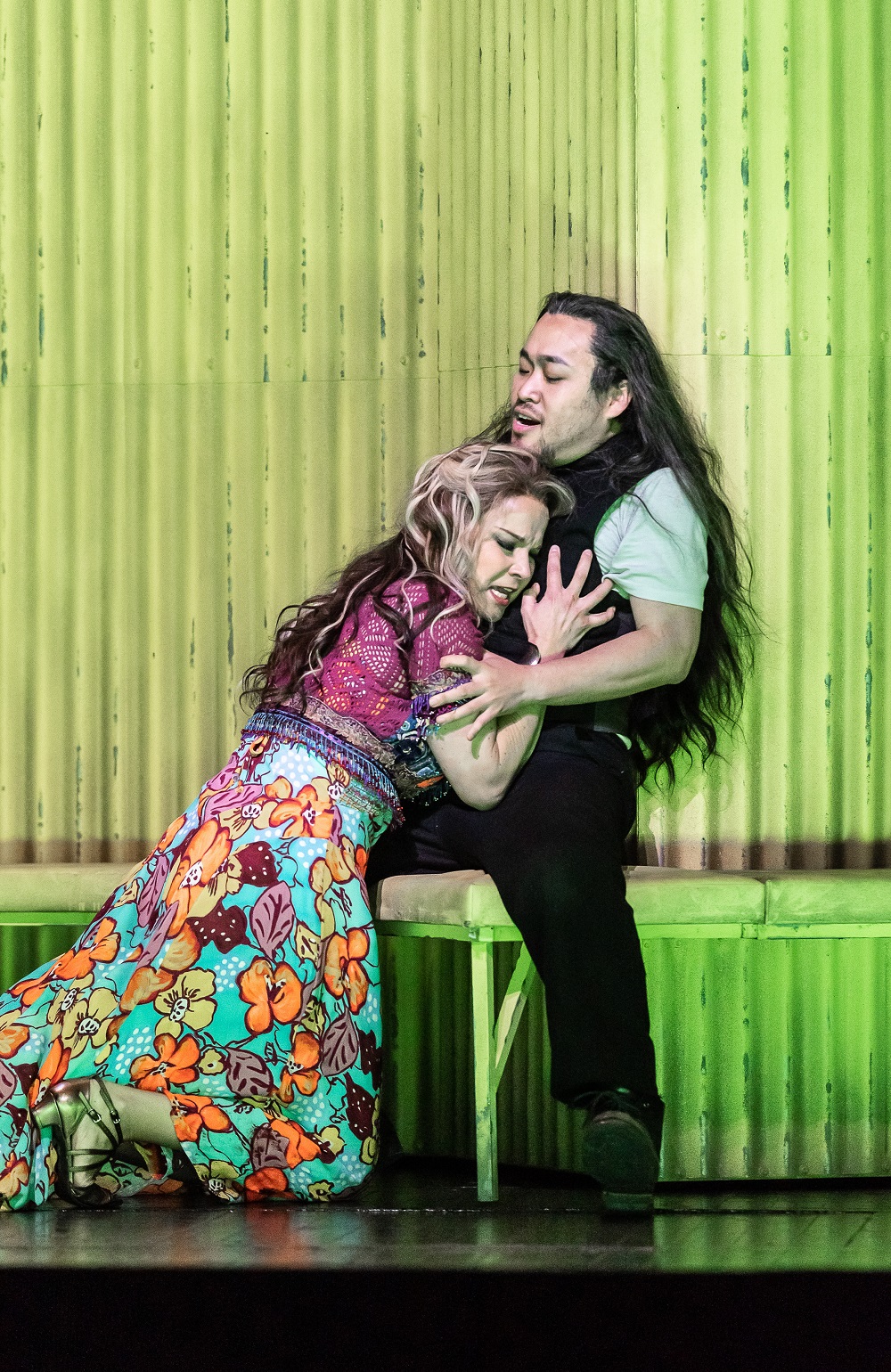 Ultimately, though, this opera won't work without two great voices in the title roles (the third lead in a triangle, the High Priest, remains a cipher-villain, though Łukasz Goliński does what's needed). Nicky Spence, though valiantly walking well after breaking both legs at the beginning of the year, had to withdraw; his replacement, South Korean SeokJong Baek (pictured right with Elīna Garanča) has a glorious young lyric-heroic tenor voice, wielded with technical perfection from stentorian battlecries to tenderest soft singing (a piano top B flat in Act 2 – clearly he'll be a useful Don Jose). Not much of an actor – this isn't really Samson in extremis, as the peerless Jon Vickers always was - but plausible enough to draw focus when needed away from the vaudeville taunts of his captors in Act 3 (contrasts which seem made for Jones's vivid sense of weird contrasts).
Garanča is, as always, everything: an economical mover, who knows how to convey sensuousness rather than textbook sexy, charismatic and with a seamless mezzo-contralto range informed by supreme musicality. She is the leading Carmen and Dalila of our time, no question. Choreographer Lucy Burge even entrusts her with what is usually the (musically exquisite) Dance of Dagon's Priestesses in Act One, showing us Dalila in trying to move in on Samson hassled by Hebrew men; then Burge comes into her own with a funny-weird Bacchanale (again, glorious music, forget the dodgy Oriental appropriations, though Saint-Saëns apparently got at least one tune in Algiers where he was probably having a jolly gay time). The dancers, who need a programme credit, mingle with the chorus, but in disciplined steps and gestures worthy of Matthew Bourne's New Adventures.
So ultimately it's a hoot and a crowdpleaser; but musical and production values are always of the highest. Older audience members may not easily forget Sidney Nolan's unforgettable designs or the likes of Vickers, Domingo, Verrett, Baltsa, Borodina; but it's time to move on, and this new contender does that, on its own terms, to perfection.
Garanča is everything: an economical mover, charismatic and with a seamless mezzo-contralto range informed by supreme musicality
rating
Explore topics
Share this article