'Their DNA is forever ingrained in the keys' - Roman Rabinovich on playing composers' own pianos |

reviews, news & interviews
'Their DNA is forever ingrained in the keys' - Roman Rabinovich on playing composers' own pianos
'Their DNA is forever ingrained in the keys' - Roman Rabinovich on playing composers' own pianos
Cobbe Collection revelations compared with the same works on a modern Steinway
Thursday, 09 November 2017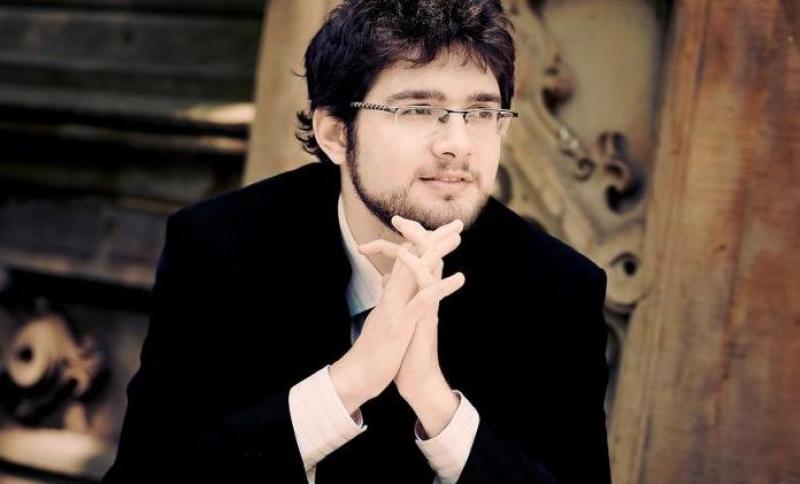 Roman Rabinovich: a lesson in keyboards
I was recently in the UK for some solo recitals and to make my debut with the Royal Scottish National Orchestra. One of the highlights of the trip was playing a similar programme in two very different settings: first on some magnificent period instruments and then a week later on a modern Steinway piano at Wigmore Hall. Having never before performed publicly on historical instruments, my recital at the Cobbe Collection at Hatchlands Park in Surrey felt like a complete experiment. The experience had an indelible influence on the way I approached the repertoire at Wigmore a week later, and has set me on a new voyage of discovery for years to come.
The Cobbe Collection at Hatchlands Park includes about 40 of the most remarkable keyboard instruments belonging to great composers - from Haydn, Chopin, Bizet, to Mahler and Elgar. I chose three of these for my recital there, including those played by Haydn or Chopin. I believe that instruments keep and retain the personality and the sound of their previous owners - their DNA is forever ingrained in the keys - so playing the very same instruments as these great masters is incredibly moving.
I first came to visit the collection last year in advance of my Haydn sonata cycle at Lammermuir Festival and for the first time played on Haydn's very own fortepiano. From the very first few notes I was absolutely hooked. I believe that every pianist should experience playing the historical instruments and explore the tonal possibilities they allow. They are the direct link to the music we are playing. The style and the sound world of the pieces are intrinsically linked to the instruments. Composers changed their compositional style according to the development of the instruments. It is our duty to know how these instruments work, what they have to offer and inevitably their limitations.
I had two days prior to my concert (three hours each day) and one hour for dress rehearsal on the day of the concert to get to know the instruments and see what they could do. Being surrounded by these beauties was like being in Disneyland. Time flew so fast!
I started my work playing a Haydn Sonata on a five and a half octave Longman & Broderip fortepiano from 1794-5 that was probably brought to Vienna by Haydn when he returned from his second London trip in 1795 (pictured above and below - piano only image courtesy of the Cobbe Collection). Before coming to the Cobbe Collection it was owned by the Haydn specialist H.C. Robbins Landon since the late 1960s. It is in wonderful shape. The wealth of colour and subtleness of touch, especially in soft dynamics, is magical. It has a true "speaking" quality to it, which makes it perfect for Haydn's music, full of rhetoric.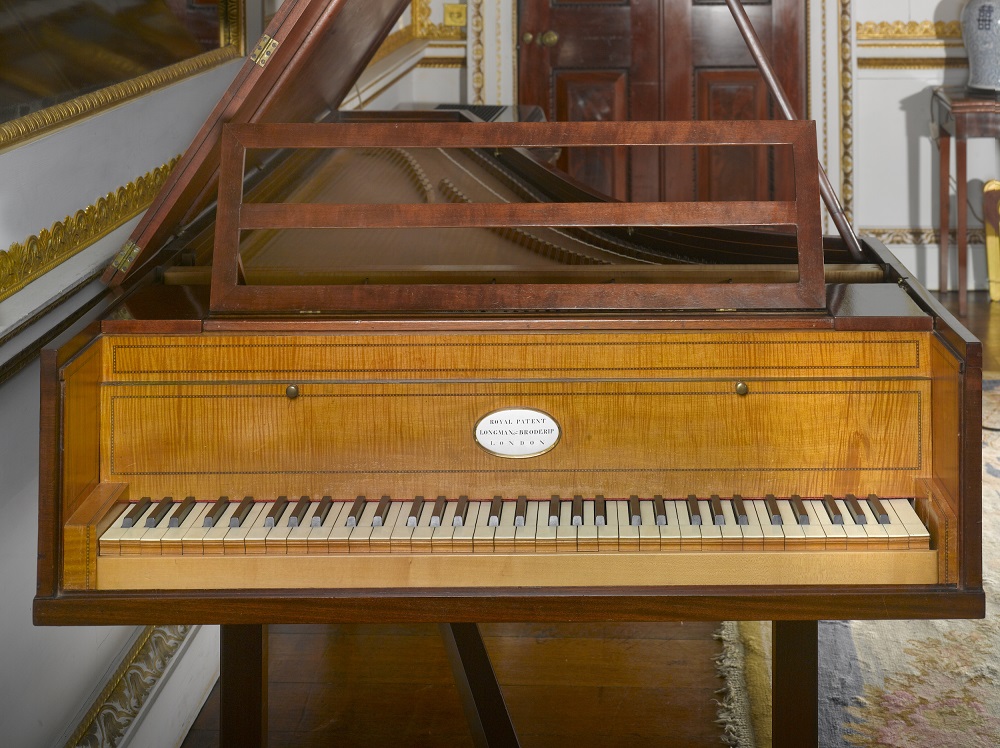 In general, the differences of colour and character in between the registers are so much greater than on the modern piano, which is more "homogenized." On early pianos each register has its own distinct personality. I had such a wonderful time exploring the bass register, which really sounds like a cello. I noticed that there is never a problem of balance between the two hands. The left-hand accompaniment always has a vibrancy and zing and would never be too loud in relation to the melody - an issue that every pianist faces on a modern instrument. It was a relief not to worry about it. One of the most striking elements of this fortepiano is the una corda, which can be adjusted by the player to play on either one or two strings. It creates a truly special sound.
After an hour of practice I moved to Chopin's Pleyel from 1848 (pictured below, courtesy of the Cobbe Collection) to work on his Ballades. Chopin preferred Pleyel's piano to other brands. He purchased this piano and used it for his last concerts in Paris and London in 1848. Playing this instrument taught me so much about Chopin's music. It is absolutely perfect for cantilena and bel canto playing. Alec Cobbe, owner and curator of the collection, told me that this was the most powerful sounding piano that Chopin ever owned. It had a smaller wooden portable lid that could either cover the strings (therefore regulating the overtones) or be attached to the bigger lid. I chose to leave it open, as I liked the richness of overtones that this set-up allowed.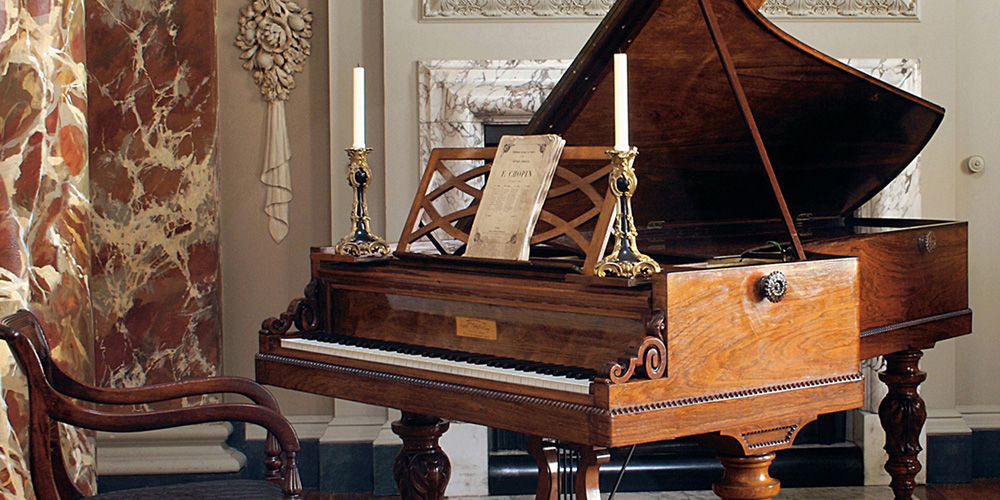 At first I was intimidated by this piano. It seemed so capricious and I didn't know how to approach it. The mechanism is far from even and I didn't know whether or not the keys would respond a lot of the time. It took me three days to feel comfortable with the touch, and eventually I learned not to worry about it and trust it. I was also very conscious about the weight I could give without damaging this precious instrument.
Physically, the touch is very light. The key response is almost immediate. It was quite a change from the modern Steinway, with its weighty keys giving such secure feeling to the pianist. Playing the Pleyel, I felt that I only had to imagine pressing the keys and it was already enough. I noticed that any kind of tension in my body would result in a catastrophe - the keys would simply not respond. The fortissimos had to be more round.
I remember practising Chopin's Second Ballade. The intimacy of sound at the beginning of the initial pastoral section was amazing. I wanted to explore the extreme of how soft I could go. With the help of the una corda I was eager to try even more "whispery" colors and start the first Cs as if they were continuing the silence. The beauty of tone on this Pleyel is simply mesmerising. Once I got to the turbulent Presto minore part, I noticed that I couldn't play it as fast as on the modern Steinway. Pleyel didn't have the double escapement mechanism and, for example, the repetitions in the coda needed more time to speak. I was forced to play it at a slower tempo. I was listening in a different way, giving more shape and time for the passages to bloom.
The third instrument was a Steinway from 1864 (pictured right) and the piece I was playing was Rachmaninov's Corelli Variations. This piano is quite close to the modern Steinway and felt familiar to me. Steinway started to manufacture over-strung pianos in 1859. This gave much more power to the sound, especially to the bass register, which was so rich and wonderful on this instrument.
The Corelli Variations were written in 1931, about 70 years after this piano was built. The development of pianos during these 70 years was significant but not comparable in scope to, say, the transformation of pianos between 1775 to 1845; Haydn's and Chopin's instruments have such vastly different tonal possibilities and aesthetics. Brahms and Rachmaninov, on the other hand, played on essentially the same instrument. At times, however, I still felt that I had to be a little careful in the climaxes not to overpower the instrument.
It was a fascinating experience to play the same programme at Wigmore Hall a week later, on the modern Steinway. I felt enlightened by the Cobbe Collection encounter. This experience was moving, and it changed the way I approach pianos. That night at Wigmore Hall I played Haydn and Chopin in a different way. Rachmaninov's Variations was probably the only piece that felt more appropriate on the modern Steinway. I felt I could "lean into" the piano in a more visceral way. The Cobbe Collection experience was invaluable and revelatory for me; I learned so much, especially about the soft dynamic range and about how light and effortless piano playing could be. And it taught me a lot about the relationship between time and sound, choosing the right tempo, how to be more physically relaxed and ultimately more aware and present. I look forward to returning to the Cobbe Collection for more lessons from these incredible instruments.
I learned so much, especially about how light and effortless piano playing could be
Explore topics
Share this article
Subscribe to theartsdesk.com
Thank you for continuing to read our work on theartsdesk.com. For unlimited access to every article in its entirety, including our archive of more than 10,000 pieces, we're asking for £3.95 per month or £30 per year. We feel it's a very good deal, and hope you do too.
To take an annual subscription now simply click here.
And if you're looking for that extra gift for a friend or family member, why not treat them to a theartsdesk.com gift subscription?