theartsdesk in Raploch: Sistema Scotland Makes Big Noise |

reviews, news & interviews
theartsdesk in Raploch: Sistema Scotland Makes Big Noise
theartsdesk in Raploch: Sistema Scotland Makes Big Noise
Stirling's faithful model of the Venezuelan music education project prepares for The Big Concert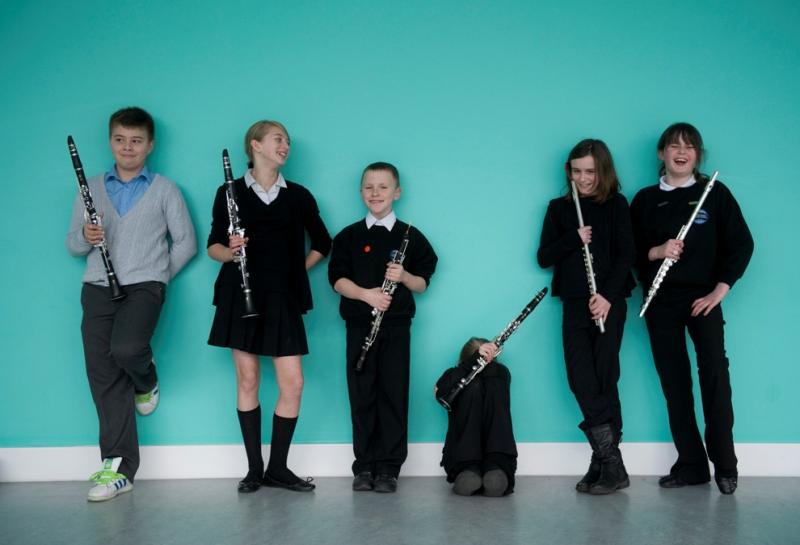 Windy city: some of Big Noise's teeming woodwind section
For perhaps the most widely cheered orchestra on the planet, it doesn't look like much of a concert venue. Fenced in with wire, flanked by a road which leads away to low-rise housing, a scrappy patch of scrubland stretches over a few nondescript acres. Indeed the only hint of anything to caress the eye is the looming silhouette of Stirling Castle on an adjacent promontory.
It's here nonetheless, in Raploch on Thursday 21 June, that The Big Concert will take place and, with three other events nationwide, officially open the London 2012 Festival. On a stage as sizeable as the one they rig up at Glastonbury will be the 280 or so musicians of the Simón Bolívar Symphony Orchestra. For the first part of the concert they will be joined by 130 local musicians who belong to something called Big Noise. Some are as young as seven, none older than 12. Every performer, from Gustavo Dudamel downwards, will have one thing in common: they are all products of El Sistema.
Sistema Scotland will be celebrating its fourth birthday onstage with the Venezuelans as a climax of a four-day visit in which the SBSO will be helping to teach, performing in front rooms and generally bigging up the music education project which, of the many satellite imitations across the globe, is thought to be the most faithful model of the original Venezuelan Sistema. The Bolívars will then head south for a glitzier engagement on the South Bank in London. But it is here in a housing scheme on the edge of Stirling that the globetrotting musicians will encounter mirror images of their younger selves, albeit with thick Scottish accents.
We would be quite happy with 50 per cent of the eligible children. We have 75 per cent
Big Noise is the brainchild of Richard Holloway, the head of the Episcopalian church in Scotland who, when also in charge of the Scottish Arts Council, was inspired by the story of the Venezuelan Sistema to see if one could be set up in Scotland. Rather than head straight for the Gorbals or one of the other more endemically troubled areas of the country, Raploch was selected for pragmatic reasons. It is a self-contained geographical area with a settled population. If they could get hold of a generation of five-year-olds, the chances were that they would still have access to them at 12. Raploch was also undergoing regeneration and Stirling council were open to the idea of tacking on a musical education project as a sort of spiritual component, or what hereabouts they call "regeneration in the head" without which, it is argued, gleaming new sports centres don't do the trick.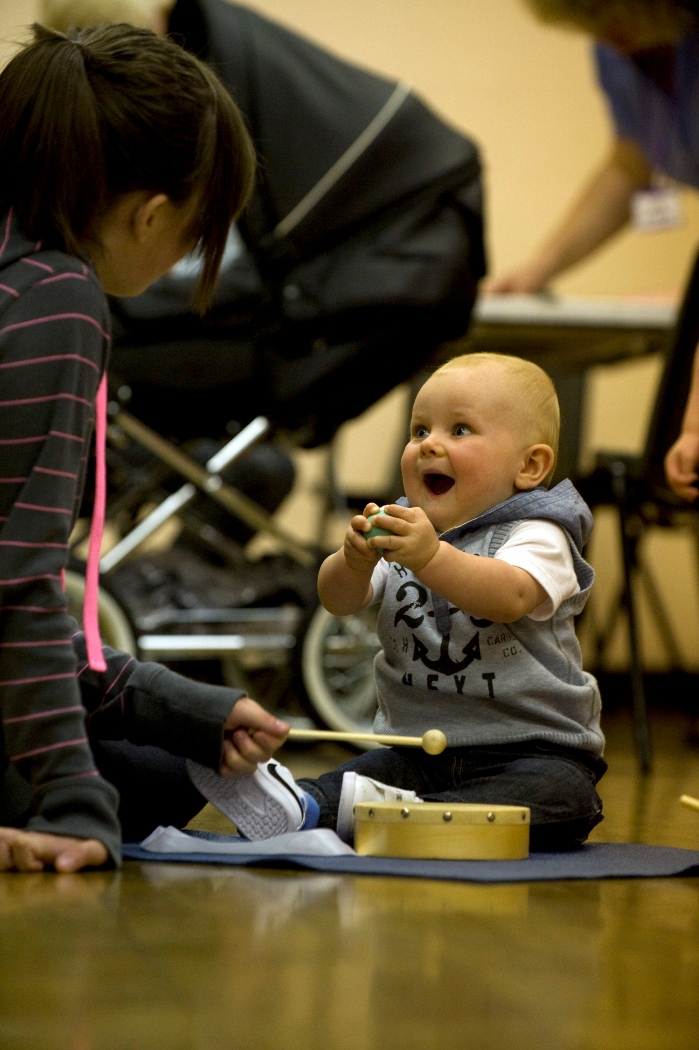 And indeed, for the visitor, the first thing Raploch does is confound expectations. It doesn't look like any sort of urban hellhole in which social problems might be expected to fester. As well as the castle to the south, on its northern flank is a pretty swerve in the Forth, and ploughing through the middle is a road with modest terraced housing. But social problems, mainly caused by long-term unemployment, set up shop here a long time ago and have refused to budge.
The population of Raploch is around 3000. Of those, 450 children from babies up to 12-year-olds are currently receiving some form of music education as part of Big Noise. "We would be quite happy with 50 per cent of the eligible children," explains George Anderson, Big Noise's communications supremo. "We have 75 per cent. When you throw a stone you'll hit a cellist. It'll probably be thrown back. Bring a crash helmet."
The joke perhaps embodies a perceived idea about Scottish aggression. Any reluctance to participate on the part of families was tackled head on from the start. As part of the recruitment drive, parents have been bombarded with chamber concerts in their front rooms. Summer school is laid on every weekday morning in the long holidays to provide a respite and, in particular, a constant for children from chaotic homes. If children can't get to school they are picked up. Children in temporary foster care are taxied in.
One squat building in the main street announces itself in cheery lettering as Big Noise HQ (pictured left). Inside, a small army of energetic, mostly young music teachers, who are mostly also jobbing orchestral freelances, wear casuals and motivated smiles. This is the hub of a music education project whose laboratory is over the road in a gleaming new complex. The school building in fact houses three schools, one Catholic, one non-denominational and one for special needs children. Each continues its daylong business behind a door in a long main hall known as The Street.
There is also a nursery school, into which Sistema Scotland has lately begun to seep its message with regular lessons for very small children. The one I attend, with two Big Noise music teachers sitting in a circle, is all about instilling the basics of pitch, rhythm and dynamics. The minute they move up into one of the primary schools aged five they will have an instrument thrust into their hands. Unlike in Venezuela, there is some choice. "My teachers in El Sistema picked it for me," says Veronica Urrego, a violin teacher from Venezuela who is a product of the original Sistema and now teaches in this slightly chillier Scottish home from home, "I didn't have the opportunity to pick my own instruments."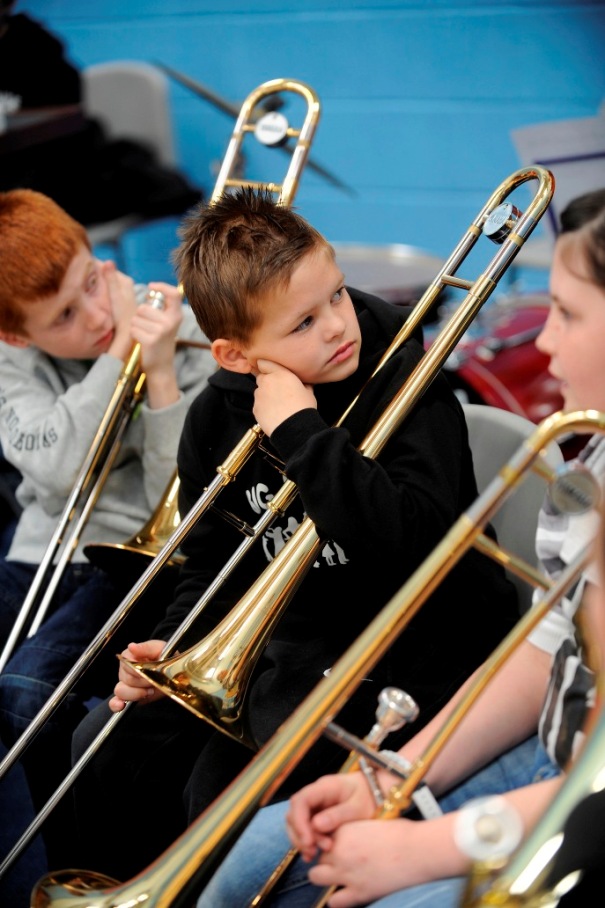 After the official school day ends in mid-afternoon, the doors in The Street open and out flood rivers of young musicians, while the older ones, who are now finishing their first year in high school, start arriving from outside. Among them is Stuart, 10, who plays double bass. "I played the violin but it was hurting my neck and I couldn't sleep at night." "We had quite a few choices," says Clare, a 12-year-old flautist who comes back each afternoon from high school. "I picked the trumpet, the flute, the tuba. I got picked to play the flute because I was good at it." Chelsea, also 12, moved across from the trumpet to the French horn, "because I like the sound of it. I was told the French horn wasn't meant to be heavy but it is!" Kirsty, aged only six, chose the viola because "it's easy to play".
The long afternoon of music-making begins with a reviving snack to restore energy levels for the tasks ahead. It's immediately clear that discipline is rigorous. In a session for younger musicians, one boy aged about seven is walked out by a teaching assistant for taking it all too lightly. All teachers need deep reserves of patience, but some lead with a lighter touch than others. A big Scottish tuba player called JP (pictured below right) is less of a martinet with his wind group, say, than Josip Petrac, a Croatian cellist who runs his string ensemble with a rod of iron. "You're already on a warning," Petrac advises some double basses who don't snap to it when he raises his baton. And there is no soft-soaping these young musicians. "Many of you played the wrong notes," he says before moving on to discuss a technical fingering point with the group.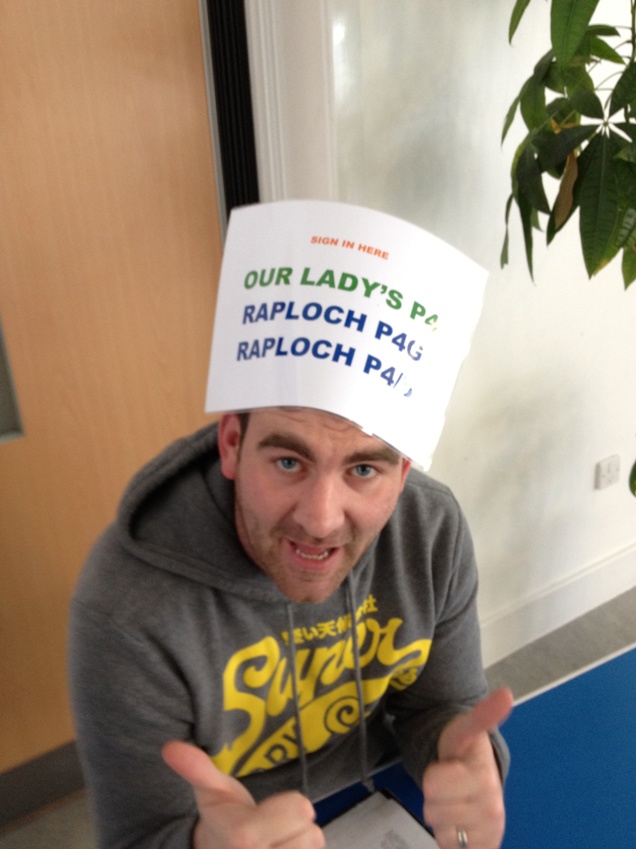 "They know what I expect," explains Petrac, who like most teachers works for Big Noise part-time. (He also does two days a week with the East Ayrshire instrumental music service.) "It depends how the day goes in school. If they've had a bad day then it's difficult but most of the time we have fun. They know that I like them but I'm trying to keep always the discipline. I love what I'm doing. It's not an easy ride sometimes but I think it's starting to work."
Rowdiness is partly what comes with gathering a large group of children in a confined space. Boys especially are inclined to bounce off walls. Big Noise doesn't simply palm them off in the percussion section. "You might have the notion that misbehaving boys will be given something to hit," says Anderson of a group of particularly rowdy children in the first year's intake. "You could see the logic of it. The bottom line they didn't know how to get along in a group. We took them and worked with them individually to make them good technical players, brought them back into the group and they weren't nervous because they were confident. We've given them the tools."
And that is the ultimate goal of Sistema Scotland, much as it remains back in Venezuela. The SBSO is simply the project's calling card, but El Sistema is not all about creating symphony orchestras. That is why it is incredibly difficult to measure success, certainly in the short term. The confidence of the two dozen engaging children I meet is indisputable. Of course, by now they are used to a lot of attention. Nicola Benedetti (pictured below) is often dropping in to coach and cheerlead, while the BBC Scottish Symphony Orchestra, with whom Big Noise musicians have performed, deliver a regular supply of mentors. Film crews frequently pass through too - indeed it was only when Dudamel's wife came to Raploch as part of a Venezuelan TV documentary team that their request to have him as their patron finally got through. (The conductor has since made a substantial donation as well as apportioning a third of the royalties from his latest CD.)
It's certainly a longterm project whose goals cannot be calibrated in orchestral desks occupied and musical careers launched. As I move through the 17 rooms Big Noise has available to it from huge gyms and performance halls to instrumental store cupboards, there is certainly some good music-making, and some of it outstanding. The main thing thre is is a lot of dedication. It would be marvellous if one or two were motivated to emulate Benedetti (pictured above), but the ultimate idea is to produce teachers and plumbers, policemen and accountants whom Sistema Scotland has equipped with a resilient core to ride economic hardship, be good citizens and steer clear of negative ways of impressing their peers: drugs, car-jacking, mugging etc, and the costly litany of social ills that ensue, cyclically, down the generations.
"We have to teach them not only how to play an instrument but how you adapt and behave in the community," says Urrego, who rehearsed with Dudamel, two years her junior, as a teenager. "That's the whole point of Sistema. That's why I think it works. If you have a really strict discipline, playing an instrument is a really difficult multitasking thing, you can apply it to the rest of your life."
There are other circumstantial measurements of success, among them a new adults' orchestra, mainly consisting of parents who number a couple of dozen players, called The Noise; they rehearse once a week. Families, unprecedentedly for an area marked by decades of social problems, are now moving to Raploch in order to get their children into Big Noise. It begs the question of whether Sistema Scotland, confined to this nuclear hothouse, can spread its message wider. Rory, an articulate 10-year-old violist, certainly thinks it should. "I find it tiring because you have a long day at school," he says. "But it's really good fun. They should definitely have a lot more round Scotland and around other countries."
Even if you just wanted to go for the bottom line, this makes absolute sense
Plans are afoot to seed other projects, interestingly each by a different champion. In Dundee an MSP is leading the way. The councils of Fife and Aberdeen have both approached Sistema Scotland. The director of the housing association in Govanhill, one of Glasgow's tougher wards, is taking the lead. Last year, meanwhile, the Scottish Government published a favourable evaluation of Sistema Scotland's positive social impact. But for all its laudable ambition and commitment, can a single music education project really do more than scratch the surface of a country's deep-rooted social issues?
"Music is very transformative of individuals," explains Anderson. "What El Sistema does is it moves communities together in a single positive direction. In looking at these places where it can be of most benefit, we are doing far more already in these early stages than scratching the surface. We have hit this place like an earthquake. This is a classical early intervention. Our argument is you do need the time machine to go forward and get the money and spend it now, but this is something that saves money in the longer term. Even if you were to be completely cold-hearted about it and not be moved by seeing the children learning music, if you just wanted to go for the bottom line, this makes absolute sense. It's very expensive if you just judged it as music lessons. But it's doing much more than that."
Their reward is Thursday's concert, when the young musicians of Raploch will share a stage with a world-famous orchestra in a scrappy field in the shadow of Stirling Castle. Rehearsals of a Purcell Rondo are ongoing. "Buenas tardes," says Urrego at an performance that takes place at the end of another tiring, cacophonous but uplifting afternoon's work, and the 130 musicians who passed the audition to join the symphony orchestra repeat the Spanish buzz phrase back at her. "Feliz cumpleaños Big Noise!" These children will know how to greet their Venezuelan visitors. The niceties done with, she raises her baton and almost all the musicians make ready to play, although two girls are giggling in the brass section. "Don't laugh with your colleagues, ever!" she bellows. "That's very impolite. You do that one more time? You are out!"
We have hit this place like an earthquake. This is a classical early intervention
Explore topics
Share this article