theartsdesk Q&A: conductor Klaus Mäkelä
theartsdesk Q&A: conductor Klaus Mäkelä
Balancing freedom and control in Oslo and Paris
Klaus Mäkelä conducting the Orchestre de Paris in July 2020
Let the facts – and the music-making you can see and hear online – speak for themselves first.
Finnish
conductor
Klaus
Mäkelä
became the
Oslo
Philharmonic's chief conductor last September, at the age of 24; he takes up the same post with the Orchestre de
Paris
in September 2022, and is artistic advisor with both orchestras. In conversation, as on the podium, he is engaging, courteous, mature of thinking and willing to have a real conversation, as he so obviously does with his players. When we spoke last autumn, he was grateful to be working every week, and to be conducting in front of live audiences both in Paris and Oslo.
The Covid crisis has veered off in different directions again, with many more cancellations along the way, but at least the latest Paris concert took place against expectations (last night, at the time of writing) – a more spiritually elevated event in the wake of this week's commemorations could hardly be imagined - and future seasons should offer plainer sailing. At the time of the interview, Makela was still exhilarated having rehearsed Sibelius's First Symphony with a full Oslo Philharmonic, including sixteen first violins and eight double-basses. There was to be an audience, as there had been – 1000 strong to Oslo's 200 - for a very special July concert in the Paris Philharmonie
DAVID NICE What an amazing concert that was – not just to see so many people in the audience, and players seemingly quite close to each other though they had their own music stands. There was something exceptional, surely, about those performance of Ravel's Le tombeau de Couperin and Beethoven's Seventh Symphony.
KLAUS MÄKELÄ Thank you very much for watching that. It felt really a bit unreal, I think it was my third week of life after the restart; the first one was in Hamburg's Elbphilharmonie at the beginning of June, I think that was one of the first concerts, no audience, 27 musicians playing Schoenberg's Verklärte Nacht with three metres between each, and then I did something in Munich for 100 people, in the Gasteig, which is also huge, that felt different, and then to come to Paris with more than 1000 people in the audience, it felt so unreal, absurd [Pictured below by Marco Borggreve: Mäkelä condiucting the Oslo Philharmonic in an early time of full audiences]
Have they continued with that?
Yes, and now they got a permit to increase the audience to 60 per cent of the capacity of the hall, which is 2400 seats. We are supposed to play in one month Mahler's Second Symphony, and they have made all the tests, and checked that the distances would work. They're going ahead with it, and I'm looking forward to it,
We don't expect a return here any time to the big Mahler symphonies. We've had the Erwin Stein reduction of the Fourth, and there was a very strange version of the Seventh which was done at the Edinburgh Festival – I couldn't cope with it, because everything in the Seventh needs to be heard. I don't think you can scale that one down, whereas the Fourth in that chamber version can be very beautiful.
The Fourth in its chamber version is very nice because it's intimate and somehow it's good to have such direct contact with the players, with the architecture of the piece, it works. Also not bad is the chamber version of Das Lied von der Erde by Schoenberg, but it's a different format.
We had something like that from Pappano and Royal Opera House players with Sarah Connolly and David Butt Philip. We're not devoid of great events in London, but I'm missing the bigger symphony concerts. The Orchestre de Paris players seemed to respond to you so well – I haven't often seen an orchestra looking at a conductor so intently, and clearly enjoying it as well. That was very transparent. Did you feel that?
Thank you for the kind words, they're very much appreciated. I think that was just so special because I didn't meet them for a year after my first time with them, and then returning and feeling so incredibly welcome, and at the same time of course they were so willing to work, and that concert had a real symbolic meaning, the orchestra coming back together again, it was all so lovely to see. I'd been concerned before I returned, just as when all this began in March, I thought, oh please, just let me begin my season in Oslo, that was something we had been planning for such a long time, and then I thought, well, how does an orchestra sound when they haven't been playing together for half a year? But actually in every case it has been almost the opposite because everyone has been so keen to play again and play together, and even with some added distance, it doesn't change. That concert I'll always remember.
It struck me from watching that there was an immense amount of detail,but also that when it comes to the performance you just let them play, you give it as a gift especially to the woodwind, wonderful players – do you feel you can do that when you get to the performance, that you've done the fine tuning already?
I think that's very important, because if you want the orchestra to trust you, you have to trust them, and I think that's the most important thing, and also of course it's about creating the illusion that they can be absolutely free, and then you're steering it to certain directions. But of course at a certain point, when you have enough rehearsal time, like we had then and like we have here in Oslo, in a way you can prepare things and then the greatest moments are when you let go a little bit. I must say I'm a bit of a control freak when it comes to rehearsals, but then I think in the concert you cannot worry any more. You have to trust that you have done your work and the orchestra understands it.
The thing that really struck me was the balance of tension and space, that you could feel the space, and I actually heard a recent performance of Beethoven Seven that was terribly rushed – it was so fast that you couldn't dance it. Another conductor recently said to me, "if you can't dance the movements in Beethoven Seven, it's too fast."
That's well said. Beethoven Seven is a very particular case among the symphonies. That's the one where choosing the tempi is the most crucial, in a way. Here or in the Philharmonie de Paris, as a hall it's reliable, because you can trust that what you hear is also mostly what the audience hears. In so many halls you have to be so cautious, and really know how the balance is. But in that symphony you have to be really careful, because each movement has its own rhythmic motives, and somehow you have to get that balance right, but also fit it in the right hall with the right amount of players, and this was something different – I usually like to do the classical works with a quite small classical orchestra, small number of strings. In this case we wanted to make it a celebration of playing together. I remember the first time I did Beethoven Seven was in Cleveland was not the biggest – it was a jump-in concert for Jaap van Zweden, because I just went there quickly, I was actually in Scotland, and it was so quick that I didn't have time to change any string strengths or anything. Then I came to the podium and I saw 16 first violins, 10 celli and eight basses, and I thought, how will this be? And then when we started playing it was faster and more flexible than any chamber orchestra I ever worked with – so sometimes it's not even about the string strength, it's just about the transparency and how they listen. Paris is also lovely, because it's an orchestra of wonderful personalities, and each musician is an artist. In a way freedom of expression is the greatest gift you can give a musician, they have all been given that somehow. And they are sensitive and so willing to work at the same time, so it was just lovely. [Paris rehearsal pictured below by Mathias Benguigui/Pasco & Co]
It was interesting in your programme that the oboe takes the lead in Le tombeau de Couperin and also, after the first chord, in the Beethoven Seven – they worked extremely well together, Was there anything in the performance that you were surprised by, or thought, this is something extra that happened that you remember in any particular detail? Or maybe two months back is so far already…
No, I remember, because it had such a special meaning to me personally. And also with Beethoven Seven, of course you work on details in the rehearsals, but it's a piece which becomes especially alive in the concert. And you can never prepare, for example, for the final movement, or even for some parts in the scherzo, even in the second movement, somehow these very soft and tender characters, but for a conductor, to find an orchestra which goes and follows wherever you go, it's that kind of freedom which is really the best in this job. And that was one of those concerts where at least I felt that.
It communicated totally, It's curious, because the BBC Symphony Orchestra started the short Proms season, with Sakari Oramo, a conductor I absolutely love, with the "Eroica". And the second movement, the funeral march worked really well, but particularly the first movement and the finale – without an audience, it felt like there was a struggle to animate them. Beethoven Three and Seven especially do rely so much on what Britten calls the magic triangle between composer, performers and audience. When you've got really joyous, rhythmically bracing movements, it must be really hard. Have you had to do anything like that without an audience there?
I did only one concert without an audience, the Hamburg concert I mentioned but maybe that was more looking inwards, the programme was generally introverted, and intimate, Verklärte Nacht with Lindberg's First Violin Concerto and a Mendelssohn String Symphony. But this pandemic has changed so many things in all of our lives, but it has made us all question so much – what are the important things, that all becomes so clear. To play for an audience feels so incredible still, every time. I'm ashamed to say that I've been very lucky, because I've been working almost every week, and it's just been wonderful of course to see my own orchestra here but also everywhere else, how badly the audience really wants to hear music, and it feels every time so special playing it.
Going to hear a quartet or a soloist, they tell you, this is the first time we've performed since March, so already the audience and the players feel this particular bond. I was really sorry because of the restrictions that I couldn't come to Oslo – I was longing to hear you conduct Sibelius Six and Seven, which you did a couple of weeks ago, I believe? How was that?
That was lovely with Sibelius, because – this is an orchestra which has Sibelius in their DNA somehow, of course the orchestra's tradition is to play a lot of Nordic music and Sibelius with previous chief conductors – Mariss [Jansons] did it a lot, [Jukka Pekka] Saraste, but also back in the days, when the orchestra was founded they played a lot of his music. But the Sixth was interesting, because that's a work they've very rarely played, which in a way offered me this opportunity to work with an orchestra which has a very clear understanding of the language of Sibelius, because it's still a language that is not easy to learn or quick to teach, but it was lovely that they knew the style but still had a fresh approach for the Sixth, and I think the Sixth with the Seventh is the most magnificent.
It's a personal thing, but for me too…
I understand, it's so pure, it's so fresh, the clarity of line and the purity of expression, and in a way this time when everything gets more clear in his head, and the struggle of the First Symphony, all this "I want to show you", it's all gone, and there's also a looking at the same time also so much back, but also forward, harmonically it's so interesting. The counterpoint! Because he was never really doing any counterpoint, he tried some fugues when he was younger, but he really was not good at that.
I'd never really thought about that, but it's more about an underswell and what goes above that, isn't it? Did you link the Sixth and Seventh together?
Yes, we did, and I also think that's something that works well, because the end of the Sixth established the right atmosphere for where the Seventh begins, when you end with the Sixth, with the lonely D note in the violins and it dies away, then you get the timpani, and then you start climbing up again and then you stop with this A flat minor.
It's curious, though, because I think that D is like the dying of the light, and you would have thought, had Sibelius died after composing that, that would still be a perfect end.
You're right.
And then – nobody knows what the Eighth would have sounded like, but you've also got the Tempest music, which I think is so wonderful.
Yes, it is. I love it. And as for the Eighth, there is this one piece, which he wrote for organ, Surusoitto [Mournful Music] It's like funeral music, it's very late and no-one really knows the piece, but he wrote it because his very good friend the painter Akseli Gallen-Kallela died, and Sibelius hated funerals and he never wanted to go, but he thought this was just something he needed to do. And he was writing only in a few days – normally writing one note then took him weeks - this one piece for funeral in the 1930s. Aino, Sibelius's widow, told Jonas Kokkonen, another composer, that all that music is from the Eighth Symphony [which he burnt], which makes sense. That gives us the hint of how he wanted to develop, and maybe also why he just wanted to draw the line, "OK, this is it", he couldn't go across the border, and for example these unsolved dissonances and change, which of course was something different from the Seventh, because of course there was a lot of dissonance, but never unsolved.
That I didn't know. They found some pages recently, which John Storgårds has recorded, which sound like they could belong to the Eighth. You Finnish conductors all tend to know each other, is that right? I saw film of an event celebrating the great conductor and teacher Jorma Panula on his 90th birthday in August.
Saraste held this master class and a party, and a concert – it was lovely getting together with all of the colleagues from different generations. We all conducted a few pieces, and Jorma also conducted something, the Elegy from Tchaikovsky's Serenade for Strings, which he did so beautifully. Panula was one of those important people in my life, I studied with him very intensively from when I was 12 to when I was 18. It's kind of funny because I played the cello [Mäkelä pictured below as cellist by Marco Borggreve] before that and I got to the youth department of the Sibelius Academy, which is like the Junior Academy. And then I heard that there is this conducting class for youngsters held by Panula – I had been dreaming to be a conductor, and now I thought, I should try it and then either do it or stop dreaming about it. I applied for the class and somehow I got in and then I started studying with him, and that was such an interesting time, because he's one of those great pedagogues, you know. For every student he has a totally different strategy, different things he says, and he is very Finnish, he's not a man of many words, as you probably know, so it was just incredible. And I think the power in him and the problem of teaching conducting is – it's so abstract. If you compare even the Finnish conductors, they're all very different, there aren't a lot of similarities. And that's the thing compared to teaching cello or piano, of course that's also very abstract, but there is still sort of some… I mean, press your finger and rotation from the hand and all of this, but Jorma just let us find our own way, and guide us – I think that was very important, because we did not become copies of him or others..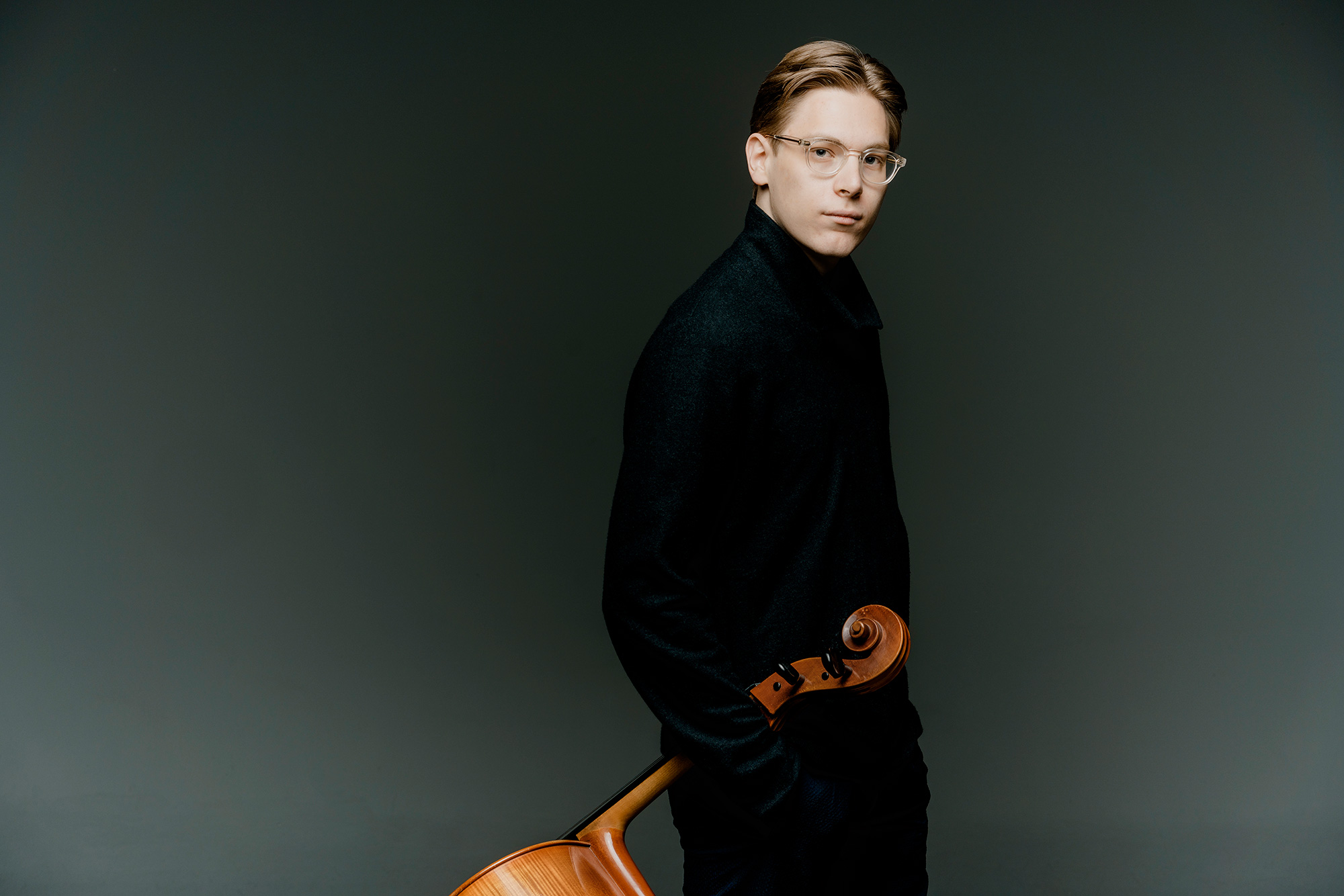 And I didn't realise it started from 12, that's young – that may be why the Finnish conducting tradition is so strong, you're developing as personalities from a crucial age of change. I'm not sure that we have formal conducting training for younger people in the UK.
I think you might be right, and the thing especially I'm thankful for about starting young, is that every week we had a small orchestra, mainly students of the Sibelius Academy who were always paid by the university, and then some professional musicians as well, so each week we went in front of an orchestra, so it became a very natural place to be, which I think is very important, because if you are a different person on the podium than you are off it, that can be quite dangerous.
Interesting. There were some conductors I came across when I was singing in a choir that would turn it on for the cameras, or for the audience on the night, and it was completely different, it seemed to me very phoney. Again, sincerely, what I saw you do felt totally organic and natural and very various, that you fine-tuned to moments when you didn't do what I might have expected a conventional conductor to do. As you said, Jorma didn't teach the beating business, you need to do that sometimes, but others it's unnecessary, isn't it?
Thank you for the kind words. That was something he was always emphasizing, to trust the orchestra. Every orchestra you have to conduct differently. What Panula gave all his students was a box of tools, because you never know what's going to happen in rehearsals or in concert, and every orchestra always reacts very differently. Of course then when you have your own orchestras you create this sort of symbiosis with them, which is different. But the more tools you have, then if you have some difficult moment then you can always take some sort of thing when you start beating in a certain way or if you want to get something else then you take another tool. And I think that's very important, because if you only have one way of conducting it doesn't always work, and then each work from each composer has to be done differently. If you apply the same standard, it just doesn't work.
Have you ever have any masterclasses with Bernard Haitink?
No, unfortunately not, I admire him so much.
Because what you're saying and what Panula said, these are very basic things, but I was astonished in Lucerne to see these masterclasses, and the most striking thing of all was about a conductor in relation to the principal clarinet, and Haitink just said,"'trust him! These players know more than you do'" It was so simple. And I see this much more with your generation, as you say you have to give the illusion of freedom when you're still in control, but it is much more collegial, isn't it?
Exactly. I think it's interesting how times change. It's always the case of finding the right psychology for each orchestra and each occasion; the main point of a conductor is trying to make the orchestra play better than they usually do. The musical connection is the most important one, because then when they feel, "what we're doing now is actually making us play better", then they are totally in it, and then everything goes easily. So that's the first thing, when you connect musically. Always when you come in front of an orchestra new to you, you quite quickly see the personalities you need to take care of, the ones you need to be careful with, and then the people you can be totally free with. When you do that before there are any problems, then there will not be any problems. I haven't had any difficult times yet, who knows what life will bring? But I think the psychological part is very important, to try to sense what the problems might be before they appear. After five minutes of playing through, you know exactly all this. One of the most exciting parts is working with people: each musician is an artist, highly trained, highly educated, and then making them play the same accents, same way, same style, it's one of the most fascinating things to work on, because there are so many different possibilities.
You came to Oslo at potentially a tricky time – you'd worked with the players before, obviously they liked you, that's why they made the appointment, but there was the danger that your first season might not happen. But it is happening, and with an audience, so I guess you're feeling confident that you can now develop as you had originally planned?
I was thinking about it before, how will it be? The first month of my tenure I was here, so we did six different programme in eleven concerts, and every week it felt like, OK now we already got to play this, and we are already so happy if this is the end, but then it just kept going on and on, I really had the time of my life, so to speak, we started with Mahler One, then a commission, and then Sibelius Six and Seven with a new piece as well, and a Mozart week.
You decided the programmes, obviously, which are fascinating..
Exactly, and somehow working together with this orchestra is just a dream, they are so open, they play so well, somehow everything is there, it just feels so right and so at home, and today when we started with the Sibelius One again, it just felt like being at home again, and no matter which kind of details, we can work on very annoying small details forever, and everyone's totally in it and totally involved, and no-one is complaining, it's just the most magnificent feeling to be working with these people. And every week just keeps getting better and better, so it's a bit of an unreal feeling, but it's lovely. And that's thanks to the orchestra, not to me.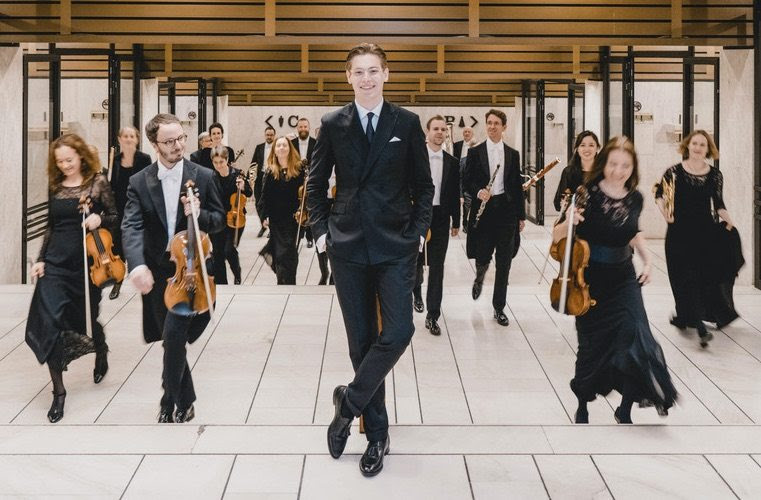 You have some wonderful players. I was so impressed that they were among the first to do studio-style concerts with small ensembles, and the arrangements made by the cellist…
Louisa Tuck, yes, she's British. Those were wonderful. Now we film most of our concerts in Oslo, to make sure that they're visually great because there's just so much livestreaming going on, but we really need to make a point why we're making it, it needs to be something we're really happy with at the end. It's been an interesting time, and now it seems we can continue playing these programmes without really having to cut anything, with full orchestra, 16 first violins, one metre apart but still sharing desks, and everything so far has worked. The most important thing is that we can carry on developing our way of playing under these circumstances – that's essential, to improve every week.
What's the audience for each concert?
200 people only, which is interesting – we started with Mahler One, 100 people on stage, 200 in the audience. At least there were more in the audience than on the stage.
Adding Sibelius One to a season which began with Mahler One – in both those works, you've got composers who are already utterly authentic – it's not like Nielsen One where you feel he's finding some of his way – is it fair to say that everything they are is there in microcosm, to be developed, is that fair to say?
I absolutely agree with you, and I was going to say that – Mahler One and Sibelius One have to be the greatest first symphonies. Schumann One is great, Brahms One – does it count, because he was not a young man when he composed it? With Sibelius One, people always talk about the Tchaikovsky and Borodin influences; Sibelius always said that he didn't think of Tchaikovsky "because his symphonies are sentimental and mine are tough". I wonder what he meant by that. But the most fascinating thing is that the time when Sibelius grew up was so different from ours. I mean his musical education, he was growing up in a small place, Hämeenlinna, and hearing his first symphony orchestra concert when he was in his twenties, he was so amazed by it, whereas if we heard it now, we'd say, that's the most ridiculous orchestra ever. And then a few years pass, he gets to travel to central Europe and he has concerts and studies and learns, and he writes Kullervo and Lemminkäinen, and then a piece like the First Symphony which is a great late romantic masterpiece in all senses, so original, so authentic. That's maybe one of the first Sibelius symphonies I encountered – well, I fell in love with the Seventh first, and then the Fourth, but then the First was the first I conducted, and it always has a very special place in my heart, it's so spontaneous and so passionate and at the same time so clear in the pulse.
And the colourings are so Sibelius already – those flutes in thirds in the first movement, for instance. But parts of Kullervo and Lemminkäinen are also so incredibly original.
And Lemminkäinen is quite a funky piece, part of his Wagner-Liszt journey, he was in Bayreuth and fell totally in love, and then he was planning to write an opera, which didn't turn out well, and then most of that music went in to "The Swan of Tuonela", for instance, but then the First Symphony – it's something which is an interesting mix, because when you analyse it you hear many things from French music, especially in the slow movement and even in the scherzo, there are many places texture-wise which seem to me French. And even in Kullervo, his first masterpiece of 1892, there were many things which Debussy would write 10 years later, of course in a different way…but Sibelius was more original than people think, not just borrowing from his colleagues – which he was probably not too much aware of.
That third movement of Kullervo in 5/4, this is before Tchaikovsky's Sixth, where we talk about the 5/4 second movement, actually there's already a lot of 5/4 in Russian music anyway, but that trepak-like drive, the brilliance of it, seems like nothing else, and later he prefigures Janáček.
Actually that's a very good example, Sibelius and Janáček, I didn't think about it for a very long time. Janáček is one of those composers who is absolutely unique, there is nothing you can really compare his music to, but Sibelius comes close in some places, you're absolutely right. And with Kullervo of course there is this extra element of the language, because as we know he was not Finnish speaking, it was a time when the Finnish language became more and more important for the soon-to-be independent Finland – well, not too soon then, but anyway – and he even spoke Finnish with an accent when he did learn it, but he married this girl from a family which was very supportive for the Finnish language. And Kullervo is a manifesto of the Finnish language in all its cruelty and of course the Finnish landscape and mindscape of horrible tragedies, and the dark melancholic moods.
Klaus Mäkelä conducts the Oslo Philharmonic in Sibelius's First Symphony
Did you feel Sibelius was drummed into you when you were young, or did you just respond to it spontaneously?
If you grow up in Finland, being a musician, or even not being a musician but especially so as a musician, it's something which just surrounds you. We sing his Christmas carols and songs, and Finlandia is something which everybody knows, and then when you start playing an instrument, if you're in a string orchestra you play the Impromptu and Romance, and then the small suites, and the first thing you play in a youth orchestra is of course Sibelius Two. The great thing about this composer is the variety, the range of different music, even in the symphonies, even if time-wise it's not so long, because he still lived for 30 more years when he tried to write things but didn't publish anything, so there are many different elements: as we have the nine Beethoven symphonies, each one of which seems like a person with totally different characteristics from another, Sibelius is in a way the same, so it's such a fascinating journey from the First Symphony, the raw energy but also the sentimental long lines, and the most beautiful melodies, then the Second which is much clearer and brighter, even though it's seen as this patriotic struggle for victory. I mean some parts of it were composed in Italy, he was studying Dante and other writers. The Third Symphony is much more classical, also from the form point of view which is really strange, then the Fourth which is the most serious, and melancholic, unlike anything, and that's maybe his greatest masterpiece. The Fifth is his reaction to European modernism, which he rewrote twice, which is such an incredible thing as well, then the Sixth and Seventh, which is the most beautiful piece ever.
He had such a huge output, and the more I hear of the miniatures and shorter pieces, the more amazed I am. He excelled in all these genres, he could write light music really beautifully. That minute-long piece in The Tempest, "Song Two" in the Second Suite, adapted from Ariel's "Where the Bee Sucks".
[Mäkelä exclaims with pleasure and starts singing it] It's a very interesting thought now that you say this, which is that although Sibelius is well known for his symphonies, which of course are architecturally very demanding, he was also at his best in his miniatures. He wrote so many small pieces – those Humoreskes for violin and orchestra, the songs – and he was very charming in those, and they went around singing them in the streets of Helsinki, with mocking lyrics, like "he's always going to the same bar, there he is, there he is".
Then of course with Mahler One, it's like the Sibelius in that there is a local quality, probably related to the language, but it's also universal, and what Mahler draws on is what he knew from childhood. That's another fascinating example of drawing the universal from the specific, isn't it?
I think it's very interesting. And in Mahler's case it's a little bit different with the First Symphony because in a way it's just memories from his childhood and his youth, and sounds which he recalls, and then mixed with his present state of mind, with heroic aspects; but in Sibelius's case it was different, because he was less trying to fit in everything, and that of course was the famous conversation with Mahler about their differences of approach, Sibelius was more trying to capture either a current state of mind as in the First Symphony, which is universal music but it's different. He didn't look back much. But in Mahler's case it's fascinating how he could just put everything together, starting with sounds from the forest at the beginning of the First, "wie ein Naturlaut" [like a sound of nature]), and that not being music, because he didn't want the introduction to that symphony to have any music, then the music properly begins when the first theme comes, with the song of the wayfarer. Slowly, gradually, it comes to be music, which is heard through the nature-sounds. Then all these dances – in a way he was a crossover composer of his time, not too much in the First Symphony, though, but a bit, because all the Viennese people on their summer holidays heard folk ensembles playing and Landlers to dance to, and then they come to work and they play a Mahler symphony which has all this, and they say, why are we supposed to play this, because it isn't a symphony, it's folk music. In a way Sibelius combines with this because he was very interested in Finnish folk music, but he never quoted anything. So it was always something which seems like something else but isn't really. There's a difference in that Mahler was feeling so rooted in that Austro-Germanic tradition even though at that time he was living in an area where there were so many different cultures, which you can also hear in his music, different bands, different regiments, the marches.
And the Klezmer influence…
Exactly. Which is also a weird sonic effect, because you cannot properly say, this is Klezmer, it's a mixture which is almost this and almost that. I've also been wondering about this symphony, isn't it also quite a pastoral piece? In that time of life Mahler had had many difficulties and tragic events, but we always tend to see the First Symphony and Lieder eines fahrenden Gesellen of the young Mahler through the eyes of the Ninth Symphony and the Adagio of the Tenth, and it's not the same person, and we treat the First as if it had so many wrinkles. It is serious in many places, but it's a very different person who writes that. We should not always view it through the glasses of the Mahler of 1910.
Klaus Mäkelä conducts the Oslo Philharmonic in Mahler's First Symphony
The finale of the First Symphony and the "Resurrection" are very theatrical – it's melodramatic, it can be deep but it's not anything like as deep as what developed through the symphonies to the Ninth and Tenth. But what you also said about Mahler being nostalgic and Sibelius not, that's a very interesting thought. Sibelius is not a nostalgist at all. I gather you have a plan to perform Messiaen's Turangalîla-Symphonie in a large space, is that right?
Yes, and probably without an audience. We were going to do it already in August, but then we changed it. That's also one of those masterpieces. The striking thing about that is that it just comes so close, as to when it was written – it's not that long a time ago, yet it's just such a classic. It's sometimes so heartbreaking to think about the quite unsuccessful premiere – Messiaen being commissioned to write this huge piece and then Koussevitzky trying to sell it to radio listeners by saying, "you are about to hear this wonderful new piece, I really think this is amazing," and then Bernstein conducted the premiere, and everyone being like, "yeah, well, not really great".
It must have hit people like a ton of bricks in places, though, nothing had been heard like some of the joyous stuff, it still feels mad, doesn't it?
Absurd and sometimes banal, and that's part of the charm of it, it contains everything – it's like Mahler on steroids.
You've had quite a lot of things cancelled, though. You were going on tour and there are places you can't go, so have you had to readjust your schedule? Even for the next couple of months?
Yes, absolutely, but I've actually been very lucky, in that after things started getting back to something like normal in early August, I have had every week in place, though with adapting some programmes. And now that the first thing we had to change was the Oslo Philharmonic tour – we were supposed to go to the Elbphilharmonie and that looks impossible, and also to Gothenburg, but we're also supposed to do a big Asian tour in late Spring, to Japan, Korea and Taiwan. There's a lot of testing, each week a few times, but that's a very small price to pay for being allowed to travel and do your work, it feels amazing,
Do they test at the Oslo Phil regularly?
With the orchestra not, though they've been very precise with rules and regulations, and a lot of time has been spent collaborating with the local health authorities, but here compared to most other orchestras, it's normal. Of course people are behaving differently, but we've been very lucky, and I hope the luck continues. It's been very interesting to see different countries do very differently. I was supposed to be back with the London Philharmonic Orchestra conducting Mahler Two. It's supposed to happen in Paris in a month, with more or less a full chorus. Let's see!
Our hour is up – thank you so much.
It's been a pleasure talking to you. I hope to meet you soon in person..
It's a pleasure to meet an extrovert Finn!
I'm just happy after the rehearsal! Stay well and healthy.
For a conductor, to find an orchestra which goes and follows wherever you go, it's that kind of freedom which is really the best in this job
Explore topics
Share this article