theartsdesk at Chetham's: New Life for an Old School |

reviews, news & interviews
theartsdesk at Chetham's: New Life for an Old School
theartsdesk at Chetham's: New Life for an Old School
A £31m redevelopment has transformed Manchester's specialist music institution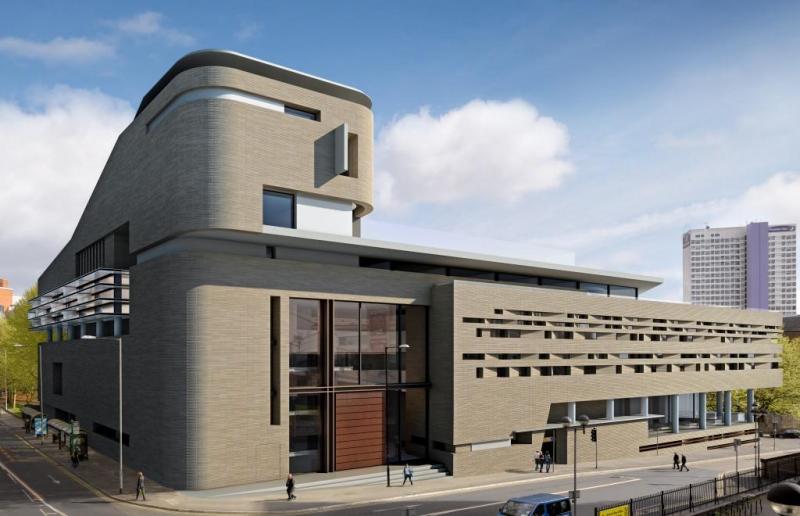 The impressive new building at Chetham's: a confident statement for the future
Like a streamlined sandstone-coloured satellite berthed unexpectedly in Manchester's medieval quarter, the new addition to the country's largest specialist music school, Chetham's (pronounced Cheetham's), makes a confident statement for the future. It looms seven storeys high amidst atmospheric buildings dating back as far as 600 years.
At yesterday's opening ceremony, heralded by a newly-composed fanfare, Head of School Claire Moreland said: "This new building will take Chets into a whole new era, providing the world-class facilities for music making that our students deserve and unmatched in this age group."
Some 290 musically-gifted students, aged eight to 18, are enrolled in the school from all over the UK and abroad. They are selected for their ability and their potential. Stephen Threlfall, the charismatic Director of Music (pictured), told me at the opening: "This is a fantastic step forward for the school, but the impact is much wider than that, because our busy outreach activity and interaction with the public will grow with it. We are a hub for the city, the region and the nation. In that sense, this building is symbolic. It brings great opportunities and will be a rich resource for everybody."
The new £31 million building, funded by the Department for Education, the North West Regional Development Agency and private donors, was designed by Roger Stephenson Architects. Despite its futuristic appearance, it is designed to complement the old sandstone buildings. So much so that a new handmade brick, the Chetham's brick, was developed in York for the purpose.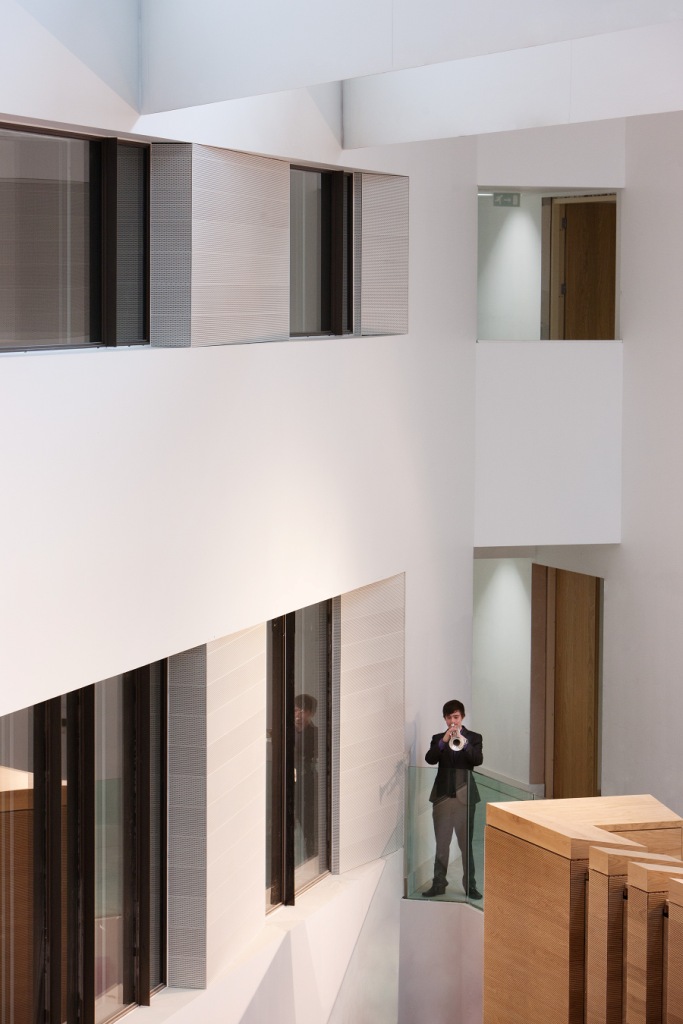 Walking through the white-lined sunlit corridors, with live music emanating from several rooms, you can sense the inspiration of the new facilities – a 100-seat recital hall, 50 teaching rooms, 62 practice rooms, a Music Technology Centre, science labs and the rest. The huge shell of a 400-seat concert hall is included but the school, known for its fund-raising campaigns (such as Raise the Roof and Buy a Brick) needs another £5 million to kit it out. At the centre of it all is a stunning atrium (pictured right), a performance space in itself.
What a contrast to the place we in Manchester have all grown up with – the old stone buildings round the quad (pictured below), the colonnade, the medieval Baronial Hall, used for concerts, the original Manchester Grammar School building and the oldest extant public library in the English-speaking world, famously the place where Marx and Engels studied together.
Founded in 1653 by the philanthropist and cloth merchant Humphrey Chetham as a bluecoat school, starting with 40 local poor boys, it evolved over 300 years into a boys' grammar school in 1952, with a musical specialism. Being adjacent to Manchester Cathedral, once a modest parish church, the oldest part was constructed in the 1420s as a residence for priests. The connection continues, since cathedral choristers receive their training and education at the school.
In 1969, it was established in its present form as Chetham's School of Music, known to the music world internationally as, simply, Chets. Its motto - love to live to play - is the key. The brightest young musicians are recruited based on their talent and potential, not background or ability to pay. Admission is by audition. "Our aim is to bring in talented young musicians and help them to become the best that they can be," says Stephen Threlfall. "They learn to demystify what the profession can be and realise that they can go successfully in many different directions." That is certainly reflected in the school's wide-ranging output and highly-rated public performances by the Symphony Orchestra, Big Band, Jazz Ensemble, Symphonic Wind Band and Orchestra, String Orchestra and quartets, Chamber Choir and Saxophone Choir. Successes in prestigious competition such as the BBC Young Musician of the Year reflect their achievement over the years: in 2008, 12-year-old trombonist Peter Moore was the youngest-ever winner.
The musical range is clearly reflected in the curriculum: aural, musical theory, history, harmony, composition, choral work, improvisation and, in addition to their main specialism, everyone has to learn a second instrument. Alongside the classical, jazz, rock and other musical genres form part of the musical training.
As one would expect, the list of Chets students who have made it onto the concert platform is long and distinguished, exemplified by such luminaries as Peter Donohoe, Stephen Hough, Wayne Marshall, Andrew Wilde, Paul Lewis, Jennifer Pike, Murray McLachlan, Guy Johnston, jazz pianist and composer Gwilym Simcock and rock musician Mike Lindup. (Pictured below: the new recital hall)
Strong links with the Royal Northern College of Music, the Hallé, the BBC Phil and the Manchester Camerata add to the school's prestige. It has often been said that a talented musician can enjoy a total career by simply staying in Manchester. For the musically gifted, fees are not an issue. Chets is supported by the Department for Education under its Music and Dance Scheme. If one had to pay, the full yearly cost for boarders – around 75% of the 290 students – would be £30,000. However, fees are means-tested, 90% of students get financial aid and 25% pay no fees at all. Boarding is very popular. "Many local students prefer to board," says the Director of Music. "There is something very appealing in being enveloped in the musical camaraderie of the school." They also get used to playing in public. The open lunch-time concerts are an established feature of city life here.
Apart from music, which takes up more than a third of the curriculum, great emphasis is put on the wider academic programme. The school has a good record, getting its fair share of Oxbridge successes. Now, it embarks on a new beginning. "This is a dream come true," said Claire Moreland. "I look forward to this building being filled with music, laughter and joy." Love to live to play – that is the spirit being carried forward on the back of a proud tradition. Humphrey Chetham's legacy was well spent.
Walking through the white-lined sunlit corridors, with live music emanating from several rooms, you can sense the inspiration
Share this article
Subscribe to theartsdesk.com
Thank you for continuing to read our work on theartsdesk.com. For unlimited access to every article in its entirety, including our archive of more than 10,000 pieces, we're asking for £3.95 per month or £30 per year. We feel it's a very good deal, and hope you do too.
To take an annual subscription now simply click here.
And if you're looking for that extra gift for a friend or family member, why not treat them to a theartsdesk.com gift subscription?