Tetzlaff, LSO, Rattle, Barbican review - a triumphant homecoming for the maestro |

reviews, news & interviews
Tetzlaff, LSO, Rattle, Barbican review - a triumphant homecoming for the maestro
Tetzlaff, LSO, Rattle, Barbican review - a triumphant homecoming for the maestro
British music takes centre stage at the start of new musical era for London
Friday, 15 September 2017
Simon Rattle, the LSO's new Music Director
After all the talk and anticipation, at last some music. Simon Rattle took up the reins of the London Symphony Orchestra last night – as its first ever "Music Director" – with a programme dedicated to home-grown composers whose lives span the lifetime of the orchestra.
It set out Rattle's ambition for his leadership of the LSO, who duly responded with performances of intelligence, passion and power.
Of the five composers featured, four are still alive and, as Rattle had maintained in an interview, "Elgar is so lively he's basically a living composer". Most have a connection to the LSO or to Rattle: Elgar was for a time its principal conductor, Oliver Knussen's breakthrough came conducting the orchestra in his own First Symphony at the age of 15, Thomas Adès's Asyla was commissioned by Rattle at the CBSO, and Helen Grime's Fanfare was commissioned for this concert.
Thomas Adès's 'Asyla' is now 20 years old but is not showing its age
It is an interesting idea that this five-minute amuse-bouche will be extended into a full-length work for later in the season. In some ways it felt like part of something bigger, not least in its ending: abrupt, as if torn off. Fanfare had colour and hyperactive detail, but perhaps not the wow factor of some of the music that was to follow.
Thomas Adès's Asyla is now 20 years old but is not showing its age. It feels rather like a firmly established modern classic. It has long been one of Rattle's calling cards – it was in his first programme for the Berlin Philharmonic – and it is easy to see why. It has everything you could want from a contemporary orchestral piece, including some weirdness (in the very opening gongs and de-tuned piano), some nostalgia (a swooning cello melody in the second movement), and a climax of pounding polyrhythms (in the third movement, marked "Ecstasio"). A symphony in all but name, played by the LSO with complete conviction and virtuosity.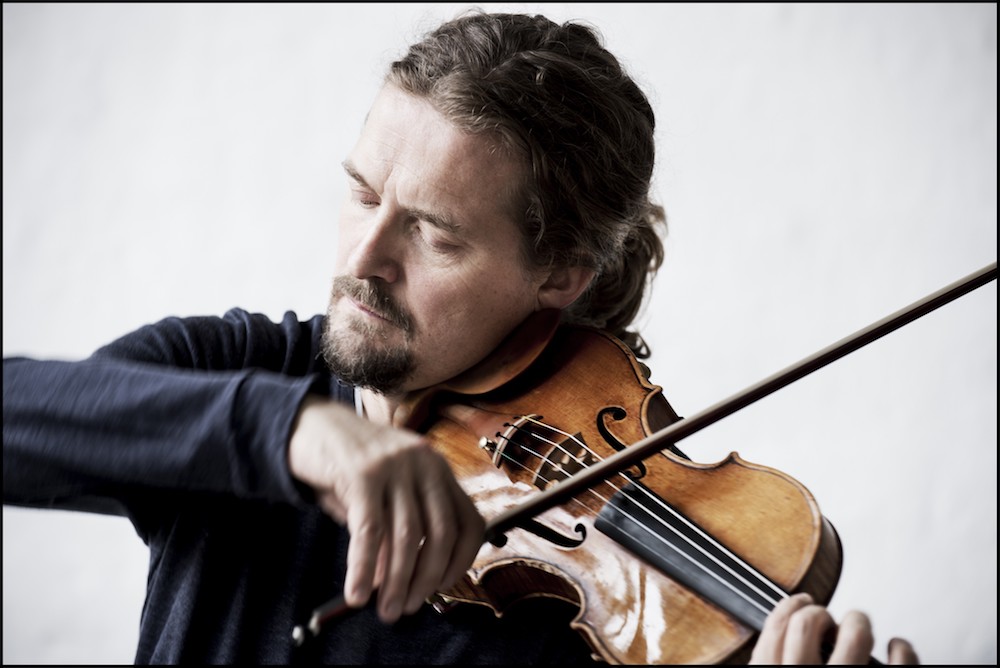 I was less convinced by Harrison Birtwistle's Violin Concerto. I love the early Birtwistle works for smaller ensembles, and this concerto borrowed some ideas from his younger self, most notably solo players walking forward from their seats to stand at the front and play in duet with the soloist, Christian Tetzlaff (pictured above). But, for all its violin histrionics, the piece as a whole felt less ambitious and potent than Asyla.
Tetzlaff, dancing as he played, found a variety of characters in the music, from the skittish opening, to grand arpeggiated passagework and the occasional moment of lyricism. The soloists who emerged from the orchestra were likeable, particularly oboist Olivier Stankiewicz, but too often the solo violin and orchestra seemed to be engaged in the "parallel play" seen in toddlers, working independently alongside, but never actually engaging with, each other.
In a filmed interview covering stage re-sets Rattle advocated not just commissioning new pieces, but giving existing contemporary pieces further outings. Oliver Knussen's Third Symphony was a favourite of the younger Rattle, completed in 1979 when the composer was only 27. It explores Knussen's fascination with the character of Shakespeare's Ophelia, from the mercurial, dancing first movement to the tragic cortège of the third. Rattle's conducting, as in all the contemporary pieces, was sure-footed and he paced the two massive climaxes beautifully. He and the players found lots of detail in the typically detailed scoring, with the woodwind especially on the ball.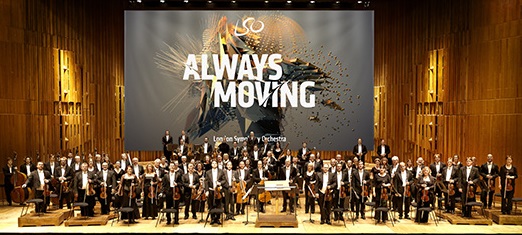 How often do concerts of standard repertoire have a single contemporary novelty as a counterweight? Here it was the other way around, with Elgar's "Enigma" Variations alone flying the flag for the older generation of British composers. And did it ever fly. This was a truly stunning reading, even set against the riches that preceded it. It is testament to the LSO's facility and work ethic to put together a programme of this size as merely one leg of a 10-day season.
Rattle, for all his evident relish for the earlier pieces, was utterly in his element here. Conducting without a score freed him up to move around every inch of the podium, engaging directly with the players, drawing them out. He paid particular attention to the inner lines that are always there in Elgar, and concentrated often on the cellos, who responded willingly.
The whole orchestra revelled in their moments: crisp timpani and brass in "WMB", noble winds in "RPA", rich low brass in "Troyte", luscious violas in "Ysobel". They all came together in an uproarious finale, greeted in the hall by a 10-minute standing ovation. In a time when there isn't much good news around, this exciting evening suggested that a potentially epochal combination of conductor and orchestra is one reason to be cheerful.
This exciting evening suggested that a potentially epochal combination of conductor and orchestra is one reason to be cheerful
rating
Explore topics
Share this article