Tara Erraught, Ulrich Pluta, James Baillieu, Wigmore Hall |

reviews, news & interviews
Tara Erraught, Ulrich Pluta, James Baillieu, Wigmore Hall
Tara Erraught, Ulrich Pluta, James Baillieu, Wigmore Hall
German song, Italian opera and Irish mischief
Tara Erraught, bringing German song, Italian opera and Irish mischief to the stage
As a scan through the 17-year list of Rosenblatt Recitals quickly reveals, sopranos and tenors come and (often as not) go. Much rarer is the opportunity to enjoy the gifts of a mezzo-soprano near the start of what should, all things being equal, be a long and illustrious career.
Nine years a company member at the Bavarian State Opera, Tara Erraught deserves better from English audiences than to be remembered for the stir she caused (and for the wrong reasons) in her Glyndebourne debut as Octavian. It was the mark of a generous, thoughtful singer to share the stage in the first half with the clarinettist Ulrich Pluta, principal clarinet of the Staatskapelle Dresden, for six early Romantic songs which traverse boundaries between chamber music, the Lied tradition and the genre of arias with obbligato instrumental contribution.
A sequence so thoughtfully planned had something fresh to offer with each new item
Even so, the suspicions of old prejudices were revived and confirmed by three Spohr songs: rarities, and likely to stay that way. Too often the registers of clarinet and voice crossed and got in each other's way, frustrating enjoyment of either artist. It was, after all, Erraught we had come for. Franz Lachner's melodic inspiration may have fallen short of his ambition in setting Heine (On Wings of Song, no less) and Chamisso, but Erraught conveyed the promise of all that is fresh and lovely in the 19th century's golden age of German song: forward consonants, bright, untempered tone, an unlikely model of woke.
At last, with The Shepherd on the Rock, Plucha could do more than embroider and noodle. He and James Baillieu spread before us a landscape of desolate beauty (Plucha with Baillieu, pictured below). Schubert's opening melody is less work for clarinettist than singer, as high and deep and broad as the valley over which the lonely shepherd broods, and Erraught could not join the dots with her partner's seamless legato. The following section's plunge into outright sorrow, however, was first-class, with Erraught opening out a note of pathos in her voice like an envelope of bad news from a friend. Bringing assurance if not tonal radiance to the coloratura conclusion of hopeful expectation, she whetted the appetite for an Italian operatic second half.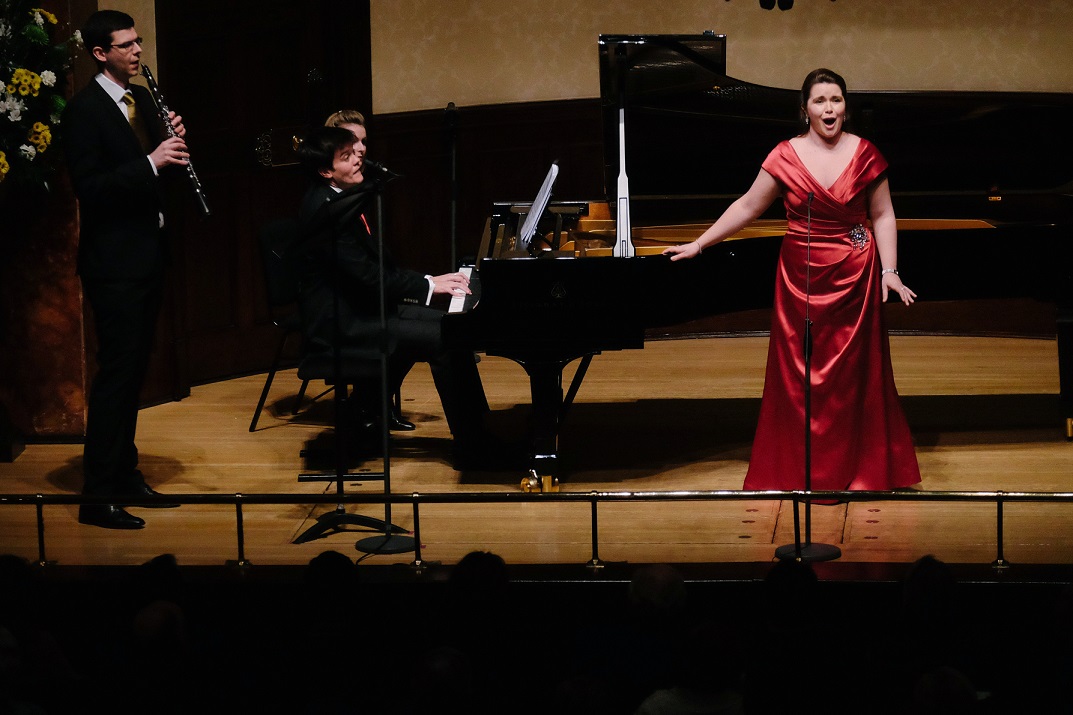 A sequence so thoughtfully planned had something fresh to offer with each new item. A rage aria from Mozart's Mitridate finally got to the centre of the voice, especially in the rich palette of its lower half. As if in unspoken reproof of those who were exercised by the unpredictable charm of that Octavian, she then offered another trouser role, the goofiest, horniest teenager of them all: Cherubino in The Marriage of Figaro, and in a breathlessly convincing simulation of what she could do with the part on stage.
Finally, unavoidably for a lyric mezzo, Rossini: an insertion aria for Rosina in The Barber of Seville. With Baillieu at his most hushed and keenly responsive, Erraught brought proper trills and the makings of a thrilling chest register to the aria's vacillation between doubt and trust. Some covered top notes betrayed a caution which she threw to the winds with the Joan of Arc cantata, forming a single thought and expression from paragraphs of memory and defiance in the shadow of the scaffold.
Defiance and mischief are home soil for a singer who enjoys her Irishness on stage, in her ready way with notes and words, sung and spoken, without making a point of it. She wound up the evening with Gortnamona, as set by that old contrarian Percy Grainger. Folk songs hold a fatal appeal for opera singers who tend to destroy the thing they love: Erraught kept it real, just about.
Erraught conveyed the promise of all that is fresh and lovely in the 19th century's golden age of German song
rating
Share this article